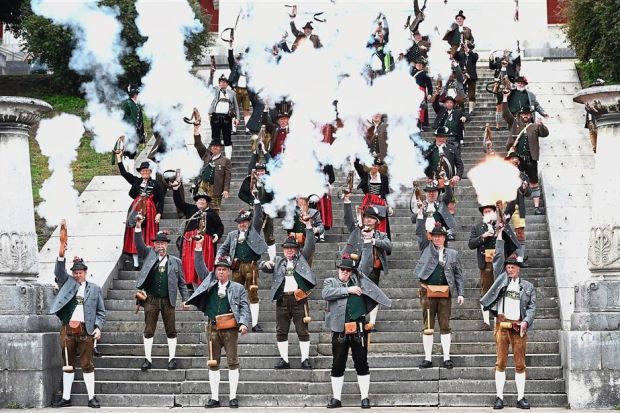 Like how many other things that were acceptable before have inexplicably run afoul now, the harmless Oktoberfest is also finding itself criminalised.
WHILE growing up a school boy in Penang, Oktoberfest was celebrated every year.
And when I was old enough to drink, entering adulthood and working life, I joined in beer drinking sessions with my friends and colleagues.
We'd like to think we held our drinks well then. The same can't be said about holding our bladders well now though.
I don't recall inviting my Muslim friends to join us, and I don't think they would have wanted to either. We respect their faith and culture, as they do ours.
But at no time did they stop us or these events. In fact, on many occasions, they joined us for late night suppers, waiting for us to be done outside the pubs in Penang Road.
That was the way it was. In many night spots, the band members often comprised Muslims, and likewise the staff.
When I moved to Kuala Lumpur in the 1990s, there was no such thing of anyone trying to stop Oktoberfest festivals.
There was no controversy and it was just accepted that this was an annual commercial affair.
Of course, the festival doesn't just serve beers, but also sausages called bratwurst and frankfurter wurstchen, meat, burgers, pastries and cakes, and of course, plenty of Bavarian dancing and merrymaking.
Perhaps, politicians didn't need to play the religious card then because they felt comfortable and secure in how common sense usually prevailed. But over the last few years, the scenario seems to have changed dramatically.
If it wasn't for the politicians, we'd have to contend with terror groups, according to the police, that is, who pulled the plug on last year's Oktoberfest.
Last September, the Better Beer Festival was cancelled because the police had "security concerns" involving the usual suspects, of course, who were planning to sabotage the event.
Inspector-General of Police Tan Sri Mohamad Fuzi Harun said the police caught wind of militants and some unknown group's plan to disrupt the event.
"A security concern was raised following the information received by our intelligence, and to avoid any untoward incident, the police has to step up.
"The people's safety is our utmost concern," Mohamad Fuzi said in a statement then.
The Kuala Lumpur City Hall (DBKL) said it had rejected the organiser's application to hold the event, which was received on Aug 28.
But the DBKL announcement came a week after PAS central committee member Dr Riduan Mohd Nor condemned the event, calling it a "vice party" and claimed that it would turn Kuala Lumpur into the "largest vice centre in Asia", which raised suspicions of DBKL caving in to pressure.
A year later, and PAS is still using that same scratched record. However, we must admit that the Islamist party is consistent, although when it comes to political expediency, it can be flexible, and bends rules to its liking. Once upon a time, Umno was kafir and a sworn enemy, but at the moment, they are BFF, and their once-ally, DAP, is now an adversary. And PKR has been dealt the same fate, too.
Last week, PAS secretary-general Takiyuddin Hassan said the party would never support beer festivals, vowing religious retribution if the events "cause public unrest" and affect the sensitivities of Muslims.
He said his earlier comments on Oktoberfest, on the sidelines of the Dewan Rakyat sitting recently, had been taken out of context and were not published in full in the media.
He didn't specify the part of his comments which went askew or reveal the identity of the media outlet which ran his remarks.
But Takiyuddin said the PAS-led Kelantan government had never banned the consumption or sale of alcohol, for and by non-Muslims.
Joining in the debate, Sarawak Tourism, Arts, Culture, Youth and Sports Minister Abdul Karim Rahman Hamzah expressed incredulity at how the Oktoberfest has raised red flags.
He said the state had no reservations with the festival, which he described as a cultural event.
"I am just surprised it has become an issue here. In Sarawak, you can see it organised all over in the shopping malls.
"It is not an issue in Sarawak at all. It is only here (in Peninsular Malaysia), where you have many people who are not right in their heads," he said after unveiling the Visit Sarawak logo at a hotel.
He said Oktoberfest has been celebrated in Sarawak since the 1970s, when German hotel manager, Peter Mueller, introduced it.
"I was still in secondary school at the time, but I already knew all about Oktoberfest," he said.
Karim said Oktoberfest is only contentious when it is promoted merely as a beer or alcohol festival.
"If that happens, then I believe it is not just Sarawak, but the whole of West Malaysia that must ban it. We are not supposed to be promoting alcohol.
"All religions, I believe, do not promote drinking excessively. For Islam, it is totally forbidden," he said.
Karim revealed the festival originated in the province of Bavaria, Germany, and that during Oktoberfest, it isn't just about drinking, likening it to the Gawai festival in Sarawak.
I can understand if the PAS-controlled states of Kelantan and Terengganu ban such an event, but not anywhere else. But thinking about it now, given the demography of the two states, it would be silly of anyone to throw an Oktoberfest party there because it won't be ringing the cash registers.
But I can't fathom the Pakatan Harapan-led Johor state government also banning the festival. It defies logic, and politicians whom we expect to speak up had strangely remained silent.
It's fair and reasonable of DBKL to decide that it would allow Oktoberfest to be held, with the organisers requiring to follow the stipulated rules and regulations.
KL has many entertainment spots, especially in the Bukit Bintang area, so, banning the consumption of alcohol would be futile. Regardless of day, people still drink.
It's the same in Johor. People will not stop drinking in Johor Baru just because the state government illegalises an Oktoberfest. The night spots will just brand it differently, that's all.
Now that I am 57-years-old, I have given up drinking completely because it has taken its toll on my sugar level and liver. But will I try to stop anyone from indulging? Of course not! It's anyone's right to do so, whether it's January, October or December.