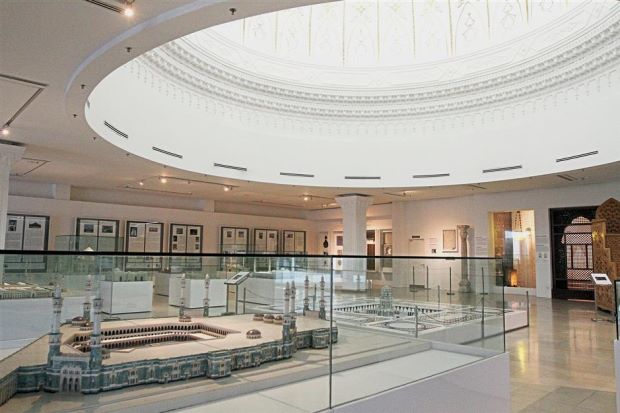 Class and culture can't be bought at online malls or picked up from the nearest grocer, unfortunately. You either have it or you don't.
TAN Sri Syed Mokhtar Albukhary is probably one of the most reclusive tycoons in Malaysia. He rarely makes public appearances or gives press statements.
Those lucky enough to have met him will tell you that his favourite rendezvous point is either the meeting room of a hotel or the Islamic Arts Museum in Kuala Lumpur.
His meetings, which start late in the evening, are usually lined up until the wee hours of the morning, and while they involve government leaders, businessmen and his closest executives, he is just as at home entertaining them sitting in an ordinary coffee shop, sipping tea.
Most times, he is seen in long-sleeved batik shirts, simple pants and sandals.
Last week, he turned up at the museum – which he takes great pride in – to mark the institution's 20th anniversary, an event graced by Prime Minister Tun Dr Mahathir Mohamad.
Unknown to most guests, the timing couldn't have been better, as the billionaire had celebrated his 67th birthday just days earlier.
The museum is the businessman, entrepreneur and philanthropist's pride and joy. Even after all that he's achieved, he still never tires of sharing his humble beginnings.
Born on Dec 12, 1951, in Kampung Hutan Keriang, Alor Setar, the third child of Syed Nor and Sharifah Rokiah became involved in his father's cattle business while in school.
But an outbreak of hand, foot and mouth disease hit the family business hard, forcing Syed Mokhtar to abandon his studies a few months prior to completing Form Five, as his family couldn't afford the examination fees.
Undaunted, and with money saved from working with his father, Syed Mokhtar ventured into business on his own.
While most Malaysians know him as a businessman, less is known about his philanthropic work. When Syed Mokhtar brought home his first salary of RM1,500 as a rice trader in 1974, his mother reminded him that while they lived a humble life, there were others in the community who were poorer. She encouraged him to keep half for the family and distribute the remaining RM750 to 15 needy families in their community.
Two decades later, in 1996, he founded the Albukhary Foundation and today, the museum remains its primary beneficiary.
I haven't met a Malaysian businessman who would invest in a museum with so much gusto. Syed Mokhtar is truly an exception.
Most politicians use the phrase "world class" flippantly to describe a variety of things. They probably like the word, or would like to think of themselves as important in setting standards. Or worse, they just have unimaginative speech writers.
The words barely ring true in the end. Many so-called world class facilities, in the realm of politicians, have ended up disgraceful endeavours ailed by poor maintenance, either due to funding shortages or corruption.
Some institutions have only remained world class structures because those entrusted with overseeing them fail to realise that content matters, not just the buildings.
But the Islamic Arts Museum certainly fits the world class tag. Not only is the building beautifully designed, the exhibits are also of the highest quality.
Funded by the Albukhary Foundation, the Islamic Arts Museum earned the title of being the top museum in Malaysia and the 10th in Asia in 2014 in the TripAdvisor Travellers' Choice awards for museums around the globe.
The awards honour top travel spots worldwide based on the number of reviews received from TripAdvisor travellers to Asia, Europe, South America, South Pacific, Britain, the United States and Malaysia.
Award winners are determined using an algorithm that evaluates the quantity and quality of reviews for museums worldwide, collated over a 12-month period.
"Some of the world's most significant cultural institutions are represented in the Travellers' Choice museums, thanks to the feedback shared by millions of travellers around the world," said TripAdvisor chief marketing officer, Barbara Messing, in a statement.
Featuring some of the world's finest art, scientific discoveries and historical events, these world-class attractions offer both educational and enriching experiences, Messing said.
The Museum of Qin Terracotta Warriors and Horses, Shaanxi, China; Tuol Sleng Genocide Museum, Phnom Penh, Cambodia; and Hiroshima Peace Memorial Museum, Hiroshima, Japan, were the top three museums in Asia.
Curiously, in all my visits to the Islamic Arts Museum, I have seen more Western visitors than Malaysians, many of whom are drawn to the information about the exhibits. The museum houses 7,000 artefacts, so reading everything is clearly a painstaking and time-consuming process.
It was opened on Dec 12, 1998 – on Syed Mokhtar's birthday.
It's a high point, not just for the museum, but also for Malaysia. The Albukhary Foundation is currently financially supporting a gallery of the Islamic world at the prestigious British Museum in London and is finding itself a permanent feature there.
A large inscribed panel at the entrance of the exhibition relays how the foundation has been promoting goodwill through education and cultural heritage for the past 40 years.
True to the foundation's spirit, it has always stressed that it has been "promoting scholarships for Muslims and non-Muslims alike" and aspires to "bridge further understanding between cultures and faiths".
At the museum's anniversary celebrations on Friday, the tone of moderation and understanding permeated the venue, and certainly, it is reflections like these that Malaysia desperately needs at this point.
It was a joy to see a multiracial crowd of Malaysians thronging the place and feeling comfortable in an Islamic museum.
While the most popular portion of the museum is where the famous mosques of the world are presented in miniature form, the section on Islam in China is surely one of the highlights of any visit.
This area shows how Chinese and Islamic influences merged to produce some exquisite artworks, including cloisonne wares and calligraphic scrolls.
Donating is always the easier option, but to put up a truly world class Islamic museum, with thousands of artefacts, and maintaining regular publications on the arts takes some doing.
Add the emphasis on multiethnic influences of Islam and not merely Arabic, now that's a remarkable feat.