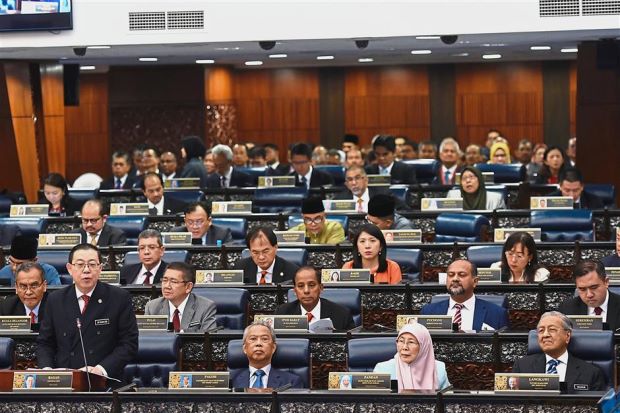 NO matter how Parti Pribumi Bersatu Malaysia leaders attempt to justify the defection of Umno lawmakers into the party, it still sounds unconvincing and hollow.
It's even more incredible that Pakatan Harapan component leaders, who once frowned upon these political frogs – having previously been victims of such crossovers themselves – have attempted to bend their stand, casting their long-held principles to the wind, and are now peddling the move.
Yes, politics is a numbers game. Most of us aren't naive, and we understand the need for PH to strengthen itself, except that, the PH government isn't in danger of collapsing.
It doesn't command a two-thirds majority in the Dewan Rakyat, but that is a new norm in today's democracy as the electorate detests seeing an overwhelmingly strong government.
The PH government has been able to form the federal government with ease, without having to cut deals with any minority parties because it has a comfortable majority.
So, voters are now expected to believe that defection is also part of the democratic process – where people are free to join any party they like. This also means that party leaders are free to accept or reject any applications for memberships.
Bersatu has said that in the practice of democracy "we do not need to reject any parties wishing to join Pakatan Harapan, as it is not certain that they (former Umno leaders) will join Bersatu, as some may join Parti Warisan Sabah, or maybe PKR, Amanah or DAP."
If it was the other way around, where PH component party MPs were to cross over to Barisan Nasional or PAS, it's doubtful that such a line would be used. Instead, accusatory press statements of betrayals, violations of trust and integrity, and of course, being labelled frogs, will all be flying fast and furiously.
There is no doubt that MPs like Datuk Seri Mustapha Mohamad, with his impeccable record of national service, ministerial experience and integrity, is a gem to the PH. However, the same can't be said about some of them, which is indicative of their imminent crossing over, or at least, their hopes to leap over.
Bersatu deputy president Datuk Seri Mukhriz Mahathir explained that the issue was not about strengthening the numbers in Bersatu, but it will be difficult to convince the majority of Malaysians.
As it stands, 17 MPs have resigned from Umno, which drastically reduced its number of MPs from 54 to 37. It's a foregone conclusion that more will follow suit.
PKR has the single largest number of seats with 50, followed by DAP with 42. Some MPs have already been accepted into Bersatu, taking its MP count from 13 to 16.
So, it's ironic that the component party with the least number of seats is holding the top government post of Prime Minister.
But let's be honest, too – without Tun Dr Mahathir Mohamad, it remains a moot point whether PH would have won the general election.
Dr Mahathir was the glue that bound other component parties, and he pulled it off with aplomb.
Six months since the historic elections, and he has remained the most popular politician, a feat no one can match.
Those of us who lived through his 22 years of leadership can vouch that Dr Mahathir has become even more popular, and surely, more powerful than before.
Tired of the endless politicking in Malaysia, many Malaysians want him to lead the country for as long as he can, even though they know, deep in their hearts, that's a tall order.
His successor will have to be one capable of holding the PH government together.
He has repeatedly said that he will pass the mantle to Datuk Seri Anwar Ibrahim, and yet, there has been lingering speculation and doubt, if the latter will succeed.
Conspiracy theories exist, casting suspicion and creating imagined plots in their wake. Those with their own agendas, claiming close quarters with the powerful elites, obviously want their masters to stay on in power forever, or hope they ascend the throne soon.
It's this company that Dr Mahathir and Anwar need to be wary of, as it could be detrimental.
Both are also old-school politicians. Dr Mahathir, after over 22 years, left the political stage upon retirement, and Anwar was incarcerated for 11 years, with three prison sentences.
The world has changed since their glory days. Dr Mahathir seems to still want to re-boot projects, including costly ones, such as the national car, when the world wants to rid cars from the roads. The crooked bridge between Malaysia and Singapore has also stuck its head in there.
We have returned to fighting with Singapore, like a bad video stuck on the 'pause' mode, except that VHS and the VCR have long vanished. We have also gone back to Looking East – which is really, just Look Japan.
The Japanese have the best civic culture of honesty, cleanliness and orderliness, which we must emulate, but the reality is that China has overtaken Japan, and many other nations in the economic stakes.
The world has changed – goes the narrative at the start of Marvel super hero movies.
Likewise, Anwar has plenty to catch up on, as many of his well-connected figures around the world have either retired or were disposed by their voters.
Malaysia itself has changed, and a new generation of leaders and voters has since surfaced, those who have never known these leaders of yore until the recent general election and Anwar's release from jail.
The old formula, especially the political ones, is hard to stomach. And the frog culture is surely not cool at all.
These political dramas have sucked the wind out of us – the continuing violation of promises, and abrupt reversal of decisions.
Malaysians were promised a New Malaysia, with a new political culture, and new way of life, but the old bad ways are creeping back in, and derailing the reforms we need so badly.
"Political ethics," which was a frequently used term by the new leaders when they were in the opposition, have given way to "compromise political deals," with promises of carrots, for sure.
The year that comes to an end, 2018, has been one that brought hope, a refreshing air and optimism to Malaysians, and we hope the next year will bring us together to face the enormous challenges ahead.
It will be an economically-challenging 12 months, with nasty turbulence along the way. So, the last thing Malaysia needs is endless and meaningless politics. We have had enough of these antics and theatrics. So, buckle up for 2019!
The writer wishes Malaysians a Merry Christmas and a Happy New Year. He will take leave but be back next year.