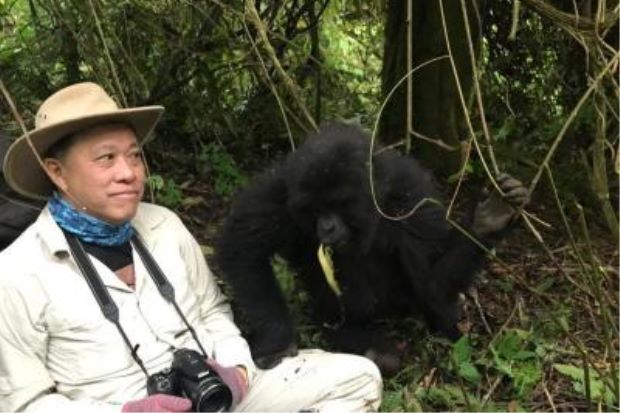 It is possible to get very close to the primates in Rwanda, but only when your ranger gives the all clear.
It is possible to get very close to the primates in Rwanda, but only when your ranger gives the all clear.
To avoid slipping on the proverbial banana skin by losing out on ecotourism revenue, Tourism Malaysia must first put its best foot forward.
I HAD never heard of Buhoma, a one-street village along the border of Uganda and Congo, until I visited the Bwindi Impenetrable National Park in the north-eastern part of the sprawling forest to trek for gorillas.
The gorilla families living just behind this obscure village apart, nothing else there piqued my interest.
Not even the slight Pygmies – who average 155cm, or about five feet in height – or the more appropriately called Batwa people, living around the Buhoma village.
Well, perhaps one little interest – to learn how locals made gin from bananas. The brew is called Waragi, a name derived from "War Gin", a tag earned by Ugandan soldiers who returned from World War II. They even have beer made from bananas.
Certainly, the banana is their staple. They eat bananas in all forms all through the day, with over 50 varieties to choose from.
When I asked my guide-driver, who endured an exhaustive day at the wheel, what he would be having for dinner, he broke into a big smile and said: "Boss, I am having bananas for dinner."
The next day, I asked him what he had for breakfast, and again, it was the same facial expression and joy, and again, he repeated: "Boss, I had bananas for breakfast."
At this point, he asked me, if Malaysia had bananas. I told him, of course we have bananas. I was also very tempted to tell him that Malaysia was in danger of becoming a banana republic if its politicians don't stop monkeying around with its people's money.
But I thought that would be too complicated to explain, and I also didn't want to ruin my stay by relating the looting escapades of an infamous Malaysian fat boy.
What happened next surprised me.
"I know Malaysia! I love Cardiff!" – and I was stunned. We were standing in the middle of this God-forsaken village, with dust flung in the air every time a four-wheel vehicle drove past us on this untarred orange-coloured dirt road. And right there, he asks me about Malaysia because he has seen the word emblazoned on the jerseys of the Cardiff football team.
At this point, I whipped out my phone and sent him into a frenzy when I showed him a picture of me and Cardiff boss Tan Sri Vincent Tan, decked in the club's jersey.
And he even knew Tan Sri Tony Fernandes, Queens Park Rangers and the Malaysia link. And all because of football.
Thanks to technology, he gets to watch most of the English Premier League matches, providing him in-depth knowledge of the people behind these clubs.
So, Malaysia is known around the world because of football, and Cardiff FC is not even in the top tier of the table. Malaysia may be hosting Visit Malaysia Year in 2020, but there's not a single sen from Tourism Malaysia for the free publicity.
By now, EPL followers must have seen the "Visit Rwanda" tourist board logo all over the stadiums and for sure, on the sleeves of Arsenal players.
These are multi-million-ringgit deals, because for Rwanda, tourism is the biggest foreign exchange earner in the East African nation.
No doubt, president Paul Kagame's £30m (RM158mil) sponsorship has come under fire from critics unfamiliar with Rwanda, those stuck in time with its impoverished history and images of the 1994 genocide.
But Rwanda has moved on, especially since its tourism industry offers lakeside resorts and walks with mountain gorillas. An expert estimates that a £30m investment could generate £300m (RM1.58bil) in new revenue.
The capital, Kigali, is regarded the safest and cleanest city in the entire African continent.
If airlines touching down at KLIA warn passengers about drug trafficking being a serious offence which carries the death sentence, in Rwanda, we were warned that the possession of plastic bags is an offence.
Plastic bags have been banned in Rwanda since 2008, and here in Malaysia, we are still shamefully struggling with doing away with it. Yet, many of us continue to think we are much better than Rwanda, at least environmentally.
Upon arrival, visitors see large signs which read: "Use of non-biodegradable polythene bags is prohibited". And, of course, our luggage was dutifully searched.
Besides the government's commitment, Rwanda is acutely aware that tourists visiting the country are likely to be environmentally conscious.
They are there to see the gorillas, and not skyscrapers or glitzy shopping malls.
Rwanda's tourism is reportedly on an upward trajectory, earning US$438mil (RM2.3bil) in revenue in 2017, up from the US$404m (RM2.1bil) recorded in 2016.
The truth of the matter is, the EPL is the most-watched sports league in the world, broadcast in 212 territories to 643 million homes with a potential TV audience of 4.7billion people. That's a staggering figure.
Another report has it that "an average game is watched by over 12 million people. With these astonishing numbers, the EPL has every right to call itself the most popular league in the world.
"In comparison, its closest rival, Spain's La Liga, draws an average of just over 2 million fans per game.
"That league's top two teams, Real Madrid and Barcelona, negotiate their own TV contracts since they are able to get more money from the global TV audiences than selling La Liga as a whole.
"Other top European national leagues also languish in comparison to the English league. Italy's Serie A draws 4.5 million viewers for an average game and Germany's Bundesliga is roughly 2 million viewers."
In 2017, Tourism Malaysia was lambasted – and rightly so too – by Malaysians for selecting Barcelona striker Luis Suarez as its tourism ambassador.
It was a horribly bad decision, and until now, we still have no idea how much we paid this bad boy of football.
Adding insult to injury, the videos that accompanied Suarez were embarrassingly bad, too.
Then Tourism and Culture Minister Datuk Seri Nazri Aziz defended the move, saying the star player's social media status was undeniable.
"He has 25.3 million followers on Instagram, 18.9 million on Facebook and 12.4 million people following him on Twitter."
"The statistics say that he is a popular player. We sometimes don't understand how fans think. What is important is the statistics," he explained.
Well, if statistics are important, why were Malaysians not privy to the ROI – return of investment – from the Suarez saga, and why the secret over how much taxpayers had to fork out for this footballer?
It's very simple, if we are serious about getting tourists to come to Malaysia in 2020, we have to spend – wisely – and not pour into the pockets of crooks.
Even Rwanda understands that if you pay peanuts, you get monkeys, and that big bananas are needed to get the world to see the gorillas. For us though, goreng pisang will get us nowhere.