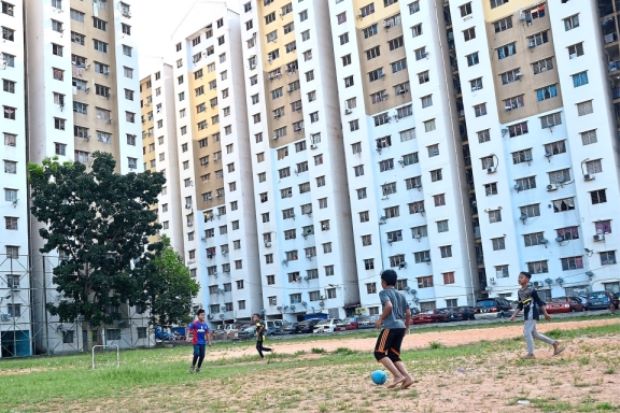 Struggling and frustrated: Most aid goes to the B40, leaving the M40 feeling adrift and on their own.
THE economy is the most talked about topic among Malaysians, with issues including the increasing cost of living, shrinking ringgit, continuing weak economy and sadly, the endless politicking.
While attention has been cast on the Bottom 40, or the group known as B40, as they make up the lowest earners, the middle class, the Middle 40, or M40, shouldn't be forgotten either.
Malaysians are categorised into three different income groups: Top 20% (T20), Middle 40% (M40), and Bottom 40% (B40).
To be in T20, a household's monthly income should at least be RM13,148, while the M40 and B40 groups have raised their bars to RM6,275 and RM3,000 respectively.
We don't need a survey to know that the people in the bottom half of M40 and B40 are barely making ends meet and struggling to maintain a decent lifestyle.
At the lowest end, 70% of these poorest are the bumiputeras, while the rest are Chinese and Indians, which proves the poor comprises all races.
The M40 – which forms 40% of Malaysia's population – includes mostly wage earners, in both public and private sectors.
The bulk of their income goes to paying the car and housing loans, rent, and groceries. After deductions from the essential bills, such as phone, Astro, petrol, and children's education, there's barely anything left to save.
It's harder for those who need to take care of their ageing parents, a noble endeavour which naturally includes settling healthcare bills, and even expenses for care takers.
And since the majority of the M40 lives in the cities, the household income of RM6,275 is almost negligible, and they can hardly be faulted for feeling that their standard of income has dipped drastically while the cost of living has increased.
The M40 essentially comprises the most frustrated lot since most aid goes to the B40, leaving the former feeling adrift and on their own.
Most of them don't have alternative revenue streams besides their monthly wages, and they are dependent on corporate performances, so the overall economy is key.
They are unlikely to care that the Department of Statistics' Household Income and Basic Amenities survey indicated that the mean income of households in 2016 reached RM6,958, a 6.2% annual appreciation from RM6,141 in 2014.
The survey also revealed the incidences of poverty decreased from 0.6% of the population in 2014 to 0.4% in 2016. Compared with the population of 30.7 million in 2014 and 31.7 million in 2016 (from the same portal), the numbers also decreased from 184,200 to 126,800 from 2014 to 2016.
The 11th Malaysia Plan (2016 – 2020) Mid-Term Review stated that the mean household income is predicted to reach RM8,960 by 2020.
The term "middle class" has different meaning and measurement to economists and academics from those classified in the M40 category.
As one analyst rightly pointed out, a household of four living in the Klang Valley with an income of RM4,000 per month, would be classified as urban poor due to the higher cost of living. However, that income would be comfortable to live in Pasir Mas or even Taiping.
It won't be wrong to suggest that at RM4,000, that's only enough for a single person to live in the Klang Valley.
We need to understand that the key people driving the country's economy are the middle-income and top earners, many of whom feel they have fallen between the cracks of progress.
At every Budget, they seem to be the forgotten Malaysians, and each year, they hope for lower level tax bands for themselves, so they can have extra disposable income, but that never happens.
Khazanah Research Institute's (KRI) State of Households 2018 revealed a steady increase in the income gaps between the Top 20% (T20), M40 and B40 groups since the 1970s. In 2000, the estimated real mean household income differences between T20 and M40, M40 and B40, and T20 and B40, were RM6,000, RM2,000 and RM8,000 respectively.
By 2016, however, it increased to RM9,000, RM4,000 and RM13,000.
These figures show that T20 households are gaining wealth at a faster rate than the rest.
Despite the improvement in mean household income figures, the gap between income groups continues to rise, and the survey added that "the escalating cost of living has put financial pressure on the M40 and B40 groups."
"With income growing at a slower pace compared with the cost of living, the M40 and B40 groups are experiencing an abridged disposable income, which could be detrimental to future consumption, activity, emergency or debt services."
Combining data from the Department of Statistics' Household Income survey (2016 and 2014) and KRI household reports (concerning population increase), it's clear that the percentage of households living under the 60% median grew from 2014 to 2016 by 41.8% to 43.5%, with an estimated 2.8 million households in 2014 and three million households in 2016.
The increase also suggests that more M40 households have slipped into the B40 category – and this is where the alarm bells go off.
In the 11th Malaysia Plan (2016-2020), targeted subsidies, cash handouts, healthcare benefits, education, along with employment and entrepreneurship opportunities, include the usual strategies to ease the burden of B40 households.
One of the major concerns among the young M40 family is that they can no longer afford to buy a "middle class" home, and the difficulties have been aggravated by how they need to live relatively close to their workplace.
As much as the government expects housing developers to build affordable houses, let's not forget that most of these developers have bought land at premium prices, and as private concerns, they still need to make profits.
But homes in Malaysia have become "seriously unaffordable" by international standards, and there's no need to point fingers at developers when the governments have basically failed to do the job, unlike Singapore's Housing Development Board (HDB), which builds and upkeeps flats that don't degenerate into urban slums.
Their HDB flats are so well-designed and maintained that they can pass off as high-end apartments by Malaysian standards.
Bank Negara reported that from 2007 to 2016, house prices grew by 9.8% while household income only increased by 8.3%. While developers blamed rising construction costs – including labour outlay – and stagnant salaries for the increase in house prices, all this means nothing to the M40, because ultimately, they still can't buy houses.
The rent-to-own scheme which the B40 has enjoyed from the low cost houses, needs to be extended to the M40, so they, too, can enjoy the same benefits, and while such help is expected to come via PRIMA Corp, a federal government-linked developer which supposedly caters for M40, it's still falling behind schedule.
While it could be easy for the M40 to request more support, including allowances for school-going children, and even free student passes for public transport, it's time that financial literacy be introduced at school level.
A study by S&P Global Literacy Financial in 2014 showed that the financial literacy rate in Malaysia is only at 36%, compared with 59% in developed countries.
"The low financial literacy rate is among the factors that has contributed towards high levels of debt – including worrying bankruptcy problems – among the youth.
"Between 2013 and 2017, a total of 100,610 Malaysians were declared bankrupt, of which 60% were between 18 and 44 years old," according to Finance Minister Lim Guan Eng.
Apart from the youth, Lim noted that older Malaysians are also facing serious financial challenges, particularly when it comes to their retirement.
Based on estimates by the Employees Provident Fund (EPF), he said that as of 2019, an individual requires savings of at least RM240,000 by age 55 to retire comfortably.
However, based on the EPF 2017 Report, active contributors aged 54, have average savings of only RM214,000 in their accounts.
"What is even more worrying is that two-thirds of contributors aged 54, only have RM50,000 and below in their EPF accounts in 2015," he reportedly said, adding that this was well below the recommended amount for savings.
Lim noted tha the low amount of savings was inadequate and estimated it to run out within five years of retirement, although the average life-span of Malaysians is 75.
Basically, the B40, M40 and, our young and old Malaysians, are all either grappling with financial problems, don't know how to handle their money, or don't even earn enough in the first place.
This is unlike the situation for the T20, which has disposable income where their wealth encourages investment and wealth creation, the main principles of the T20 group.
But of all people, politicians should know the importance of the people wanting to have money in their pockets and feeling well heeled.
Easier loan payments, good refinancing packages and transport allowances should be considered to help the M40.
If the market continues to slide, there will be many unhappy people, and the resentment will translate to protest votes. For them, it simply means the government is doing a lousy job, and they couldn't care less for the reasons, however valid they may be.