THE phone call came from Datuk DJ Dave at about 11pm.
He wanted to share with me the sad news that popular 70s singer Datuk Dahlan Zainuddin (pic) had died at the Selayang Hospital.
The man who sang the popular hit, Kisah Seorang Biduan, died at 9.48pm on Tuesday. He was 78.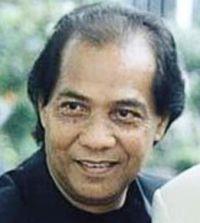 Dahlan, was hospitalised after a stroke on May 25. It was his second time after the first in 2016, which resulted in paralysis on his left side.
I have never met Dahlan, who used to work at the marketing and advertising department of the New Straits Times, but Dave probably thought he wanted me to know about it as a newsman.
He also knows that I am a big fan of Malay songs of the 70s and 80s era. And Dahlan was certainly one of our top singers then.
Like Dave, a Punjabi, this was a time when there were many non-Malay singers, individually or in groups, who had hit songs in Bahasa Malaysia.
They sang their songs well, and more importantly, they sang it with passion and with style, as required by artistic standards.
Dave, or Irwan Shah, is now 71 years old and is superbly fit with his endless rounds of badminton. He does not take cold drinks, eats lots of fruits and vegetables and starts his day with 50 push-ups.
He calls and texts me regularly, as we share common views on moderation, and about the Malay entertainment business.
Then there is Freddie Fernandez, who used to be with the Revolvers, with their magical hit Perpisahan and Namun Ku Punya Hati.
The band comprised Halim Shahsudin, Razak Rahman, Hamid Rahim, Manan Ngah, Lim Voon Chong, Nordin Anwar and of course, Freddie.
I must have played their songs non-stop on my cassette player in my hostel room in my dorm at Universiti Kebangsaan Malaysia. It probably drove my room-mate, Calvin Kan, crazy, but I introduced him to good Malay songs.
Freddie was a Universiti Malaya economics graduate and he could sing. He looked fantastic in his white jacket and he was my hero. Incredibly, from a student fan, he is now a friend decades later.
But growing up in Penang had its privileges, so to speak. I had the opportunity to listen to legendary groups like the Alleycats and Sweet September up close and personal. They used to play at a nightspot called Carmen's Inn at the then Hotel Merlin.
The hotel was just located directly opposite my school, St Xavier's Institution, and even as school boys, it didn't stop some of us from frequenting the club occasionally. We were then Fifth Formers, and we thought we were already adults.
Datuk David Arumugam and his brothers went on to produce hit after hit such as Hingga Akhir Nanti and Sekuntum Mawar Merah, and again, the band was multi-racial. There were continuous changes to the line-up but the core team were David and his brothers, Loganathan and Shunmugam, and drummer Tan Chin Hock, as well as guitarist Nazaruddin Abdullah.
Of course, Sweet September had many Xaverians in the band. They did perfect cover versions of songs by The Stylistics, in their trade mark falsetto, and naturally, when they did their Malay hits, they started a new trend – Malay songs in falsetto such as Hatiku Kau Guris Luka.
The line-up included Antonio Vincent, Dean Yusoff, Ignatius James, Adrian James and Ronnie Ng.
And how can anyone of us forget the incredible hit song Mulanya Di Sini by Freedom, and its line-up of Seha, Shuib Shaari, Abdul Ghani Karim, Mohd Nor, Richard Gomis and Mohd Nor Shariman?
Anyone growing up in the 70s, 80s and 90s, wouldn't have missed the duo of Roy Sta Maria and Francissca Peter, when they rocked Malaysia with hit songs like Siapa Dia Sebelum Daku and Tak Kenal Maka Tak Cinta.
Another band, Headwind, headed by Zainal Abidin Mohamad – who will forever be known for his monstrous hit song, Hijau – had a line-up with Zulkifli Kasim, Nicky Ooi, Kudin and Abdul Razak Salleh.
And there was Singapore's Flybaits, with their hit song Kenangan Lalu with band members Atan Ahamad Osman and Horace Hutapea as well as Villenguez Alfredo Valentino aka Fredo.
Some of the members now perform and live in Malaysia.
And we cannot talk about multi-racial bands of the retro era without talking about Carefree, with hits like Belaian Jiwa and Rindu Bayangan in the late 70s.
The fact that Belaian Jiwa was made a hit again in the 90s with Innuendo proves the enduring melodic quality of the songs.
The founding members were Simon Justin Leo, bassist/singer Jay Jay (Ahmad Fauzi Darus), keyboardist Charles Paiva; drummer Raja Rahman (Boy) and saxophonist/flutist Raja Rasid (Wan). The band, keeping its name, has a new line-up now.
There was Kenny, Remy and Martin – the Chinese trio that recorded songs in Malay. Kenny Tay was the choirboy-faced singer and guitarist, while Remy Loh played bass and his brother Martin played the keyboards.
In the 1980s, the trio gave us melodic, evergreen ballads such as Ku Petik Bintang Bintang and Suratan Atau Kebetulan. The melody for their monster hit Ku Petik Bintang Bintang had been written by Tay in his early 20s, and was just waiting for lyrics. And just last week, as I spent my time on YouTube on a nostalgic trip of the Malay retro era, I saw a video clip of the late Dahlan, singing with a busker outside the Sogo mall in Jalan Tunku Abdul Rahman.
Looking much older than the old pictures that I remembered him from, the video showed the busker calling out to Dahlan, who was standing in the crowd.
The busker cajoled and begged him to sing his hit song, and he sportingly agreed. As he started singing, we could see that he had not lost his passion and ability to deliver his song.
He truly enjoyed singing and got even more excited when he realised that the small crowd could actually sing along.
They recognised his hit song. It would probably be the last video clip recorded of this great singer singing.
The demise of Dahlan is not just the passing of a great singer but also the passing of an era, of a time when many non-Malay singers could deliver hit songs in Bahasa Malaysia, and bands had multi-racial Malaysian line-ups. And we actually had real good songs.