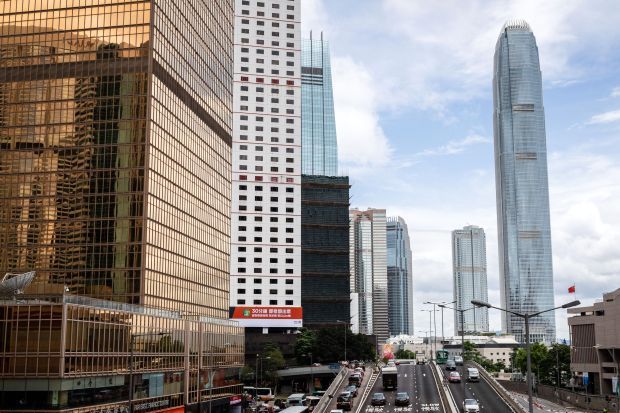 Hong Kong. -Bloomberg filepic
IT'S lunch time in Hong Kong, but the soya sauce chicken rice seller at Queen's Road in Shek Tong Tsui is looking distressed as the crowd isn't up to expectations.
Rental is high in Hong Kong and customers are obliged to share tables in small eateries like the one I was in.
Once eagle-eyed restaurant owners spot the conclusion of a meal, patrons are swiftly handed their bills, subtly suggesting they leave the premises to make way for incoming customers. Otherwise, they'd earn short shrift from irate staff.
Life is hard in HK and most residents feel that it has become much harder.
The older ones are more tolerant and patient because they have lived through the country's high and low points. They include those born in China who came to the island with their parents.
Retired civil servants complain of promotions bypassing them because the top posts were reserved for the whites under British colonial rule. They felt humiliated and have never forgotten this marginalised treatment.
The young ones are becoming angrier now. They see HK deteriorating, reflected in their inability to buy a flat the size of a car park lot, because something even that small would probably cost millions of ringgit.
HK is a crowded city where space is at a premium. Space, meaning a hole in the sky. Landed properties are for the super rich in a land where being rich alone isn't enough.
Regular visitors to HK will tell you that the streets are filled with people for a simple reason: it can be claustrophobic living in a 400sq foot – or less – flat.
HK residents sometimes joke that they need to leave their flat to provide "privacy" for newly married children who sometimes can't afford their own homes and still need to live with their parents.
"The walls are too thin, and it is best we give them some space, you understand what I am saying, right?" said my HK friend as we chuckled about the reference while dining on dim sum.
The waiting period for public housing is five years, if you are lucky, and it's not uncommon to see an entire family living in one room in many parts of downtown HK. Apparently, more than 200,000 people live in subdivided homes.
Forget politics for a minute and let's talk facts. An international survey reportedly showed HK sliding 12 places to an embarrassing 41 as a liveable city for Asian expats, its worst ranking in a decade.
"We call ourselves Asia's world city, but Asians have given us the thumbs down as a liveable city. That's a paradox that should shame us," the South China Morning Post (SCMP) newspaper reported.
Over the last two decades, HK people have found themselves priced out of the home market. The cost of living has gone up, but the standard of living has dropped sharply.
The smog has worsened and there are regular reports of hospitals overflowing in the winter months every year, ushering in the routine flu outbreak.
The competition for space is a serious concern in HK. The resentment towards China is simply because people in HK have found it hard to compete with the deluge of mainlanders.
Each time I go to HK, I can't get past the sight of long queues of people from China – with deep pockets – at luxury goods outlets at Central.
"Last year, 65 million tourists flooded Hong Kong. That's only about 10 million fewer than for the whole of the United States. Almost 80% who came were mainlanders, most of them day trippers who swarmed residential areas to buy groceries, ruining the quality of life for locals.
"How can life quality improve if you add the four million mainlanders who come monthly, on average, effectively raising Hong Kong's population to well over 11 million?" pondered columnist Michael Chugani in the SCMP.
Milk powder is a favourite item of the mainlanders when it comes to groceries because of food safety concerns back home. Every mum and pop shop in HK seems to share a similar inventory.
HK people are loud and opinionated. And often crude and crass even, especially, when speaking in Cantonese.
This is a city of very hardworking and motivated people. It's commonplace for a person to be doing two or three jobs to ensure ends are met, but these people also acknowledge the city has long passed its prime, with stats indicating its lost position as one of Asia's top cities.
It has surrendered its edge as a financial hub to Shanghai and even nearby Shenzhen.
Chronicling the events of the last two decades reveals how those fortunes changed. Imagine that in 1997, China was very much reliant on HK, largely because the global superpower had not yet made it into the ranks of the World Trade Organisation (WTO), which was stunting and limiting its export trade.
So HK's position as a channel for entrepôt trade was exploited to deliver mainland-made goods to the rest of the world via its ports, and crucially, by circumventing the WTO's trade restrictions. But that all changed when China entered the organisation in 2001, and from then HK began to play a diminishing role. The island went from handling half the republic's trade in 1997 to a measly 12% today.
"In terms of total size and wealth, Hong Kong has also shrunk relative to China, which has experienced more than three decades of astoundingly high economic growth. In 1997, Hong Kong's economy was one-fifth the size of China's, and its per capita income was 35 times higher. By 2018, Hong Kong's economy was barely one-thirtieth the size of China's. Hong Kong is still richer, but the gap is narrowing, with its per capita income now five times higher than China's," claimed the New York Times International.
And to exemplify China's newly accrued wealth, on a trip to Guangzhou, my jaw dropped when I saw the homes of the mainland Chinese in a sprawling gated property built by Forest City.
The HK film industry has nearly collapsed. With only the TV dramas in Cantonese keeping some actors home, most HK movie stars and singers have moved to China, where they are better paid and command bigger audiences.
Some still struggle to speak fluent Mandarin and drop their Cantonese accent, but most have successfully made the transition.
Knowing the realities of the huge China market, and not wanting to offend their audience, most of these big names opted to stay away from the recent HK protests. Pro-Beijing Jackie Chan was lambasted for pleading ignorance of the protest march.
Still, HK has its assets, though. It has an efficient administration system and remains an important channel. In China, tighter capital control measures are making it increasingly difficult to access outside money, the SCMP said.
"Hong Kong is also a top offshore yuan trading centre, leading the way for wider use of the Chinese currency in trade and finance – a priority for Beijing as it pushes for the yuan's internationalization.
"… Hong Kong can also do more down the road. It can foster an ecosystem for the yuan currency, developing derivatives and indexes to convince people to hold the yuan in larger amounts," Oliver Rui, a professor of finance and accounting in China, was quoted.
But China needs to do more to secure the faith of the islanders.
HK people understand and accept they are a part of China. There is no turning back and nothing is going to change that.
Hoisting British flags may be the manifestation of frustration for the idealistic young, but it won't change their destiny.
At the same time, China needs to wake up to the fact that only 3.1% of those aged between 18 and 29 in HK see themselves as broadly Chinese (China nationality). This compares to 31% in 1997, according to a report based on a survey by the University of Hong Kong.
And we know that many of those who took part in the recent street protests included secondary school children, some not yet even 18 years old.
Even though China has overtaken HK, particularly from an economic standpoint, Beijing needs to foster and maintain a sense of inclusion, especially when the islanders don't feel they are a part of China.
There was a time when HK residents laughed at mainlanders, calling them the disparaging "Ah Chan", or village simpletons. However, mainlanders are growing richer and more powerful now. But like all good "bosses", China needs to treat the island's residents with respect, and it needs to motivate and win over their hearts and minds. China must make them proud to be Chinese citizens.