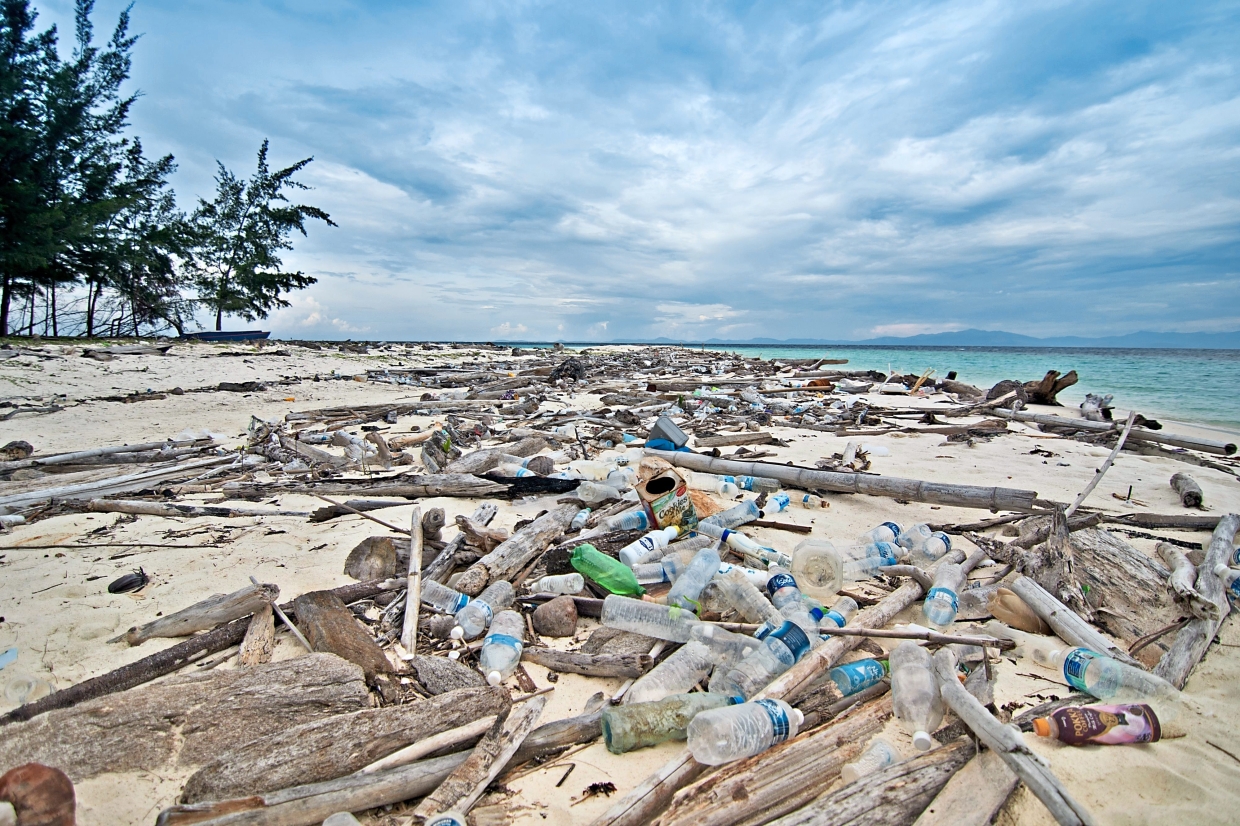 This is how bad plastic waste on tourist-favourite Tioman Island can get. – Reef Check Malaysia
THE Kinabatangan river in Sabah is one of the best places to view wildlife in Asia, what with its dense population of animals such as orang utan, hornbills, proboscis monkeys, pygmy elephants, langurs, wild cats, crocodiles and other amazing creatures.
My maiden trip to the interiors of Borneo, on the eve of National Day in 2017, changed my life immensely and permanently. Initially, I was reluctant to make that trip because going into the jungle with bare-bones accommodation was not my idea of a well-deserved vacation.
But being ahead of the General Election in 2018, and driven by my desire to find out more about the parliamentary constituency of the infamous and controversial Kinabatangan MP Datuk Bung Mokhtar Radin, I grabbed the opportunity with both hands.
I fell in love with the place immediately. From that moment on, the city boy in me decided that the jungle and sea – with their flora and fauna – make better destination options than banal and homogeneous shopping malls.
From Kinabatangan, I went to the incredible ancient rainforests of the Danum Valley, one of the last untouched pieces of land on earth.
I lost track of the number of orang utan I saw each day while trekking deep in the jungle. I also couldn't remember the number of blood-sucking leeches that feasted on me – ecotourism at its best!
But here's the sad story – I also lost track of the amount of plastic debris floating in the Kinabatangan, drifting with the river's current.
It was painfully embarrassing for me because, apart from a Malaysian couple, I was the only other Malaysian on the boat cruise and just before that, we had been proudly promoting Malaysia to the others, some of whom had come from as far as Chile and Italy.
Lo and behold, we saw plastic items like bottles, food wrappers and even beer bottles floating by us. Surely this shouldn't be happening in one of the world's most beautiful and biodiverse areas.
As I made my complaints known to the local lodge operator, I learned that the villagers living along the river were just as guilty of littering.
It never dawned on them that their indiscriminate practice of dumping all this plastic would hurt them economically, as many of them have profited from the ecotourism there.
It was a different story in the Danum Valley though, where its inaccessibility and the restriction of visitors have kept the jungles clean. In fact, I don't recall stumbling on any plastic refuse on my treks there.
The plastic horror surfaced once more on my trip to some isolated islands in East Kalimantan. I travelled for three hours on an uncovered boat from the small Indonesian town of Tarakan (an hour's flight from Tawau) to Derawan.
The Derawan Islands comprise 31 islands, including Maratua, Sangalaki and Kakaban, which has numerous submerged reefs and islets. Located in the Sulawesi Sea, these islands are so rich in marine life I could see rays, sharks, turtles and barracuda from my room! And out in the deep sea, whale sharks and manta rays are aplenty.
Only simple hotel facilities exist on these islands and it's certainly not a place for well-heeled luxury seekers. This is not the Maldives.
The air-conditioning in my room wasn't working, and there was absolutely no Wifi, not even in the reception area. Meals comprised just three items and rice.
Most of the time on these islands, I felt like Robinson Crusoe, from the story of an 18th century traveller who was marooned on an island, because a few villagers apart, there were just no tourists – the place was largely desolate.
But despite the acute isolation, it was heart-wrenching to still see plastics, of all kinds, washing up on the shores of these beautiful locales.
They were an eyesore, but I was more concerned about the sea creatures mistaking some of the plastic for food. That now-renowned image of a straw sticking out of a turtle's nose must now surely be burned into our brains.
For a multitude of known and unknown reasons, we seem to be losing the battle against the plastic menace. Last December, I trekked up the volcanic mountains of Rwanda in Africa in search of gorillas, and despite the wilderness, I still stumbled upon discarded plastic bottles.
Unfortunately, plastic isn't the only thing damaging our oceans, but it's by far the worst offender.
According to a report, experts estimated that some eight million metric tonnes of plastic waste enter our oceans annually.
"Some micro-plastics – bits of plastic that are less than five millimetres long – also find their way to the sea and these end up getting ingested by fish and other marine animals.
"Experts say if things don't change, there will be more plastic than fish by 2050. This isn't inevitable. A change in public opinion about single-use plastic and various initiatives and technologies are trying to repair the harm done thus far and turn the tide on plastics in the ocean, " it was reported.
We are in a crisis. It's something that concerns ecotourists and adventurers because Malaysians don't care about plastic pollution, and we are a major contributor without many of us knowing it.
According to a 2015 study in Science Magazine, Malaysia is the eighth worst country worldwide for plastic waste.
The study, which named China, Indonesia and the Philippines as the top polluters, estimated Malaysia produced almost one million tonnes of mismanaged plastic waste (waste not recycled or properly disposed of) in 2010.
This must stop. And the time to act is now.