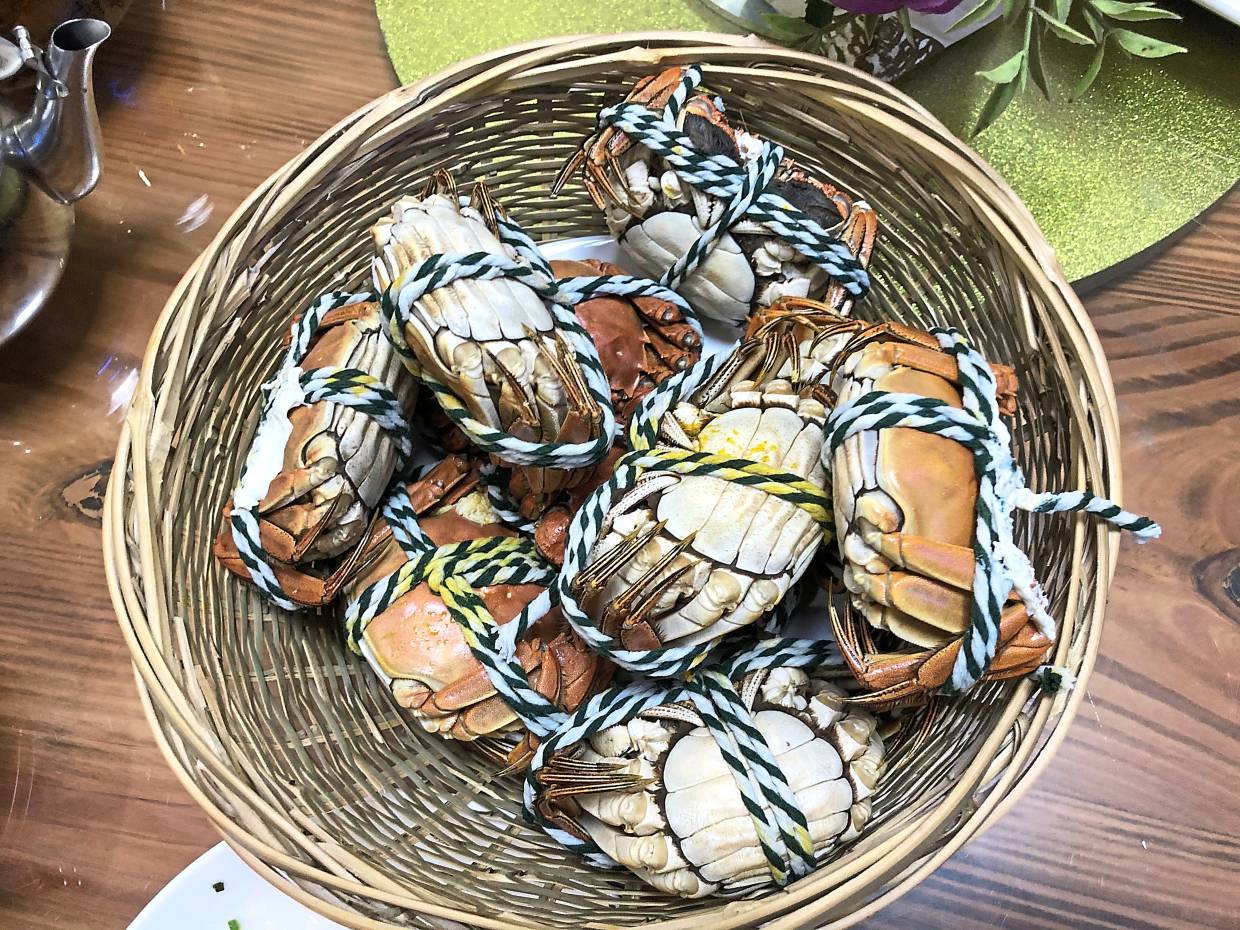 Hairy crabs from the Yangcheng Lake are a premium item that are highly sought after by foodies. Photo: Wong Chun Wai
The hairy crab don't take crap for its reputation of being super delicious, but unfortunately, it doesn't come stamped with a healthy meal badge.
The military green mights are chock-full of cholesterol and eating just one of these crustaceans will have you touching the daily cholesterol quota of 300mg, based on the World Health Organisation's daily recommended intake of the lipid.
So, it's best to limit consumption to one, or two crabs per occasion, even if these arthropods are lean in the flesh.
It's an expensive delicacy, but a maximum two tea spoonfuls of the marigold coloured creamy roe – the main reason to eat these crabs – is all you'll need and you're done.
But when it comes to food, we lose our marbles. Hairy crab (which earns its description because of its furry pincers) is an annual culinary obsession for many Chinese around the world, encompassing the months of September and October. This year, I decided to go on a pilgrimage to Yangcheng Lake, about 300km away from Shanghai, China.
To reach this wellspring of gastronomy, I had to take an "arduous" journey to Suzhou, a city west of Shanghai, where the most beautiful women in the country walked the land. Oh, and it has the finest silk, too. But they were barely distractions. Having eaten these little critters for some time (stomach always comes first), yet not quite an expert to tell where they come from (hello, Google!), I was invariably drawn to the sacred breeding ground of the best hairy crabs.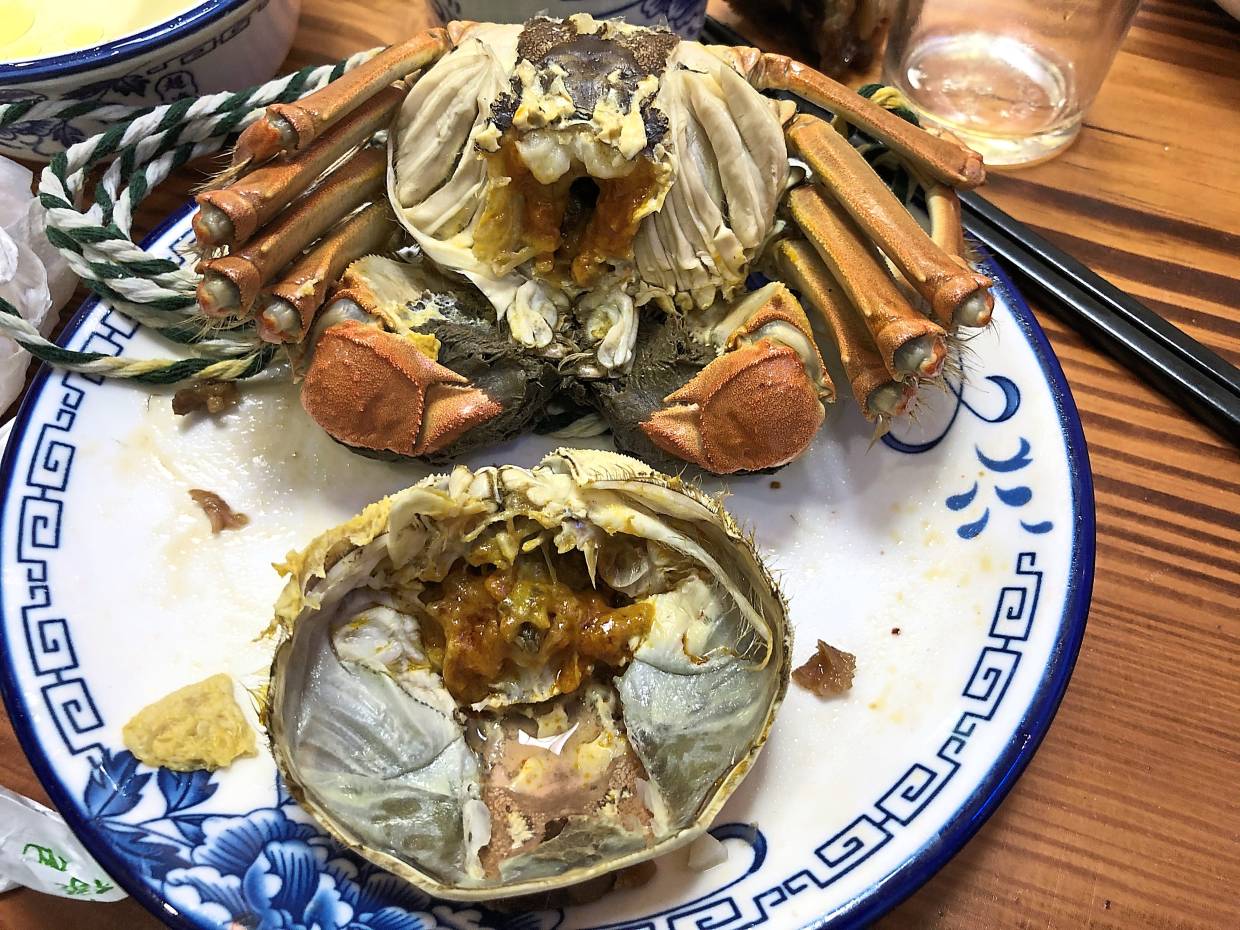 Crabs from the lake are said to taste sweeter and have better texture.
We chose October, which is when crab mania is at its peak in China.
Even the tourist-class hotel I stayed at had a small restaurant next door serving noodles in crab meat, dumplings in crab meat and many other dishes with the same commodity.
From small eateries to swanky restaurants, menus were furiously promoting these hairy creatures, which meant we had plenty to choose from and compare prices with, of course.
The Malaysian mission was simple (warning: this could sound familiar) – we would eat hairy crabs every day for as many meals as possible and as much we could until we we'd be sick of it till next year rolls around, of course.
There'd be no room – in the pocket – for shopping or sight-seeing since we squeezed this eating trip within a tight schedule.
But thanks to the help of a Chinese official, the local authorities had arranged for the best pick for us.
It wasn't just a proper lunch – we were taken through the entire process of how the crabs were caught, placed in boxes, tied up and shipped to various countries, including Malaysia.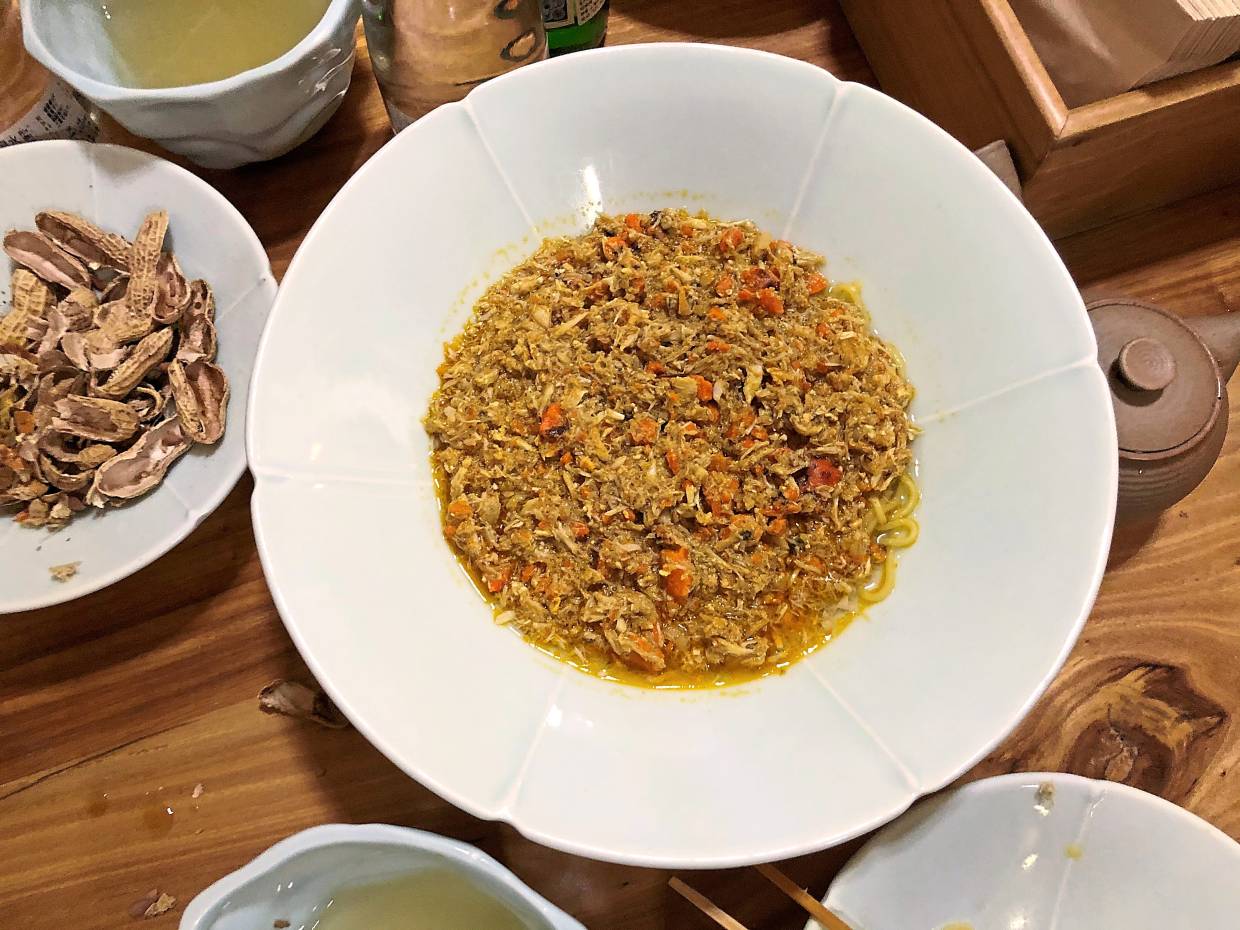 Crabs from the lake are said to taste sweeter and have better texture. Photo: Wong Chun Wai
We also chose a weekday to visit the lake since every weekend, an estimated 100,000 people, mostly from Shanghai, flock to the lake.
The body of water in Jiangsu Province is a freshwater lake, and it's the most famous area of origin for mitten crabs.
It's located between Lake Tai and the Yangtze River, and has a surface area of 20sq km.
Purists insist that the crabs must come from the murky and cold bottom of the Yangcheng lake, and not from nearby Lake Tai, though I could hardly tell the difference between their produce.
I was told that the Yangcheng crabs are sweeter and have a better texture, making them naturally more expensive, too.
Parts of the lake have been divided into coveted prime aquaculture plots, which resident entrepreneurs must lease from the local authority, of course, in pursuit of the prized certification of these Yangcheng Lake products being authentic.

The writer temporarily put aside all worries of cholesterol content to eat some delicious crabs from the Yangcheng Lake. Photo: Florence Teh
The market is filled with counterfeit crabs from other provinces and lakes, which are being passed off as the premium product.
A report said that "in recent years, Yangcheng's crab farming output has shrunk, for reasons ranging from natural causes such as weather conditions, to the intentional reduction of breeding zones to improve quality."
"The superior water, air and environmental quality of Yangcheng Lake are what contribute to the health and sweet taste of the crabs, " said Zhang Jian Long of Changshu Jin Tang Shi Ltd Co, who supplies the Malaysian restaurant group, and has rights to farm one of the largest areas of the lake. He proudly revealed that chemicals such as antibiotics are prohibited even.
According to food writer Julie Wong, "the rich aquatic plants and other crab food present in the lake are its unique properties but with intensive and widespread farming, the crabs need to be fed a supplementary diet including corn kernels, wheat, chopped fish, clams and crushed shellfish.
"Native to China and Eastern Asia, Eriocheir sinensis, also known as mitten crab, lives mostly in freshwater but needs to return to sea to breed. In the wild, they are found on the eastern coast of China, in rivers and lakes that are connected to the sea, but hairy crabs are now farmed in every province in China."
National Geographic China reported that "while they once lived wild in Yangcheng Lake and migrated naturally to the sea, the crabs became increasingly rare in the late 20th century due to factors like dams, pollution, and environmental changes.
"A burst of farming started after the 1980s, which led to overpopulation and a decline in quality. Eventually, measures such as reducing production, breeding with more scientifically advanced techniques and increasing the lake's small aquatic life, " were put in place to address the problem, it said. As I grabbed my fourth crab, I couldn't help comparing the inexplicable fixation for durians and hairy crabs – both have high cholesterol content and are becoming increasingly expensive as demand grows.
But that didn't conclude the trip. We wanted to end it equally on a high, so we chose to visit the famous Cejerdary, an upmarket noodle house specialising in hairy crab noodles.
It's a small place not far from the Bund, which is characterised by a long queue far exceeding its 18 seats. If you've reserved a place, be very punctual. I was told that if I was more than five minutes late, my seat would be given up.
The menu is simple – hairy crab roe golden flakes noodle, crab noodle, fresh hairy crab and hot Chinese wine. We ordered one each, and as expected, I liked the crab noodle most.
The best thing is, these dishes are available all year round, so waiting for season is no longer a deliberation.
The old adage goes that the way to a man's heart is through his stomach, but just make sure there's some crab meat in it for the promise of undying love.