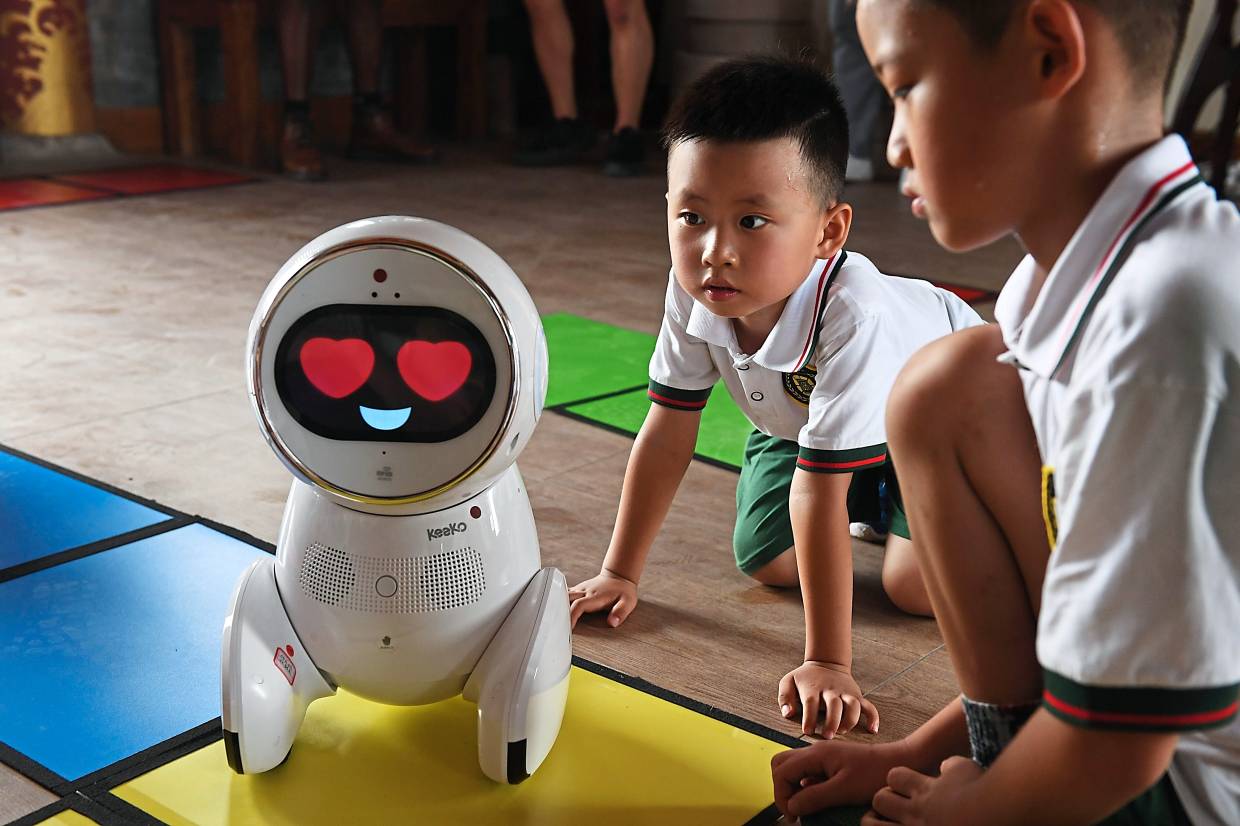 Cutting edge: Schools in China have begun to emphasise the teaching of coding, robotics and AI in the great push to produce the best engineers and digital experts. — AFP
We once had a vision of a future, but now that it's here, we still seem stuck in the past.
WE are already into 2020 and it's the dawn of a new decade. But if we buy into the endless narrative of race and religion, it's as if we haven't moved.
Six decades after Malaysia's independence, and we are still trapped in this blinding obsession with ethnicity, which has done nothing but consume so much of our time and energy.
When rationale flies out the window, and reasoning fails, some politicians and self-declared communal champions resort to bigotry ways.
And of course, the most unscrupulous sometimes tell our citizens they should leave the country if they are unhappy, although incredulously, some of these characters conveniently overlook how their forefathers came to Malaya nearly the same time as the rest.
If Malaysia is caught in the middle income trap now, with our inability to reach a higher level of income, that's down to not having changed in how we've functioned economically for the past 40-odd years.
The middle-income trap concept refers to the transition of low income to a middle income economy.
We have failed to achieve the Vision 2020 objective of becoming a developed nation, and the architect of that plan, Tun Dr Mahathir Mohamad, has blamed his successors for the failure.
Now, the Pakatan Harapan government – also led by Dr Mahathir – has unveiled the Shared Prosperity Plan for 2035. It remains to be seen if we will reach that goal, either.
But at the rate we are moving, it's hard to ignore how the voice of hope has somehow hushed.
In fact, Vision 2020 set off bigger expectations and optimism, but now there seems to be a lack of purpose and leadership.
If Malaysia is facing a middle income trap, then we are also snagged in a political status snare because we are heading nowhere as a nation, as we recklessly hand racial and religious hardliners the wheel of the nation.
Unelected religious activists seem to be speaking more boldly than many elected representatives, who seem content to let these fringe personalities hog the headlines.
In the digital age, the decibel level has been cranked in social media, and comments posted by their fans to support these hawks have become more seditious and disturbing.
It's hard to break free from that gnawing sense that they are allowed to continue because the government fears putting a leash on them.
Our Pakatan Harapan leaders, especially those from Bersatu, seem to lack the will to take on a centrist role, and worse, have attempted to compete with those playing the race and religion cards.
While these political shenanigans may gain domestic mileage, it doesn't help Malaysia one bit because many see it as part of the inability to get our act together.
They see the vibrance and innovations of Thailand, Vietnam and Indonesia, and want a slice of that pie. But anyone who has been to the cities of these three Asean countries will understand why they are selling their stories much better to investors.
Let's be blunt – they are telling investors to forget Malaysia as they highlight our continuing basket case political mentality and actions, with its cyclical scripts in tow.
Who can take us seriously if we believe a group of retired communists in wheelchairs can threaten national security over a reunion, which looked more like their farewell dinner?
Even the communists in China and Vietnam – countries which have good diplomatic ties with Malaysia – have embraced capitalism unlike those in other established free markets. The only thing communist is their political structure, that's all.
And we still hear some small-minded chauvinists calling for the closure of vernacular schools, claiming they are the root to disunity.
The cause of our fragmentation isn't these schools (which have produced many great talents), but the resident bigots and extremists.
Framed against this backdrop, it has become even more pertinent for those in significant positions of influence to speak up against these tyrants.
In November, Singapore launched its National AI Strategy, with three objectives to ensure it becomes a global hub for developing, test-bedding, deploying and scaling AI solutions, as well as learning how to govern and manage the impact of AI.
Schools in China have begun to emphasise the teaching of coding, robotics and AI in the great push to produce the best engineers and digital experts.
But our school system continues to be weighed down by politics, religion and language.
For just awhile, can we ask ourselves why we have been so preoccupied and emotional over so many superfluous issues that do nothing to propel Malaysia to become a developed nation?
It's a small world after all, and in 2020, the world has become increasingly inclusive and is culturally more open and dynamic. But if we continue the way we are, we will remain in the lower tiers of national progress.