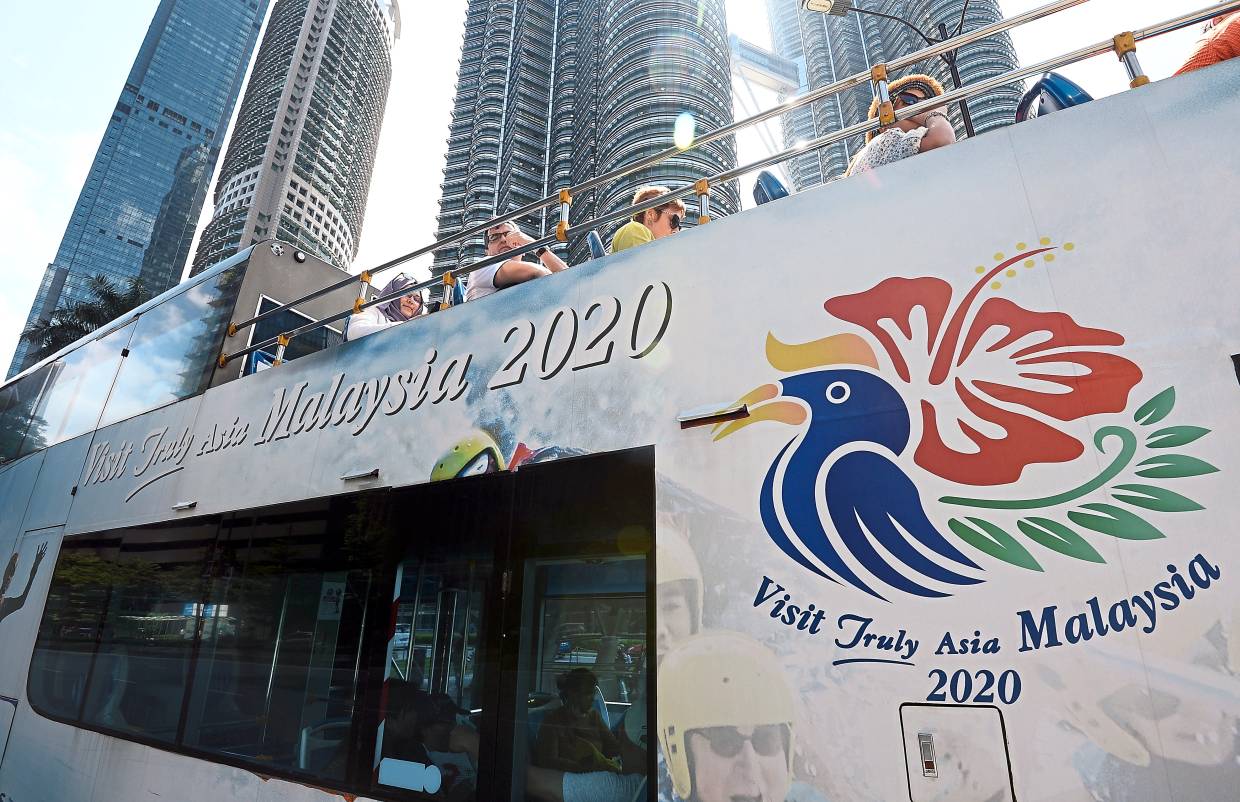 New moves: With the Covid-19 outbreak, Malaysia should work harder to draw tourists. — AZHAR MAHFOF/The Star
Even when our livelihood is threatened, our MPs are still more concerned about the game of political musical chairs within the corridors of power.
SOMETHING is very wrong with some of our Members of Parliament. Our economy has been heading south since the outbreak of the Covid-19, which spread – like a virus does – from China to the rest of the world, not sparing Malaysia, yet some politicians seem oblivious to the sense of urgency.
In fact, we are expected to post the worst results this year since the financial crisis a decade ago.
Our politicians seem to be living on another planet because they give the impression they are detached from reality and the people.
That's only because they are caught up in relentless politicking and deal-making. The next general election is three years away but we are all tuned in to talk of the next government, the "backdoor, side door and revolving side-door" government.
There has been so much intrigue and intense speculation about the formation of a new government-in-the-making.
PAS is initiating a vote of confidence for Tun Dr Mahathir Mohamad to remain as Prime Minister amid talk that this is the first step to more dramatic political movements.
But on the ground, ordinary Malaysians are anguishing over daily living. Unless one is selling face masks and sanitisers, almost every business has taken a beating since the year's start.
The worst hit include the airlines and travel businesses, but hoteliers, restaurants, shops, malls and, even bird's nest and durian sellers have also reported huge losses.
Last week, an outspoken celebrity chef texted me to share his woes. His restaurant business has dropped by 40% because major clients have pulled the plug at the 11th hour.
And his customers are almost all Malaysians – not Chinese tourists – as he serves only Malay food. He never imagined this scenario since his restaurant has been jam-packed since its opening last year.
Tour agencies handling inland tours, especially those who rely on Chinese tourists, have already run into cash flow problems.
The cancellations run up to six months, and while it's easy for the government to say that this is a temporary setback, the reality is that wages, Employees Provident Fund deductions, rentals and other operational expenses still need to be paid on time.
A local airline sent out a circular last week to inform its staff that the management was taking drastic cost-cutting measures to stay afloat as the company was facing "a state of financial downside", saying these actions were pertinent "to limit the risk of closing down".
The carrier took the unusual decision of limiting employees from travelling unless it's with personal transportation and sans mileage claims. Overtime claims have also been stopped unless justified.
This is just the first two months of 2020 and things have certainly begun on a bad note for most of us. The first quarter of the year is as good as over, and it's looking nothing less than disastrous.
I don't know what some of our ministers were thinking when they said that Covid-19 will have minimal impact on us.
Don't forget, this is Visit Malaysia 2020.
Malaysia is eyeing a GDP growth of 4.5% this year, with tourism alone expected to generate an income of RM100bil under the Visit Malaysia 2020 campaign.
Our ministers have a habit of painting a rosy picture, unlike their Singaporean counterparts who realistically tell their citizens to gear up to face the difficulties ahead.
What the rakyat wants to hear at the new Parliament session next month is what kind of economic stimulus would be provided to mitigate the impact on the economy.
Don't tell us that the plan is being considered or underway. No more of this "sedang di kaji" (is being studied) or "akan di pertimbangkan" (will be considered) drivel. We no longer have the patience for such shenanigans.
We also want to know what's being done to draw tourists to Malaysia now that China tourists are likely to cancel their trips here.
What are our alternate markets to draw tourists and assure them that Malaysia is safe, and convince them they shouldn't emulate the knee-jerk reaction of the South Korea government in advising their people not to visit Malaysia?
And if the Covid-19 epidemic continues, what are the contingency plans of the Malaysian government and the affected ministries? We want to hear from the Prime Minister and the relevant ministers.
Update us on current and projected losses over the next few months.
Malaysians would also want to know what has been done to ease the India debacle. It's a double whammy for our palm oil producers, especially small holders.
India and China, the world's most populous nations, are the two biggest importers of palm oil. While we have persuaded Pakistan and other economies to buy palm oil from us, we simply can't compensate for the loss of the huge Indian market.
Malaysia needs to stop antagonising big nations. We can't win, so let's be realistic.
And with two months having slipped by, we assumed our politicians would have been preparing for the next Parliament meeting with these issues in mind.
However, these guys are in dreamland, plotting an intriguing political coup and repeatedly counting the number of MPs on their side from the pool of 222. So much so, they probably count in their sleep, too.
And as is becoming routine, some sections of the media have been blamed for propagating fake news about this conspiracy, although almost all major media have reported the same. And some senior politicians should take note that MPs from their own party have been talking about it, too.
Politicians should stop accusing the media of creating fake news without justification, when they are making fake electoral promises to the people, and be warned that we can all see and remember.
It will get tougher over the coming months, and the performance of the first half of 2020 will be full of uncertainties.
So let's brace ourselves for the rocky road ahead.