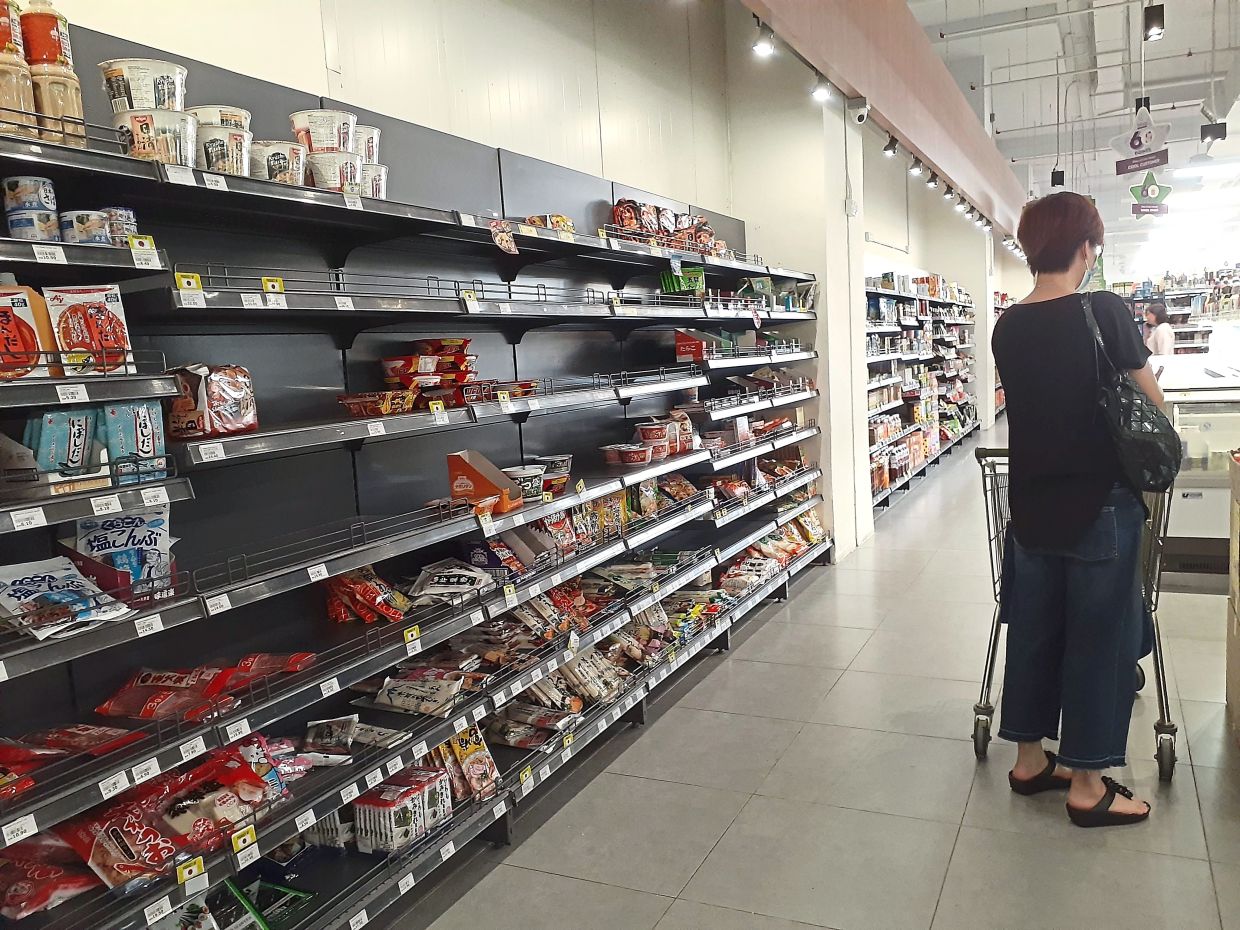 Sign of the times: Shelves in Petaling Jaya's hypermarkets are being cleared of essential items such as cooking oil, canned goods and instant noodles (pic above) and (pic below) KL Sentral is busy as usual in its role as a transportation hub with commuters wearing face masks.
With the sudden spike in the number of Covid-19 cases and two deaths, everyone must now wake up to the fact that the fight involves all of us, and not just the experts, doctors and nurses.
FOR the first time, the Sunday service at the Emmanuel Methodist Church where I attended was called off, but the sermon continued online.
The message from the pastor aptly focused on confusion and anxiety but a reminder to the congregation to step up and to continue placing their trust and hope in God.
I checked the number of viewers and was surprised to find that it was bigger than the average church attendance.
Welcome to modern technology, and certainly, the New Normal in our daily lives as we learn to protect ourselves from the scourge of the killer virus.
It feels different, in the absence of meeting church members, with the loss of fellowship and warmth but as the saying goes, God helps those who help themselves.
If any Malaysian still thinks that we should gather by the thousands or hundreds for religious reasons, as it happened in Iran, then we are not going to fight Covid-19 effectively and intelligently.
On Monday night, Prime Minister Tan Sri Muhyiddin Yassin declared that the entire country will be on a movement control order starting from March 18 to 31 to deal with the rise in Covid-19 cases.
He said the prohibition of movement and mass assembly nationwide would include all religious, sports, social and cultural activities.
"To enforce this prohibition, all places of worship and business premises must be closed except for supermarkets, public markets, grocery stores, and stores selling basic necessities, " he said in a televised address.
Muhyiddin said that all religious activities in mosques and surau will be suspended in line with the Special Muzakarah Council's decision on Sunday. He said that this includes Friday prayers.
He called the decision as restricted movement. Certainly, it is not a total lockdown but it was necessary as the number of confirmed cases continue to spike.
No one in Malaysia wants to ban huge religious activities because it is deemed sensitive and the action is eventually handed over to the respective religious authorities – and not the Health Ministry.
Whether it is a religious event, concert or sports event involving a huge number of people, the reality is that such socially irresponsible behaviour poses a risk to all of us as such activities rendered the country's coronavirus-prevention measures futile.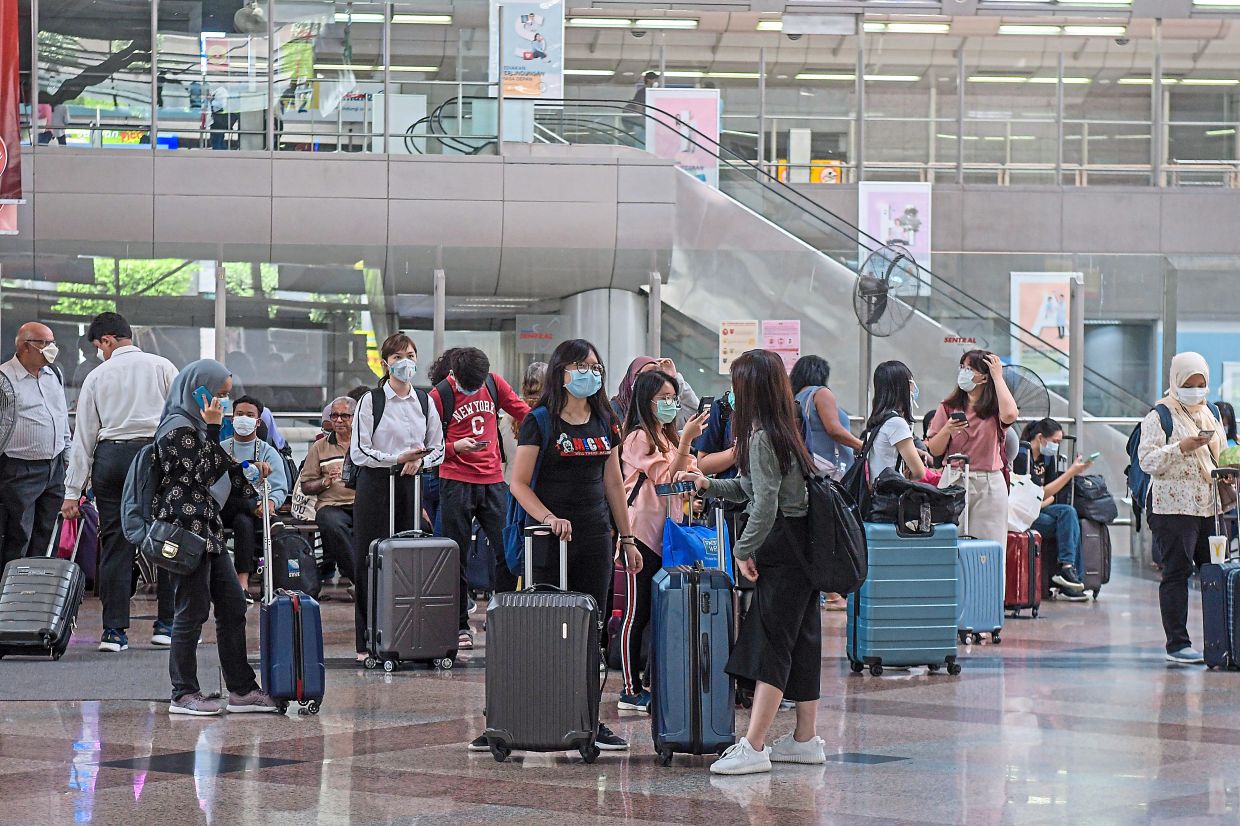 So, from a double-digit figure, Malaysia has now found itself with 673 confirmed cases as well as two deaths.
If previously Malaysia was worried about the nationalities of our visitors, it looks like we may end up in the opposite – Malaysians being placed under compulsory 14-day quarantine or even banned outside the country because we are from a high risk country.
We now have the dubious record of having the highest number of cases in Southeast Asia.
The Health Ministry has been doing an incredibly good job until last week, when it found itself unable to reach out to religious groups nor able to impose a ban.
The increase has been attributed to the participants at a tabligh event at Masjid Jamek Sri Petaling, where over 14,500 people attended including those from Brunei, Singapore, Thailand and Indonesia. The event was held between Feb 27 and March 1.
Then, there was a Hindu religious event at Teluk Bahang, which attracted a reported 30,000 people to the 123-year-old Sri Singamuga Kaliamman Temple on March 8 but luckily there has been no reported case of Covid-19.
But the virus has also hit churches as well, especially in Singapore and South Korea.
The disease does not pick the status, ethnicity and religion of its victims.
The PM has rightly ordered that Malaysians will be barred from leaving the country and restrictions placed on the entry of all tourists and foreign visitors into Malaysia.
"Malaysians who have returned from overseas have to go for a health check-up and undergo self-quarantine for 14 days, " he said.
Muhyiddin added that all nurseries, government and private schools, including boarding schools, international schools, tahfiz centres as well as primary, secondary and pre-university education institutions will be closed.
This also includes all public and private universities as well as vocational training centres. Muhyiddin added that government and private premises would be closed except those providing essential services.
These include water, electricity, energy, telecommunications, post, transportation, water services, oil, gas, fuel, broadcasting, financial, banking, health, pharmacy, the Fire and Rescue Department, prisons, ports, airports, security, defence, cleaning, retail and food supplies.
But we have to be ready for the next course of action as two weeks may not be enough. It will be naive to believe the virus will go away within a fortnight.
Malaysians need to learn how to take care of themselves. Let's brace ourselves for the long haul as the pandemic is not going to go off in weeks.
The Severe Acute Respiratory syndrome, which hit Hong Kong and China the hardest, in 2003 lasted eight months.
Singapore Prime Minister Lee Hsien Loong has told Singaporeans that the outbreak could be in his country for at least a year.
In these early stages, as in some countries, where the draconian lockdown has been imposed to prevent the spread of it, it would probably work.
But Singapore, which was the earliest hit, has decided to strike a balance between caution and continuing their daily routines, with Singaporeans trying to shift activities outdoors while avoiding crowds, but still going to work and meeting friends and family as before, just with extra precautions such as regularly washing hands.
We can't close our schools, colleges, factories, malls and our airline flights forever, and Singaporeans, who were also in a frenzy stage after its first case on Jan 23, have grown to accept the fact that life must go on, but accept the end of huge gatherings as the "new normal" in their daily lives.
Malaysia, likewise, cannot be at a standstill.
"Singaporeans did panic when the Disease Outbreak Response System Condition was raised to the 'Orange' level on Feb 7, sweeping daily necessities off supermarket shelves. And for a few weeks, the worry seemed justified because Singapore had some of the highest infection numbers outside China
"But as the weeks bore on, with South Korea and Italy seeing sudden spikes – Italy went from one case on Feb 20 to more than 15,000 in three weeks – and the disease spreading to more than 100 countries, Singapore's situation started to look tame by comparison, " the South China Morning Post reported.
It reported that life returned to normal, at even nightspots, with crowds dancing until the wee hours of the morning with "the only difference between now and before Covid-19 hit the city state: the hand soap in the washroom runs out twice as fast".
The island republic's latest cluster reportedly sprang from a private dinner at the recreational club SAFRA Jurong, where one infected person spread the disease to 18 others, with the cluster eventually growing to 40 cases. A separate cluster traced to the Wizlearn Technologies offices in Science Park also started from staff who went to work sick.
The SCMP reported that Singapore rolled out social distancing measures such as telling organisers to cancel or postpone ticketed events with more than 250 people and are prepared to close schools if the number of cases surge while companies were encouraged to allow employees to work from home or stagger work hours.
"The strategy follows a similar tack implemented in Hong Kong, where the authorities have closed schools since the Lunar New Year break began in late January and advised citizens to keep a safe distance from one another in public spaces."
The coming weeks will be extremely crucial for Malaysia as we track down the over 14,000 people who attended the tabligh gathering with the numbers of confirmed almost certain to climb.
The Health Ministry did a superb job in tackling the numbers but as the numbers jumped suddenly, everyone must now wake up to the fact that the fight involves all of us, and not just the experts, doctors and nurses.
It will be a long two weeks but let's get ourselves psyched that the fight may just continue until the end of the year.