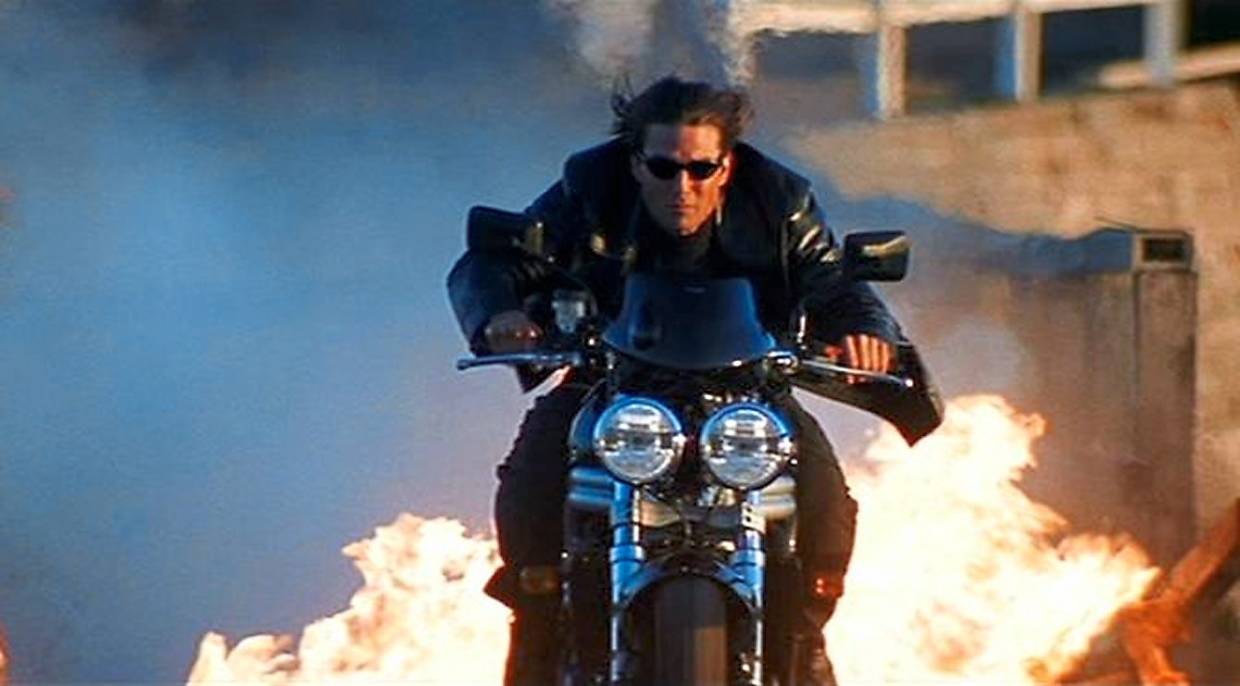 Mission is a go: Production for the upcoming Mission: Impossible movie has been put on hold due to the worldwide coronavirus outbreak but in Malaysia, it's all systems go for the new PM while Malaysians await further developments in a political scene that could rival any big screen production. — Filepic
When a nonagenarian made headlines by becoming a returning prime minister, it seemed like we had seen it all in the political sphere… until the last couple of weeks.
FOR a fortnight, I've had to carry two power banks to keep recharging my mobile phone because it has been ringing incessantly, with calls and text messages streaming in from my contacts and friends.
The calls came from my media brethren from various parts of the world who thirsted for the latest political updates.
Having been in the news business for more than 35 years, I thought I'd learnt a fair bit about Malaysian politics, but the unprecedented events of the past week have completely baffled me.
A German journalist was first to call and ask if it was true that Tun Dr Mahathir Mohamad had quit as prime minister and if political chaos beckoned.
I confirmed Dr Mahathir's resignation, but explained he would also be the new leader. By then, he sounded lost, and when I explained further that he had also toppled his own government, I could sense that he was completely lost, or thought I had gone bonkers.
Next, he pressed me if Malaysians were upset. At that point, I said "no" because events that were unfolding, and the changing political tides, had not played out in full yet.
"I am really lost, Chun Wai. Let me absorb all this, I will call you again, " he said.
By then, Malaysians were aware that those pressing for a deadline for Dr Mahathir to step down had miraculously now done the opposite – they were pleading with him to stay on as PM. Apparently, they were "begging" him to continue because they anticipated being caught on the wrong side of the fence.
And of course, on the other side, those who had wanted the PM to serve the full term – until he was 96 years old – plotted to take over his position. In fact, they even told him so.
The German guy called me in the next 24 hours, and I updated him about how the old PM, who had become the new PM, could now be the new Opposition leader.
I didn't hear a word from the other end, so I thought the line had gone dead. I imagined how he'd be thinking of me as an out-of-touch-journalist desperately trying to get back in the saddle having left for the corporate end of things.
"I really don't understand what you have said. This is hard to follow, are you getting it right?" he asked, amounting to exactly what it sounds like – he was finding it difficult to trust my integrity.
Dr Mahathir had, by Feb 27, said that Bersatu could field its president Tan Sri Muhyiddin Yassin as the party's candidate for the position of prime minister.
"… we discussed, including the possibility that Muhyiddin might become a (PM) candidate, " he told reporters.
He was quoted saying "Muhyiddin might become a candidate. If everyone chooses him, I am OK."
Dr Mahathir revealed Muhyiddin being more receptive to Opposition members.
"My position is I will not accept Umno, but I will accept those who leave Umno. But Muhyiddin is ready to accept them. Whoever wins, I will accept him to be the prime minister, " he said.
This was a real breakthrough, I thought, and was likely to be the tipping point.
Bersatu leaders approached Dr Mahathir and felt the impasse could end with Muhyiddin offering himself as a possible PM candidate.
Without mincing words, Dr Mahathir was also told that Muhyiddin would be working with Umno en bloc. So our former PM not only knew about the new development, he endorsed it too, by the looks of things.
Then, I called Germany instead. I woke my friend up and told him it looked like the stalemate had ended.
"My friend, sorry if I woke you up. I don't know what time it is over there, but it looks like Dr Mahathir is OK with Muhyiddin as the new PM candidate. It sounds like an endorsement."
But of course, more drama took place as Datuk Seri Anwar Ibrahim, Lim Guan Eng and Mohamad Sabu were left horrified at the thought of a new political alliance taking shape. And it looked like they had ended up Opposition Members of Parliament again, which was unthinkable.
It was a desperate time, so they needed to persuade Dr Mahathir to change his mind and take on Muhyiddin and offer himself as a PM candidate instead. So from a PM who quit to an interim one and to contending to be PM again, he has done the circuit. That's as succinct and precise as it could possibly be described.
The pressure had intensified by then because what's termed a backdoor government seemed imminent reality, which naturally sparked fears of an overwhelmingly Malay-dominated government. Worse, the hard-line PAS guys would be in the government.
Overnight, Dr Mahathir's purported blessings deserted him, with Muhyiddin now being portrayed a traitor, not unlike Shakespeare's Brutus, the Roman senator who conspired to kill Julius Caesar.
It was "Eh tu, Brutus, " the Malay version of Et tu, Brute, the Latin phrase meaning "also you, Brutus?"
The annoyed German called me up again, this time to reconfirm what he had read online. He sounded distinctly agitated.
"You misled me. You told me that Dr Mahathir seemed to have accepted Muhyiddin, but now he has started to blame Anwar and Muhyiddin for all this. He is calling Muhyiddin a traitor now. I am sorry, you are not very good, please stop all your analyses, " he said tersely.
But as the hours passed, the shift in political alliances was taking place fast and furiously. It was Feb 29, a leap year, and the political frogs were at their best.
Some, like Dr Jeffrey Kitingan, the head of the Sabah Reform Party, who had joined eight other parties previously, lived up to his reputation by switching his pledge to Muhyiddin.
PKR MP Baru Bian, who had earlier backed Datuk Seri Azmin Ali and left PKR, was back with Dr Mahathir by midnight. And since then, no one is quite sure where he stands as he can't be reached, with one unconfirmed report claiming he has developed a heart problem. Sarawak MP Richard Riot denied that he supported Dr Mahathir and clarified that he was still with Gabungan Parti Sarawak and remains one of 18 MPs who endorsed Muhyiddin.
By then, numbers kept dropping. It was 114 at midnight. In a Facebook Live broadcast on Feb 29, PKR communications director Fahmi Fadzil said the 114th vote came from Selangau MP Baru Bian.
But by the next day, it was reduced to 112, based on Pakatan Harapan's official statement. No one was sure what was going on anymore.
The Yang di-Pertuan Agong, who was caught between a rock and a hard place, has accepted Muhyiddin as PM and the Federal Constitution stipulates the PM is the leader who commands the majority support of the MPs.
It's natural to assume there had to be a cut-off point, and that when Muhyiddin presented his list of supporters to the King indicating he had the majority, our ruler made a call in wanting to end the impasse.
Basically, he can't be expected to wait for sides to rally their troops or hang around for a midnight call. It would be unfair to His Majesty to keep meeting MPs with the ever-changing stands of the lawmakers.
The competing factions will just have to take their fight to the Parliament for a fresh round. The King's job is done and any face off from this point on must unfold in the political arena of the Parliament.
While there has been strong resentment of the new government on the ground, especially among urban constituents, Malaysians must be commended for handling the anguish of uncertainty calmly and sensibly.
No major protests were staged, and those who are unhappy are looking forward to the next Parliament meeting.
Margins are going to be very fine between the warring packs. The new PM would surely want to strengthen his simple majority, and the Opposition could well be the largest in the history of Malaysia's Parliament.
If Malaysians are tired of endless politicking, with lawmakers accused of neglecting the state of the economy, be warned that it's only going to be downhill from here.
My friend called more recently to ask how Malaysians are handling the new political set up.
"It's safe to say Malaysians are angry. Especially those from the urban areas. Maybe the conservative Malays in the heartland are happy. I don't know, but all is peaceful."
The German then retorted, "You say that the people are unhappy and angry, but just a few months ago, you said the people are angry with the old government and that Dr Mahathir's popularity was plunging, with some ministers seeming incompetent and arrogant.
"But now they are popular again, and people want them back. I don't understand you Malaysians. I think I need a beer."
By then, I was already tired after a tumultuous week and no longer in the mood to entertain this short-fused German man, who was also beginning to take me for granted.
His final question was simple: What are Malaysians going to do next?
I didn't have the heart to tell him that angry Malaysians had now flooded my WhatsApp – asking, not about politics anymore, but whether there would be a public holiday to mark the new government, and if the airlines' promotions were real because they wanted to grab the offer to travel – Covid-19 or not.
I love Malaysians (not the politicians) for their amazing attitude, tolerance and most of all, their wicked sense of humour.
Note: Creative liberties were taken in the exchanges with the German journalist. After all, every political soap needs its spice.