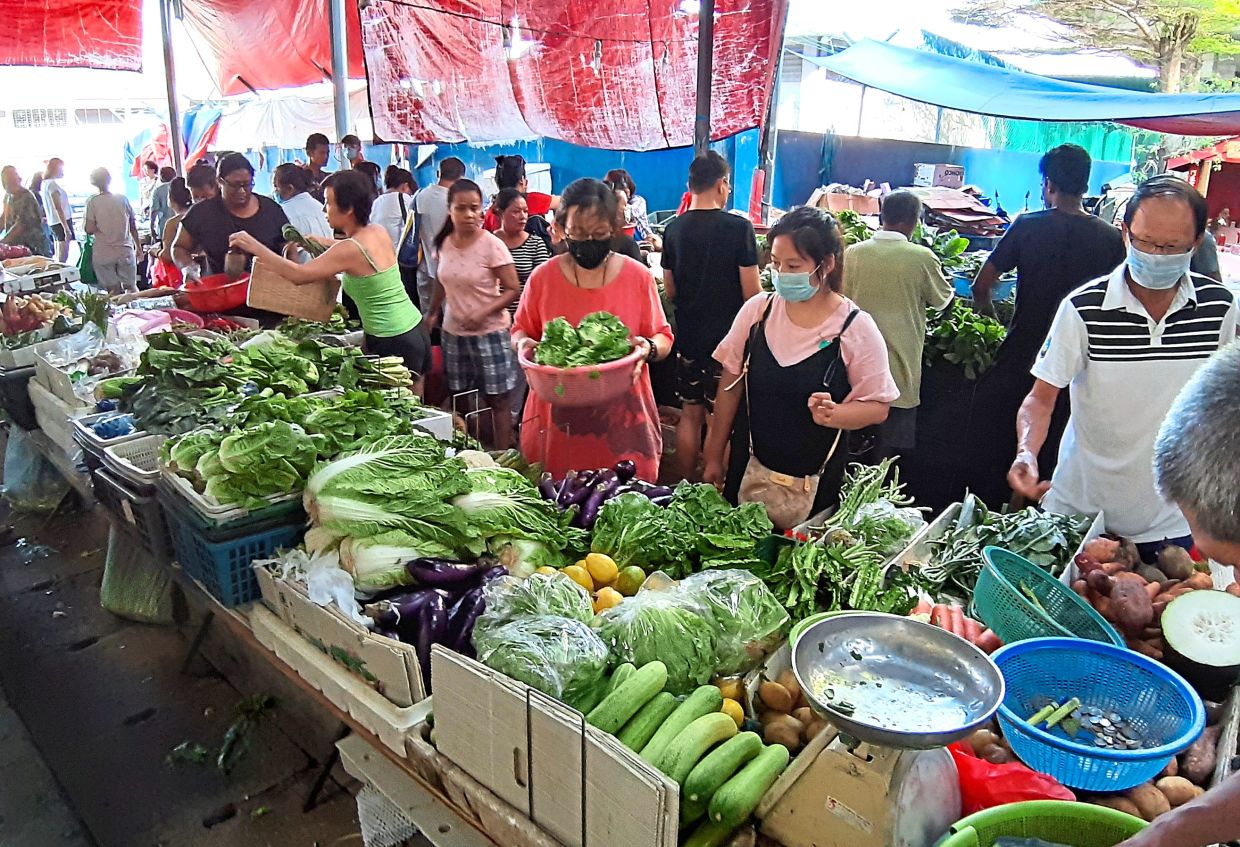 Taking a risk: Although many shoppers at the wet market wore masks, they jostled with each other and had body contact while engrossed in selecting vegetables and fishes at the stalls.
FINALLY, we are seeing a real show of authority to remind defiant and indifferent Malaysians that they must stay at home, because they better wake up and take this war against the deadly virus seriously now.By the time you read this, the army would have made their presence felt as they would be seen stationed across the nation.
Our soldiers will surely beef up the police and local council officers' efforts to tighten the grip on the movement control order to ensure its success.
The last time our armed forces were deployed into the streets was 50 years ago, during the May 13 riots of 1969, when they served alongside the Federal Reserve Unit.
Today, we are fighting an unseen enemy, one so small it could hardly seem dangerous. Yet, Covid-19 has brought the world to its knees, and a vaccine is barely in sight.
Strangely, the state of global emergency is falling on deaf ears in some quarters. Frankly, I am fed up of watching videos of Malaysians quarrelling with officers who are merely trying to do their job in advising them to stay indoors.
Yes, a curfew hasn't been instated and there have been debates over whether the authorities can stop anyone from strolling or jogging alone in a public space but let's not get into a legal dispute with an officer who only means well.
We all know how indisciplined Malaysians can be. My colleagues, across the nation, have filed enough news stories and shared sufficient information on how apathetic many of us still are.
In one case in Penang, a group of senior citizens refused to leave their tables outside a coffeeshop, unfazed by the many complaints against them. Unsurprisingly, this is fast earning them notoriety on social media, courtesy of the smart phone.
In food courts and restaurants, in Penang, again, customers continued to come out in droves to buy food and mingle while waiting for their food to be prepared. Ditto in Sarawak.
At the SS2 wet market in Petaling Jaya, I saw how housewives have body contact with each other while engrossed in selecting vegetables and fishes at the stalls. They wore face masks, which means they understand the dangers of the virus, yet they jostled next to each other.
Elsewhere, the young seem nonchalant about the whole exercise as they continue playing games in fields and courts, ignorantly believing they couldn't possibly catch the bug in such scenarios. And when they are stopped by the authorities, some of them turn into loyar buruk – someone who isn't a trained lawyer, yet provides, or interprets legal opinions unsolicited. Then their tirade takes a condescending tone with the officers, as they attempt to display how clever they are.
On Friday, Defence Minister Datuk Seri Ismail Sabri Yaakob said adherence to the order was increasing among the people, but there were still incidents of people disregarding it by playing games outdoors, going to the playground and eating in food outlets. He said unreasonable Malaysians were making life difficult for medical frontliners who are already working around the clock to contain the Covid-19 outbreak.
Refusing to be quarantined, demanding unnecessary screenings, lying about their travel history, and concealing their exposure to a positive patient – these are just some of the ridiculous and nagging issues medical personnel are facing.
In democratic countries, where personal liberties are upheld, it will always be a struggle for the authorities that have implemented partial lockdown, or the movement control order. It's impossible to arrest those who break the rules in large numbers, and the fine seems small for these incorrigible people.
But casting our indifference aside, let's please heed the warning.
It's different in China, where the sledgehammer treatment is used. Those who flout the law for not wearing face masks are targeted by the police.
Malaysia only has a tiny window to break down the two-week transmission chain. The deadline is ticking away fast, amidst the increasing number of cases.
Last week, Health director-general Datuk Seri Dr Noor Hisham Abdullah rightly said that Malaysia risks seeing a third wave of the virus, spelling out the obviously grim consequences should that happen. He warned, in clear terms, that failure is not an option and this third wave will be as big as a tsunami, more so if we retain a lackadaisical attitude.
We have already passed the 1,000 mark of confirmed cases and have been logging in an average of 100 new cases a day over the past few days.
The spike in cases will have an impact on the number of hours and extreme working conditions of our hospital staff. Our frontliners have been our heroes, but there is a breaking point even for them.
Our worst fears are now reality. Up to Friday, 15 medical personnel tested positive, with 12 from the Health Ministry (MOH) and three from the private sector. One of the 12 MOH workers is currently in ICU on ventilator support.
It doesn't help that some of these officials have had to track down those who have been in close contact or participated in the tabligh event at the Sri Petaling mosque.
There were 16,000 of them, and one can imagine the magnitude of the disaster. Those who were at the mosque have already made up the largest number of victims from a single cluster group.
It's now just an academic exercise if we were to reconstruct how we allowed the gathering to be held, which led to such a dramatic and devastating spread of the disease.
But we're not making any headway when there are still ignorant foreign theologians who continue to tell the faithful they should be fearful of God and not the virus, to justify continued gatherings.
And now we have reversed our decision to ban Malaysians from going to Singapore to work. The pressure, surely from Singapore and Johorean workers, must have been enormous.
Hopefully, we don't see a sea of people jamming the immigration counters in Johor, which could likely generate a third wave.
Let's remember Dr Hisham Noor's warning – compliance is compulsory, because the next swell will be a tsunami.