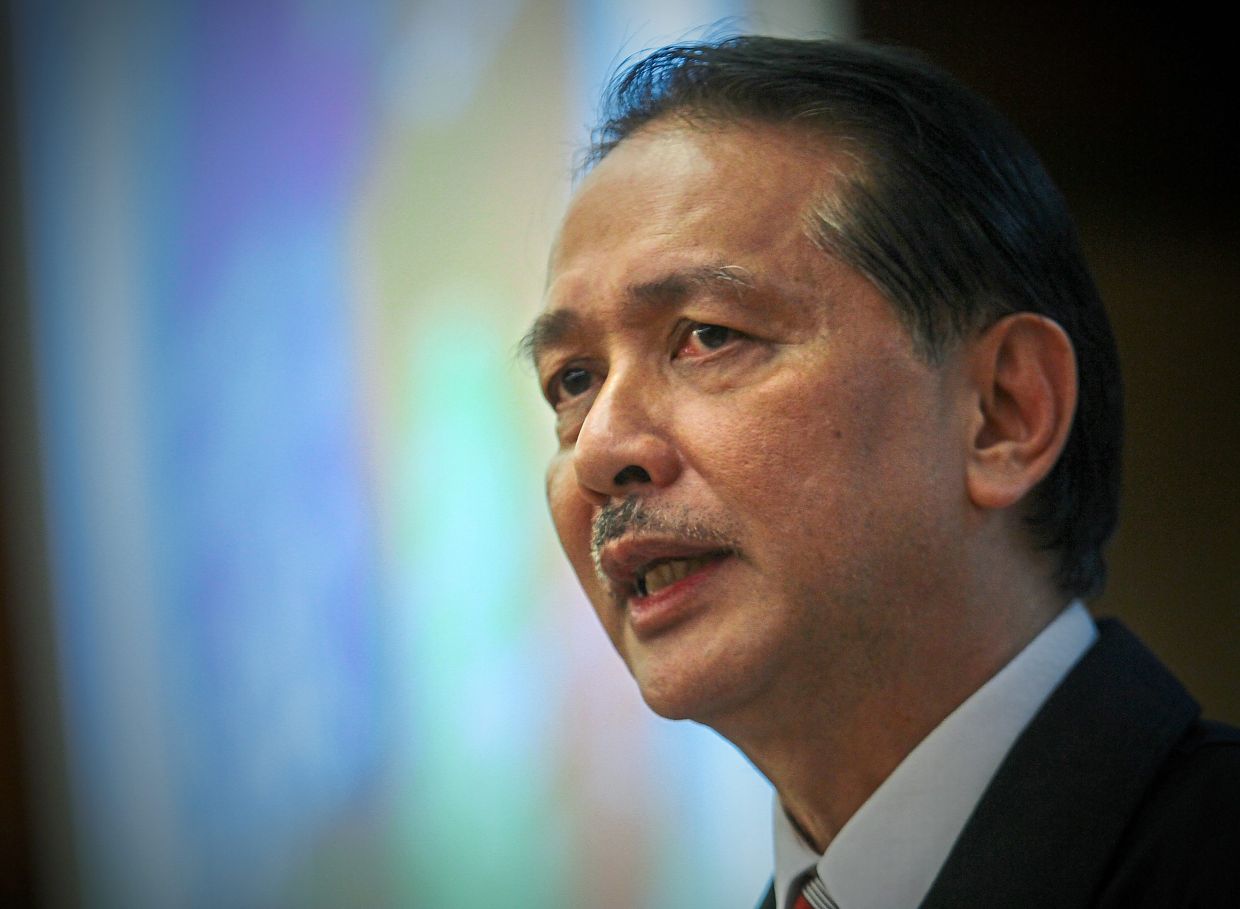 An honour: CGTN cited Dr Noor Hisham as among the 'top doctors' in the world for his approach in handling the Covid-19 pandemic.
HEALTH director-general Datuk Dr Noor Hisham Abdullah gets uncomfortable every time the media attempts to extract more about his life.
He has shied away from the praise heaped on him and his team, dismissing the national heroes title, insisting that it's their service to the ministry which is significant.
However, Dr Noor Hisham hasn't just become a national figure, he has also gained international attention now.
Every afternoon, at 5pm, Malaysians will be glued to their television sets to have this lanky doctor update them on the Covid-19 situation.
He gives straightforward answers, and that has been reassuring to most Malaysians since the movement control order (MCO) began a month ago.
Sure, sometimes he slips into medical terminology, which can leave us perplexed, but usually, his explanations are clear.
Dr Noor Hisham's command of Bahasa Malaysia and English is impeccable, and as Malaysians, we feel proud when our leaders are able to speak this way.
Chronicling his early life in a social media post, presumably by a former Methodist Boys' School (MBS) schoolmate, Dr Noor Hisham clearly learnt well in school.
"All his participation and activities in school had helped him to be independent, self-sufficient, resourceful, mature in engagement with others and to have good communication skills, " read the post.
The perception outside Malaysia is that we have done well in combating the killer disease.
Every evening, editors of the Asia News Network from 23 countries share updates on the virus, and many of them have expressed their admiration for how Malaysia has tackled the situation.
In Indonesia, social media is ablaze with heated discussions and comparisons made to Malaysia's management of the crisis.
While the curve has yet to flatten, recovery numbers have gone up and the number of new cases has stabilised, although we're still not out of the woods.
Last week, the China Global TV Network (CGTN), which broadcasts to the world in Chinese and English, cited Dr Noor Hisham as among the "top doctors" in the world for his approach in handling the Covid-19 pandemic.
According to the report from CGTN, Dr Noor Hisham is recognised as one of three leading doctors in the fight to stop the spread of the Covid-19 virus, along with the US' infectious disease expert, Dr Anthony Fauci, and New Zealand's director-general of health Ashley Bloomfield.
The three have been lauded over the weeks for being "calm, clear and trustable" sources of information and facts for their countrymen during the pandemic.
Dr Noor Hisham, who turns 57 in three days' time, has been the Health director-general since 2013. He has been dubbed a "trusted face" by Malaysians, thanks to his reliance on facts and figures in making decisions to update the public on the virus via his social media platforms.
CGTN said his "low-key image and unassuming air" contributed to Dr Noor Hisham's appeal, while Bloomfield described him as the quintessential civil servant.
This writer sent Dr Noor Hisham a text message to congratulate him on the recognition accorded to him. He must have received a string of similar messages of commendation.
But he replied swiftly, even though it was dinner time, and again, in the standard and ever-humble tone of downplaying his relevance and prioritising saving lives.
As a Universiti Kebangsaan Malaysia product, I, together with my fellow alumni, am enormously proud of him, and the officials from the university have been talking endlessly about him, especially as the National University of Malaysia turns 50 next month.
Dr Noor Hisham received his Doctor of Medicine in 1988 and the Master's in Surgery in 1994, both from UKM.
He went on to specialise in endocrine surgery and did his training in various universities in Adelaide and Sydney, Australia. His articles have been published in many local and international journals and he has written textbook chapters on endocrine surgery.
That is the factual sheet of his professional resume. Beyond that, he has, prudently, not divulged details of his private life, which have been widely circulated in social media.
When Dr Noor Hisham was asked about the recognition given by CGTN, his answer was that it was an honour for Malaysia and thanked all the government agencies.
Always shunning the limelight, the former Boy Scout and school champion athlete remains a team player. Although he was born in Sepang, he studied and grew up in KL.
No stranger to challenges and difficulties, it's fair to say Dr Noor Hisham hasn't taken a day off since the outbreak of the virus, with back-to-back meetings and sometimes, hand-over functions that require his attendance.
He has been updating the media and public on social media late into the night, well past normal working hours.
Prime Minister Tan Sri Muhyiddin Yassin deserves credit for steadfastly making the right calls, especially when a few ministers have faltered in making rightful, health-driven decisions.
Whether it's barber shops, hair salons or Ramadan bazaars, he has put his foot down firmly on such luxuries at this time. Let's give credit where it's due, without the political bias to score points.
But as UKM pays tribute to our alumnus and the achievements of the university, I must take this occasion to single out Dr Noor Hisham in the roll call for our Golden Jubilee milestone.