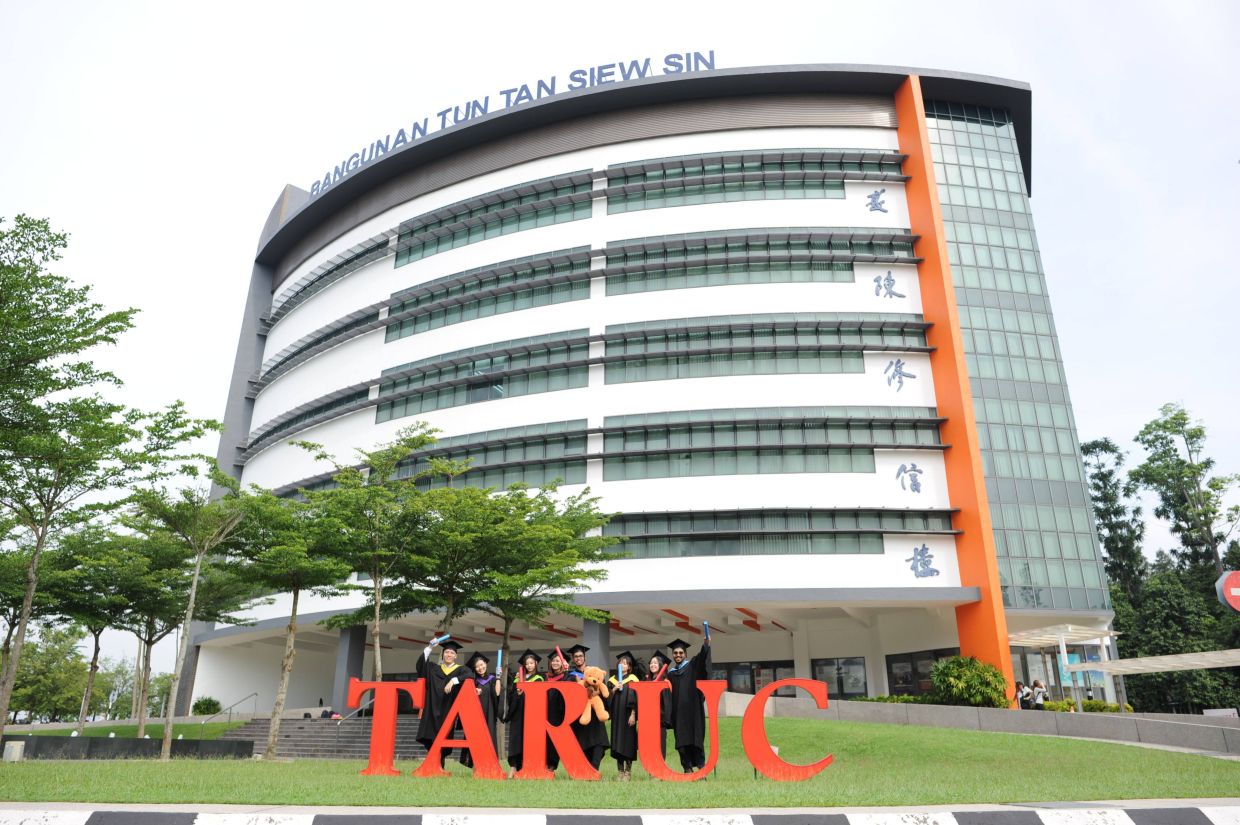 A boost to TAR UC, with five decades' worth of producing stellar graduates.
IT was a red-letter day for Tunku Abdul Rahman University College (TAR UC) and the Chinese community when MCA president Datuk Seri Dr Wee Ka Siong announced the institution would receive RM58mil from the Finance Ministry.
Subscribing to MCA's politics is besides the point, and even if detractors split hairs over the quantum and disbursement of the funds, it remains the best recent news for all concerned.
Truth be told, MCA built the institution from scratch with the support of ordinary Malaysians, encompassing everyone from hawkers to tycoons.
TAR UC is now 51 years old. Through those years, it produced more than 200,000 graduates, with its alumni even including present DAP leaders.
Millions of ringgit have flowed into the college, and anyone who has run an institution of higher learning would know that it hardly sets the cash registers ringing. Just survey the market – many private colleges and private universities are up for sale.
TAR UC, a non-profit private university college named after Tunku Abdul Rahman, was set up in 1969 by the MCA. In 2013, it was bestowed university college status. It's 75ha main campus is located on Jalan Genting Kelang, Kuala Lumpur. It has five branches, one each in Penang, Perak, Johor, Pahang and Sabah, with an accumulated enrolment of more than 28,000 local and international students. With the upgrade to university college (UC) status, it can now offer bachelor's degrees and postgraduate programmes.
But what has made TAR UC so special and tugged at the heartstrings of the Chinese is higher education becoming affordable and accessible to the community.
It was set up at a time when places were limited in the mere five public universities in Malaysia – Universiti Malaya, Universiti Kebangsaan Malaysia, Universiti Sains Malaysia, Universiti Pertanian Malaysia and Universiti Teknologi Malaysia.
Today, we can barely keep count of the number of public and private universities and colleges. But even with the plethora of options, TAR UC remains a top choice because its graduates can quickly secure jobs, since its array of courses are practical and marketable.
TAR UC is supported by seven faculties in undergraduate degree programmes, namely the Faculty of Applied Sciences, Faculty of Computing and Information Technology, Faculty of Accountancy, Finance and Business, Faculty of Engineering and Technology, Faculty of Built Environment, Faculty of Communication and Creative Industries and Faculty of Social Science and Humanities.
There is also the Centre for Pre-University Studies and the newest, the Centre for Postgraduate Studies and Research, which offers a variety of master's and PhD programmes.
Having interacted with many TAR UC graduates, I've found them humble, hungry and hardworking, a sentiment echoed by many employers, too. They may not be extroverts or the most eloquent, seeming a little timid and quiet even, but they compensate with their other qualities.
Honestly, employers are looking for quality workers and not just smooth talkers only good at presentation and public relations, with little to show in the end.
The RM58mil from the Finance Ministry is important because it will go a long way in helping TAR UC and its students who need financial aid.
Most significant is, the RM58mil will no longer be channelled through a third party.
This departs from the decision made by the Pakatan Harapan government, when former Finance Minister Lim Guan Eng insisted that TAR UC founder MCA must cede control of it to continue receiving government funds.
Explaining the RM58mil allocation, Dr Wee said the Finance Ministry retrieved the remaining RM18mil of the RM40mil that Lim had allocated to TAA's trust fund previously. The fund, Tarcian Alumni Association Education Trust Fund (TAA-ETF), has seen some of Lim's critics claiming it even includes businessmen close to the DAP.
Although there are five alumni associations dating back to 1980, only TAA – which was set up only in 2012 – was selected.
The other alumni associations include the Federation of Tunku Abdul Rahman College Alumni Associations (founded in 1989), the Tunku Abdul Rahman University College Engineering Alumni Association, the Tunku Abdul Rahman College School of Arts & Science Alumni Association, both established in 1982, and the Tunku Abdul Rahman College School of Business Studies Ex-students Association, set up in 1980.
Dr Wee said the allocation by Lim to TAA-ETF was on an ad-hoc basis, an arrangement that wasn't detailed in the national budget.
"To carry out the government's commitment since the establishment of TAR UC, previously known as TAR College, a matching grant of RM40mil will be channelled to the university college through the Higher Education Ministry this year under Budget 2020, " said Dr Wee, who is also TAR UC Education Foundation Board of Trustees' chairman.
To cut a long story short, Lim wanted the MCA to severe ties with TAR UC, which the party set up and supported financially for over 50 years. It was to punish the MCA, basically.
For many Chinese, the act was simply unnecessary and even seemed vindictive.
The result was the Chinese voters revolted, lucidly reflected in the Tanjung Piai by-election, where MCA's Datuk Seri Wee Jeck Seng won with a 15,086 majority.
According to a news report, Chinese voters – who overwhelmingly supported Pakatan Harapan (Pakatan) in 2018 – were the most unaccepting of the pact during the Tanjung Piai by-election, revealed findings by independent research firm Ilham Centre.
It said voters were disenchanted with Pakatan's unfulfilled pledges, poor communication and leadership, and were generally unhappy with the state of the economy.
It said the Chinese votes switched despite expectations that Barisan Nasional's precarious partnership with PAS and scandals involving Datuk Seri Najib Razak would alienate non-Malay voters.
"The biggest sway or protest votes came from the Chinese, which was 34.5%, while Pakatan only lost about 5.1% of votes from the original votes during GE14.
One sore point was Lim's refusal to hand TAR UC its RM30mil allocation, but the final straw was his slashing of its government allocation from RM5.5mil to RM1mil under Budget 2020.
One of the most unfair criticisms of MCA in many elections has been its perceived lack of contribution to the Chinese community, with finger pointers even including parents and graduates of TAR UC and Universiti Tunku Abdul Rahman (Utar).
The irony is, TAR UC's main campus and five branches are all located in pro-Opposition areas. Even Utar in Kampar, Perak, is in a pro-DAP parliamentary constituency. Some Utar academicians are, in fact, anti-establishment, and are often consumed by the excitement of general elections, which proves the point that although these institutions are linked to the MCA, freedom of thought has always existed.
Few are aware that VTAR, a private vocational college set up in 1992, offers skills courses including beauty therapy, automotive, furniture technology and engineering.
The MCA is also behind the Institute of Child Education Studies and Community Education, which is a non-profit and private early childhood education college (founded in 1993), and the only such institution of this nature focusing solely on pre-school teachers' training. Over the past two decades, more than 2,500 pre-school teachers graduated with recognised professional accreditations from this institution.
It hasn't been an easy ride for the MCA, given how it has been chastised and rejected by the Chinese community, for whom the party was founded to serve and represent in the first place. These criticisms, painful as they are for its leaders, have also come from those who have benefited from these programmes.
As with all things, it's always much easier to cast aspersions than to build and run these institutions which have produced many graduates.
The loudest politicians include those who haven't even set up a kindergarten, let alone college or university.
So let's give credit where it's due.