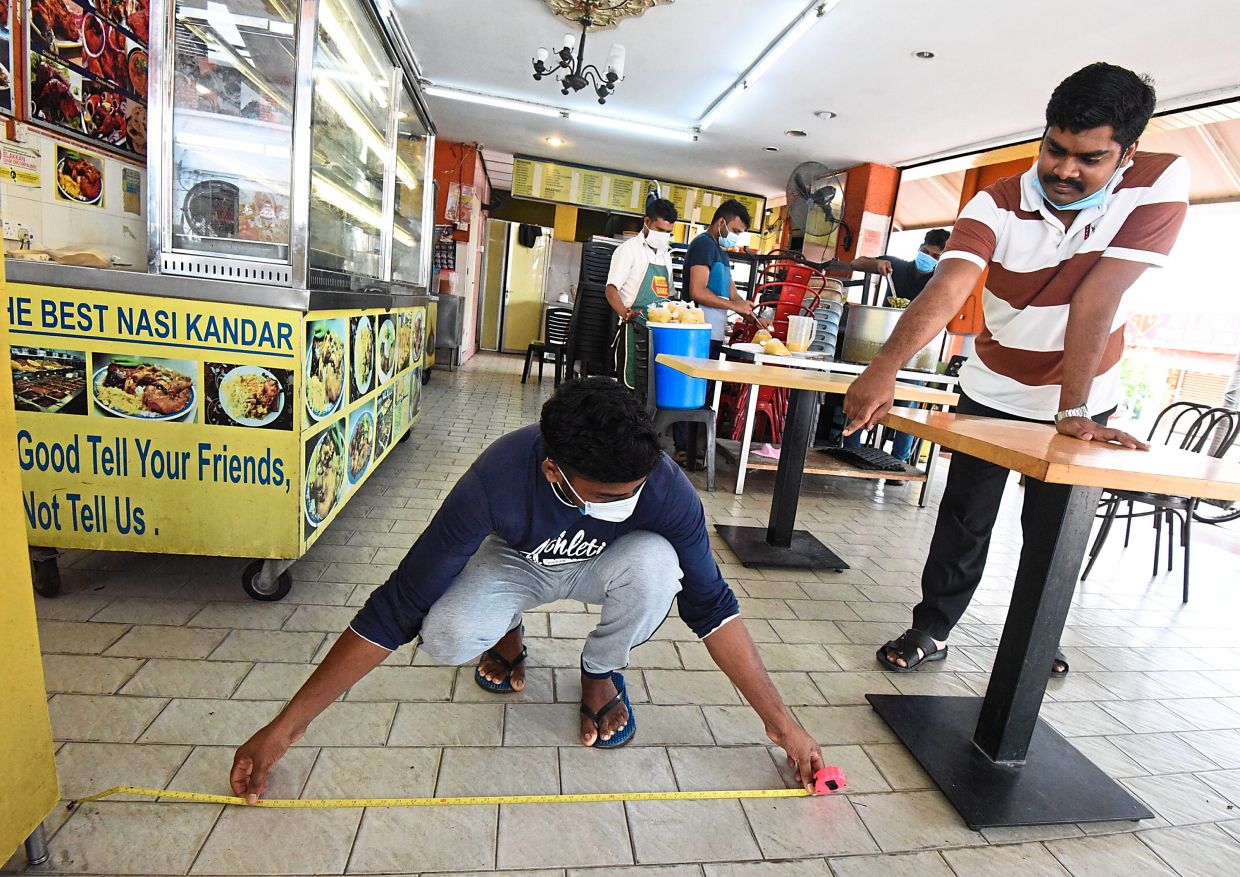 Finally, the real thing: Nasi kandar is one of the things that not everyone can cook from watching YouTube lessons. A nasi kandar restaurant in George Town, Penang, preparing to reopen tomorrow.
IT'S been the best news after 45 days of the movement control order (MCO), where we were mostly in lock down. However, we will never get back to what our lives were before.
The killer virus is still lurking out there. There is neither vaccine nor cure yet, and we know that confirmed cases and fatalities will continue for a long time more.
But the returning freedom, beginning tomorrow, is still cause for celebration, even if it come with caveats.
Unless we are recluses, most of us long for the companionship of our colleagues and friends.
We've had to be brave in the face of adversity, claiming we enjoy working from home when we've, in fact, pined for some space, which ironically, is away from home. Strangely, that space constitutes the office.
Of course, family bonding is good, but being stuck together for 24 hours, day in and day out, has ended up being "family bondage" (of the wholesome variety) for many.
And as much as staying safe at home can be a blessing, those staying in small flats can tell you how it can just as much be a curse. Like the rest of us, they'll be itching to get out of their homes the very first thing tomorrow.
I can't wait for the joy of being stuck in a traffic jam again and listening to the same lame lines from radio deejays, with their tried-and-tested flat jokes, and the condescending tone of personalities appearing on a business station. So much love from so much dislike – that's life.
I'm not sure what to expect tomorrow, though. I suspect there may be quite a few who will call in sick or take emergency leave. Through no fault of theirs, they've probably developed some psychological problems, or they could simply have valid reasons. Ultimately, being cooped up isn't fun.
Or maybe their car batteries are dead, if they had obediently abided by the MCO, and have not "ke sini dan ke sana" (gone here and there).
Some may just turn up after lunch because they need to handle "urgent matters, " like meeting clients and collecting overdue payments. And with room still left to stretch the truth a little, given the situation, getting their hair done could likely be another excuse, except that barber shops and hair salons will still be closed.
I guess I will be seeing caps and head scarves. Then again, who's had the opportunity for self-grooming in a time like this?
I'm not sure if human resources managers or safety officers have devised seating arrangements, especially for those of us whose desks are side by side, which is the setup in many newsrooms.
There will be those who will call up and explain that it's better for them to work from home.
They probably have sound reasons as some, interestingly, have become more productive since the MCO began. There will be the usual suspects, whom I think still have two or three more seasons of a Netflix show to complete. Sound familiar?
Of course, casualties will abound, too. There will be missing faces who are on no-pay leave or, worse, have been asked to leave their jobs while their bosses struggle to keep the company afloat.
From tomorrow, many employers will be busy looking at how they can restart and pick up the pieces.
For these affected Malaysians, they will have nowhere to go since their companies have either shut down temporarily or permanently. It's going to be a heart-wrenching story.
Where daily living is concerned, we can no longer leave home without wearing face masks. We've become like the people in China, Hong Kong and South Korea, who have been wearing them for a long time now because of the smog, as well as the SARS epidemic from years ago.
I will be wearing the mask daily from now because I want to protect myself and others. Basically, everyone must feel secure and safe.
I can't wait to take my dogs out for a walk tomorrow. The three of them have been locked in for just as long and they, too, are feeling anxious and frustrated. Two of my beautiful canines are powerful animals which require daily exercise.
Like their master, they, too, have overgrown hair, and long nails which need clipping.
I don't know when we can travel out of the country again. I haven't requested refunds from the airlines, preferring to defer my scheduled dates, instead. I'm not even sure if these airlines will still be around in the coming months, though I hope they will.
As for now, with restaurants starting to open and us being allowed to go out, I'm wondering what I'm going to do with all the food I hoarded in my refrigerator.
One lesson I've learnt during the MCO period is, not everyone can cook from watching YouTube lessons. Nasi kandar time finally, and a banjir one, please.