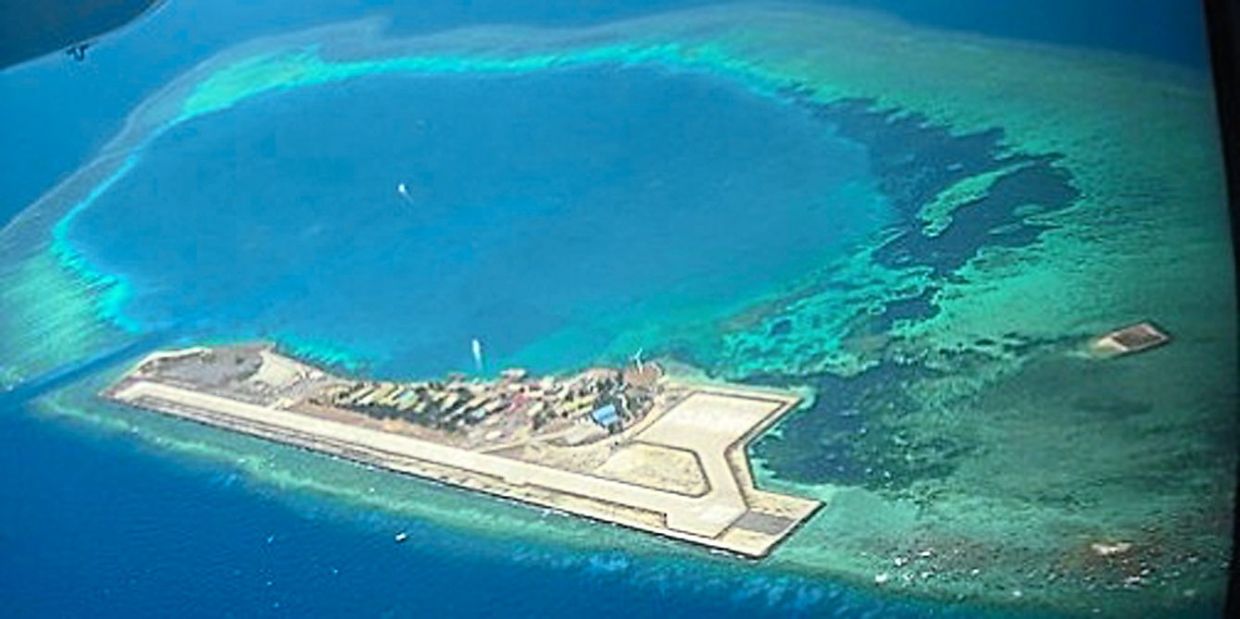 Home territory: Malaysia maintains a naval presence on the disputed Pulau Layang Layang, which also houses a resort that is popular with scuba divers. — Photos: Filepics/The Star
As tensions in the South China Sea escalate between the United States and China, it's crucial we stay out of their bitter feud.
DESPITE the continuous news reports of the South China Sea being a flash point between the United States and China, most Malaysians would regard the place remote, if not inconsequential.
Most of us have greater concerns than the complex overlapping claims by many countries on the disputed islands there.
It's highly unlikely that the bulk of us would be able to put our finger on the map where these purported fights between the two superpowers could break out.
But it isn't really that far from our backyard. Pulau Layang Layang, which is part of the Spratly Islands, is a mere 300km north-west of Kota Kinabalu.
Pulau Layang Layang is just a speck in the sprawling archipelago of the South China Sea's numerous islands, cays, islets and reefs.
The atoll, which is barely 7km long and 2km wide, is under Malaysia's administration, meaning we call the shots.
Other countries, including China, Taiwan and Vietnam, call this island by different names and claim it's theirs, too. The Philip-pines has claimed part of the Spratly Islands as its territory as well.
China uses an imaginary nine-dash line to cover most parts of the South China Sea, per its historic claim, which overlaps with the takes of Brunei, Indonesia, Malaysia, the Philippines, Taiwan and Vietnam.
Besides the presence of the Royal Malaysian Navy and staff of a resort, there is little else there.
I had the privilege of visiting Pulau Layang Layang in 2008 with a group of Malaysian journalists to see what the island was like and get an aerial view of the area.
The South China Sea claims have become increasingly unsettling because China has strengthened its presence there by building artificial islands with military installations in parts of the vast sea.
One-third of the world's maritime shipping reportedly passes through it, carrying over US$3tril (RM12.5tril) in trade each year.
The region is said to have huge oil and gas deposits under its seabed as well as bountiful fish harvests, comprising about 12% of global fish catch, which is why it's not surprising that over half of the world's fishing vessels go there, reports reveal.
It's almost impossible to regulate fishing in the South China Sea because of the overlapping territorial and maritime disputes, which prevent effective enforcement of the countries there.
More significantly, the South China Sea is also a strategic military spot, and the United States is accusing China of having added 1,300ha of land on various reefs, which China has denied.
But what should worry many of us in Asean is that the United States and China have ominously chosen this spot as their battle ground, albeit they are still only at the rhetoric level.
Washington declared earlier this month that Beijing's claims to most of the sea are illegal, ramping up support for South-East Asian nations with claims to parts of it.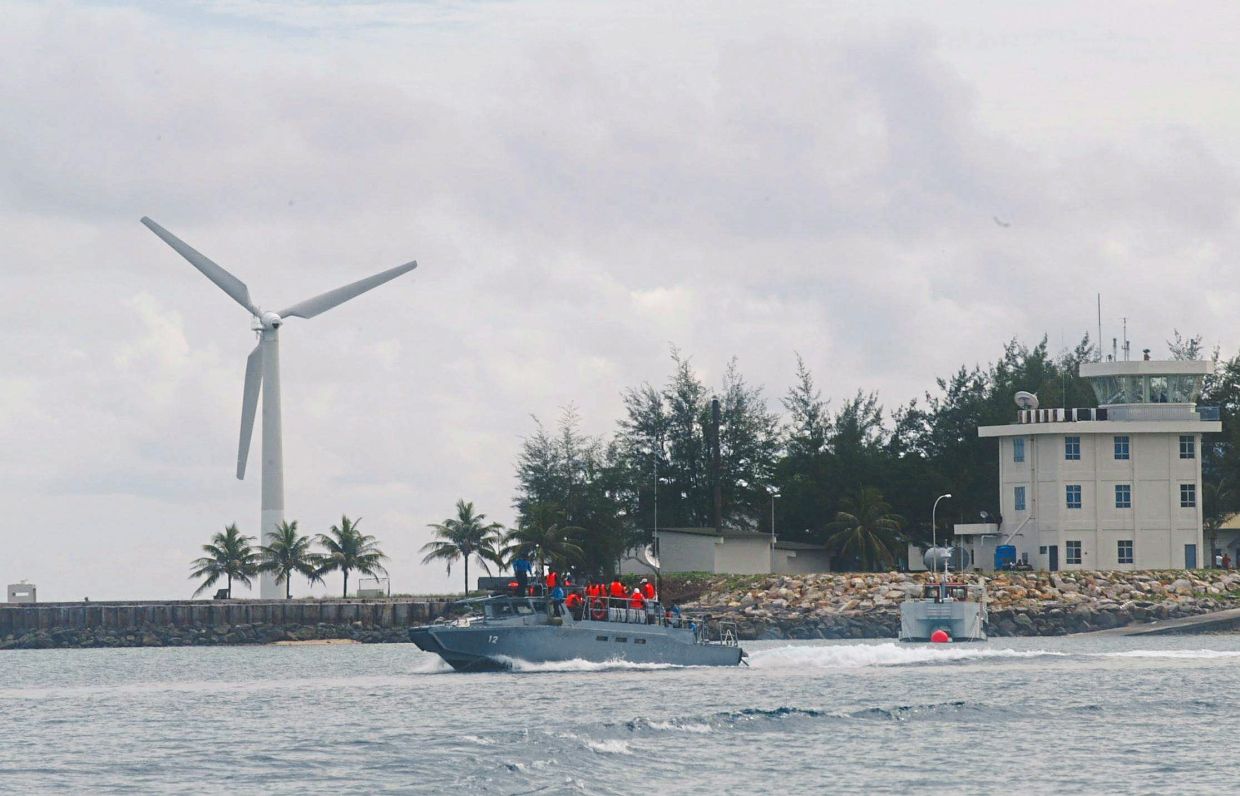 A Royal Malaysian Navy fast patrol boat speeds off from Pulau Layang Layang. The wind turbine supplies additional electrical power to the navy base on the island.A Royal Malaysian Navy fast patrol boat speeds off from Pulau Layang Layang. The wind turbine supplies additional electrical power to the navy base on the island.
Australia, which has no reason to be involved, has also rejected Beijing's territorial and maritime claims, saying there is "no legal basis" to several of them.
The United States regularly conducts so-called "freedom of navigation operations" in the South China Sea to stand up to Beijing, in which the US Navy sometimes sends warships to the contested waters.
Recently, it was reported that China conducted rigorous naval exercises in the area using its H-6G and H-6J jet bombers. Its Defence Ministry said China carried out "high-intensity training and completed day and night training exercises in taking off and landing, long-range assault, and attacks on sea targets".
The United States also recently sent two nuclear-powered supercarriers, the Japan-based USS Ronald Reagan and USS Nimitz, to carry out operations and exercises there with the aim "to support a free and open Indo-Pacific". It was the first dual carrier drill there since 2014.
The South China Morning Post reported that the drills were "close to Guangdong and Fujian provinces", while China had conducted naval drills and flyover missions "around Taiwan and the South China Sea".
Malaysian Foreign Minister Datuk Seri Hishammuddin Hussein has it right in saying we must ensure we are not "dragged and trapped" in a geopolitical spat between heavyweight nations as we try to resolve these disputes. His ministry is keen on constructive resolution through "appropriate diplomatic negotiations", but he highlighted two huge hurdles Malaysia faces.
"Firstly, I do not want Malaysia to be dragged and trapped in a geopolitical tussle between superpowers. We must prevent any unwanted incident from happening within our territorial waters. We must also prevent any military clashes in the waters between any relevant parties, " he told Parliament, adding that the South China Sea dispute can't be used as a source of divisiveness between Asean countries.
"If we follow the narrative and succumb to the pressure of superpowers, the potential for Asean countries to bend and take sides with certain countries will be high. When facing superpowers, we must be united, as one bloc, so that our strength will be synergised effectively, " he said.
Our concern shouldn't just be about China because the United States is also attempting to draw in the Asean claimants. In fact, it's becoming clearer how some Asean members are perceived to be closer to the United States.
Asean needs to take a united stand because individually, we could never challenge the United States or China. Asean needs to remain a bloc even if member countries have overlapping claims on these islands.
These are complicated disputes that can't be easily resolved, but Asean must never allow the South China Sea to be a battleground between the two superpowers. It's too close for comfort and Malay-sians must wise up to the South China Sea being not far away.
There have been nerve-wracking close calls in the past where Chinese and US planes have collided, like in 2001, which caused the death of a Chinese pilot and forced the US plane to land on China's Hainan Island, where its crew was detained.
In 1988, China and Vietnam clashed over Johnson South Reef in the Spratly Islands, which left 68 Vietnamese dead.
Tensions were defused via diplomatic channels a long time ago though, with cool heads prevailing.
However, with a US presidential election coming up, criticisms against China have become increasingly louder, while Chinese nationalism has also crystallised further.
Relations between the two nations are at its lowest ebb and hardly a day passes without a verbal attack by the United States.
The Americans have a history of waging war overseas. They've lost on occasion, but in all scenarios, every party suffered dearly. When the United States issues tough economic sanctions against other countries, the people of that country are directly hit. Case in point: Iran. Iranians can't travel freely and aren't allowed to even open a simple bank account anywhere.
The bottom line is, there's a heavy price to pay for standing up to Uncle Sam.
Last week, China told its service personnel "not to fire the first shot" as Beijing looks to de-escalate tensions with the United States in the South China Sea, sources familiar with the situation told the South China Morning Post.
It would be tactically wrong for Beijing to give in to the American hawks and allow the situation to escalate.
The news report, quoting sources, said Beijing had ordered pilots and naval officers to exercise restraint in the increasingly frequent stand-offs with US planes and warships.
"Meanwhile, further details have emerged about a phone conversation between the two countries' defence ministers last week.
"The call was first suggested by the US side about 'a month earlier' but was initially given a frosty reception in Beijing. But a source said the Chinese leadership later had a change of heart and decided to reach out as tensions escalated in the South and East China seas, " the paper reported.
In fact, China perhaps needs to review its diplomatic strategy because it needs to reflect on its impact and how it's perceived, particularly in the West.
China obviously feels it has the right to be a bigger player on the global stage having earned its stripes. However, its increasing assertiveness has been used against the country even though it has never waged war against anyone, unlike the United States.
The United States and its Western allies must also accept that the world has changed. They must accommodate China, whether they like it or not.
The nations will ultimately do as they please, but let's hope they keep their battle out of our backyard, the South China Sea, because the situation looks explosive and ground zero is simply too close to home.