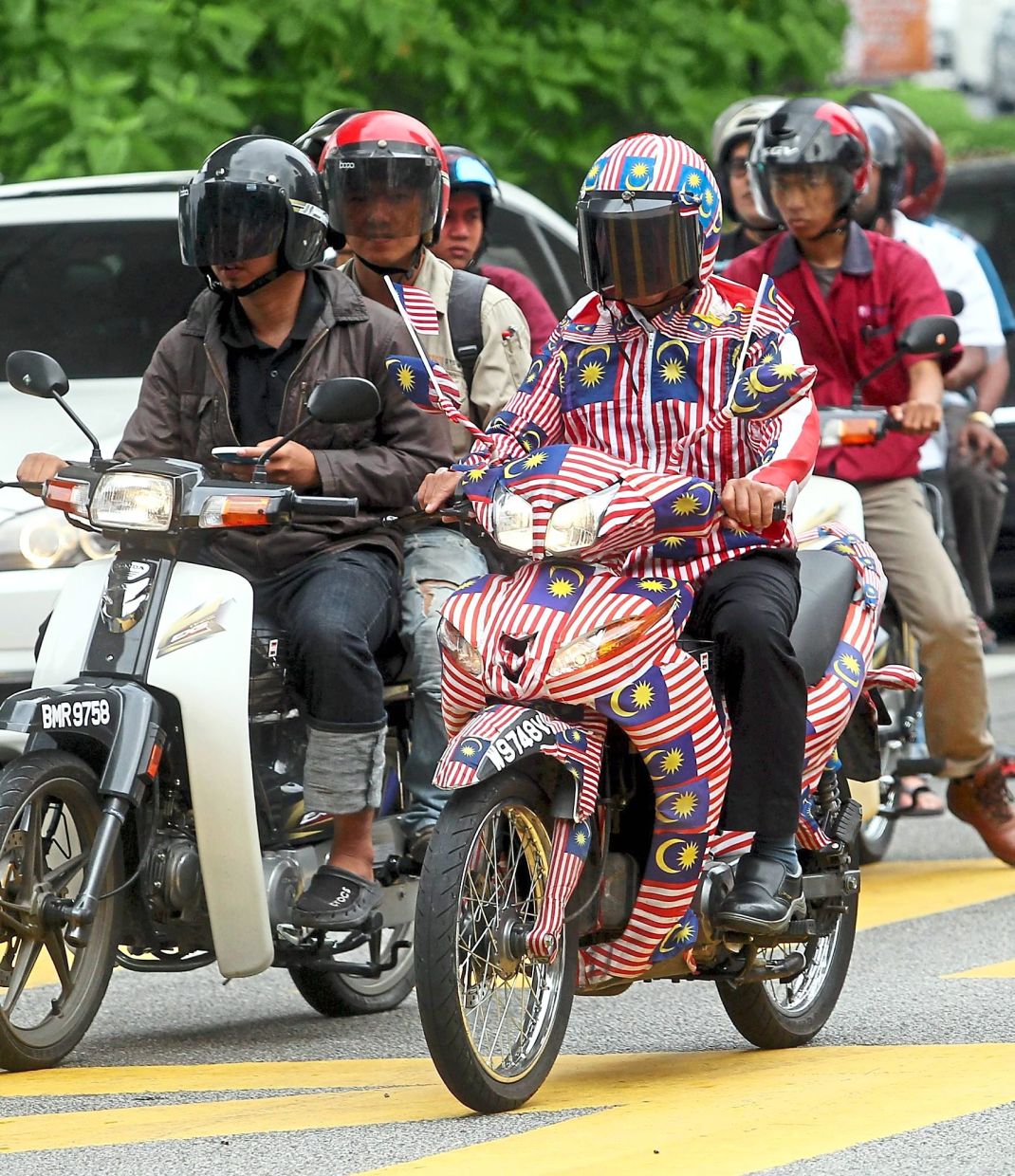 Stay safe: This National Day, we need to remember not only our face masks when biking around but also our helmets.
Lives lost and families destroyed are everyday scenery here. And they're all paid for the price of ignoring basic safety rules.
IT'S barely news that our politicians are cavalier about wearing helmets when riding motorcycles, especially in rural areas.
But let's not pretend that only politicians from the government are culprits because bad examples proliferate in both sides of the divide. In fact, if there's one thing that binds them all, it's flouting the law.
Last week, former Transport Minister Anthony Loke Siew Fook said he had pictures of Umno leaders, including ex-prime minister Datuk Seri Najib Razak, riding without a helmet.
Loke also claimed that Datuk Seri Ahmad Zahid Hamidi (BN-Bagan Datuk), Datuk Seri Reezal Merican Naina Merican (BN-Kepala Batas) and Tan Sri Annuar Musa (BN-Ketereh) had done the same, showing several pictures as proof.
Barely after 24 hours later, MCA central committee member Datuk Chew Kok Woh showed the media top PKR and Amanah leaders on motorbikes without helmet. These included Amanah president Mohamad Sabu and PKR Secretary General Saifuddin Nasution.
Chew also posted pictures of DAP assemblyman Ng Sze Han on his motorbike without a helmet.
Many politicians – presently or formerly in government – seem to think that when they're in villages, they can ride their motorbikes without helmets, just like their supporters. Granted, village trails aren't thoroughfares, which is why these politicians think it's excusable not to wear protective gear.
But none of these politicians and their village supporters are aware or care that more than 60% of motorcycle fatalities happen in rural settings.
This may be surprising, but it's true that less fatalities are registered in the cities. However, these motorists in villages were neither drunk nor intoxicated.
Drink driving, which has led to fatal accidents, are emotional matters because they often involve people of different races and religions.
Ultimately, facts and figures speak for themselves. For a start, let's remind ourselves of a few records achieved by our motorists.
Malaysia has the highest road accident death rate in Asean and the third highest in Asia. The World Health Organisation's 2013 statistics portrayed Malaysia among the emerging countries with the riskiest roads after Thailand and South Africa.
Malaysia registered a death rate of 23 per 100,000 population. Based on these statistics against the estimated population of 30 million, 7,000 to 8,000 people in the country die on our roads every year. And more than 50% of road accident fatalities involve motorcyclists.
According to findings by the International Association of Traffic and Safety Sciences (IATSS), the highest number of motorcycle fatalities occur in rural locations (61%), primary roads (62%) and straight road sections (66%).
"The majority are riders (89%), 16 to 20 years old (22.5%), and 90% of the motorcycles are privately owned.
"Of those involved in fatal accidents, 75% of the motorcyclists wear helmets, and 35% do not have proper licences.
"The highest number of fatalities by type of collision is 'angular or side' (27.5%).
"Only fatality data are used due to the severe underreporting of severe injuries (up to 600%) and slight injuries (up to 1400%)."
Although the study was done in 2012, the pattern has barely changed in recent years.
In 2019, it was reported that there were more than 280,000 road accidents recorded nationwide during the first six months of the year.
Bukit Aman Investigation and Traffic Enforcement director, Datuk Azisman Alias said that between January to June 2019,281,527 accidents were reported in the country. This number is a 2.5% increase from 2018, which saw 274,556 accidents in the same period.
Malaysian motorcyclists are the biggest culprits, and victims, too. They account for two-thirds of road crash fatalities and sadly, the majority are teenagers.
These are the ones who consider wearing helmets optional. Let's not even talk about the faithful who travel to mosques for Friday prayers without road safety protection.
And it's not uncommon to see motorcyclists with busted rear lights, too.
Then, there are the food deliverers who are notorious for beating traffic lights.
If comprehensive surveys are done at traffic lights, it'll likely show that almost all food deliverers and many general motorcyclists, can't obey simple traffic rules. They are not repeat offenders either, but routine ones.
The IATSS study was based on data collected and analysed from the police, government authorities, and national and international research institutes.
It found that fatal motorcyclist crashes mostly involve "passenger cars" (28%); motorcyclists are responsible for 50% of the collisions either by crashing singly (25%) or with other motorcyclists (25%). While male motorcyclists predominate (94% of fatalities), female motorcyclists aged 31 to 70, possessing "no licence" and not wearing helmets, account for a higher percentage than male motorcyclists.
The study recommends Malaysia acquire more motorcycle exposure data and establish an injury recording system and database based on hospital records.
"To reduce motorcycle fatalities, it first has to understand why young male motorcyclists are prone to fatal crashes in the evenings and on weekends on rural primary roads, especially on straight road sections."
Well, it's not too difficult to reason why these accidents occur in rural areas where street lighting is poor and trunk road conditions aren't the best.
Of course, the villagers still refuse to wear helmets. In their logic, why would they need to wear a helmet for a coffee at the warung (food stall) or a spot to lepak (loaf)?
Besides, the Yang Berhormat who comes to the villages on his constituency visits, especially this National Day, won't bother putting on one anyway.
With that said, put up the mini national flags on your bikes, by all means, but for goodness sakes, wear helmets, and face masks, too.
Stay safe, and Happy National Day.