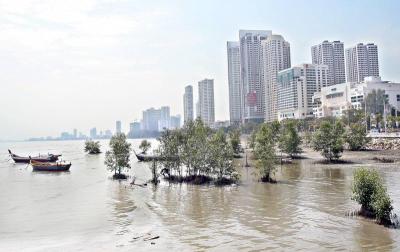 ASK any older Penangite — that is anyone who is above 50 years old – and he will tell you that the Gurney Drive today is quite different from his childhood days.
The present state of affairs is simply deplorable. It has been rotting over the past 10 years as more restaurants and eateries, not to mention the many high-rise developments that have replaced quaint bungalows, take over this stretch of road and its vicinity.
And it doesn't look like there will be improvements with the daily traffic congestion.
Land reclamation at one end of Gurney Drive has been blamed for causing the flow of water into the shores.
But for many of us who grew up in Penang, there was once a beach along this stretch where we could pick up seashells, which were abundant then.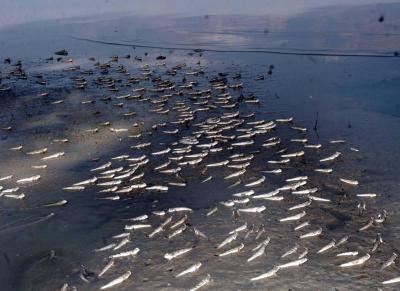 We could also dig up siput remis or small mussels, which we took home by the pails to be cooked!
Pollution-free Gurney Drive was also the venue of the annual dragon boat races from 1960s to 1980s. That kind of excitement is now lost, much like the lovely beach and clear waters.
We could actually swim at Gurney Drive and it was a joy to watch the fishermen, who moored their boats at the beach, returning with their catches. It was common, in fact, to actually fish for king crabs along the shore back then.
But that's all gone now. It will never come back and for older Penangites, we must be thankful we got to experience such beauty.
Still, Gurney Drive, for all its imperfections, is home to some of the most expensive properties in the state. The many luxury condominiums, especially those with a view of the sea, can command a price of more than RM2,000 psf.
Hotels and modern shopping centres have now taken over the places of many majestic pre-war houses and the College General complex, which was once used to train Catholic priests in Thailand, India, China, Japan and Myanmar.
But more importantly, Malaysians, especially Penangites, who still take their evening strolls along the promenade must know who Sir Henry Lovell Goldsworthy Gurney was as the road is named after him.
Gurney was the High Commissioner for Malaya between 1948 and 1951, who was murdered on Oct 6, 1951, on the way up to Fraser's Hill.
The communists had ambushed his Rolls Royce during the Malayan Emergency without realising he was inside the car. In short, the ambush was accidental and the communists only learned it was Gurney — the most senior colonial official in Malaya — was dead from news reports later.
In his memoir, My Side of History, Chin Peng wrote that he was 35 miles away across the highlands in Bentong when the assassination took place.
"It was not until the next day, while tuned to the early news on Radio Malaya that I first learned we had killed the High Commissioner," he wrote.
Sitting with his fellow CPM leaders, he wrote "I recall very clearly the silence of amazement that briefly followed. It then dissipated to shouts of incredulity."
In his book, he wrote the ambush was the work of "comrade Siew Ma and 36 guerrilas who had been lying in ambush two days along the winding Gap road" leading to Fraser's Hill.
Today, tourists driving up Fraser's Hill can see a sign at the spot where Gurney was killed. He is buried at the Cheras Christian cemetery.
Retired Bernama journalist Syed Imran Ahmad, who has carried out extensive research, wrote that when New Coast Road was renamed Gurney Drive, there was a debate over why the road should be called "drive" — which meant a road for driving in, especially a private carriageway to a house.
"The development of national forces in the country and the political revolution of the fifties manifested itself in a small way, when one Municipal Commissioner suggested in 1956 that Gurney Drive should be named Pantai Merdeka.
"This matter was taken up in council and it was decided on Aug 21, 1956 that, with effect from Aug 31, 1957, the road would be known as Merdeka Drive and that the circus at the end of Pangkor Road be named Gurney Circus.
"A bust or statue of the late Sir Henry was to be constructed. The then Settlement Secretary refused to write to Lady Gurney regarding this and so the Municipal Commissio-ners wrote direct to Lady Gurney.
"She took the change very bravely and even offered to help with regard to the statue or bust. There were negotiations with a sculptor in London, David McFall, who agreed to do the job for 500 guineas or $4,500," Syed Imran wrote.
But thank God, common sense finally prevailed. When the recommendation for the provision of $6,000 for bust came up before the Finance Committee, it was decided not only to defer the provision of a bust but also that the drive should continue be called Gurney Drive.
If Malaysians think there are plenty of comic politicians now, there was no shortage of them then.
Wrote Syed Imran: "In 1962, a councillor reportedly suggested, while on the topic of beautifying Penang through landscaping, that the double rows of Casuarina trees be planted at Gurney Drive, urged the council to consider renaming Gurney Drive to "Casuarina Drive" and "Casuarina Beach."
For all the changes throughout the decades, whether good or otherwise, Gurney Drive continues to be an attraction.
Readers write
Reader Adam Zachariah wants to know about Hutton Lane where Penang's famed band, The Alleycats, was formed, and Jalan P. Ramlee.
Chun Wai: Growing up as a young man in Penang, the most happening place was Carmen's Inn at the old Hotel Merlin, now known as the City Bayview Hotel. Beside Alleycats, the other big name was the Sweet September. Just a stone's throw away was the Unit One disco at Hotel Malaya. But it is Datuk David Arumugam and his brothers who made us proud until today. The band members grew up in Hutton Lane — named after the earliest known doctor who arrived in Penang with two assistants in 1805. There were certainly plenty of alleys in the area where they grew up.
Jalan P. Ramlee is, of course, named after our most loved actor-singer-musician. Also known as Teuku Zakariah, he was the son of Acehnese Teuku Nyak Puteh. He attended a Malay school in Kampong Jawa and later, Penang Free School.
Another reader enquired about Aboo Siti Lane and Drury Lane.
Chun Wai: According to Khoo Salma Nasution, Aboo Siti was also known as Mamak Pushi. He was regarded as the father of Bangsawan, a form of Malay musical which originated from Penang in the 1870s. Aboo Siti started a local company called Kumpulan Pusi Indera Bangsawan in the 1890s which toured Malaya and Indonesia. Bangsawan was popular not only among the Malays but also the Chinese and Indians.
Drury Lane is named after the West End theatre district in London. Adjoining Kuala Kangsar Road, near the Penang Road area, the local Hokkeins called the road sin hi tai or new theatre appropriately.
> If you have queries on the streets of Penang, or your own stories, kindly email to mystory@thestar.com.my