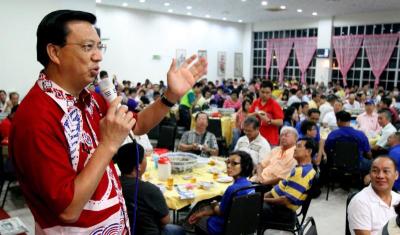 Lurah Bilut stands tall as the nation's first Felda scheme, pioneered by settlers from all races from different parts of the country.
LURAH BILUT is just about 19km away from Bentong. It is a huge piece of fertile land located near Sungai Bilut and the Kelau forest reserve.
It is safe to say that most Malaysians, especially those staying in the cities, have never heard of this place and have no reason to come here.
But Lurah Bilut is not only the first Felda scheme in the country but one that was pioneered by settlers from all races after independence.
In this 12,920-acre (5,228ha) enclave, located within the Bentong parliamentary constituency, there are Malays, Chinese, Indians and the Orang Asli, and their children can go to either the national school or the national-type schools where the medium is in Chinese or Tamil.
The scheme was opened in 1957 and each settler was given 10 acres (4ha) of land. According to records, the first batch of settlers who entered the scheme on Aug 2, 1959, was from Datuk Keramat, Kuala Lumpur. They were brought into the area by bus and were shocked to find themselves in a jungle.
One Chinese settler, who arrived here in 1959 from Negri Sembilan with just his clothes on his back, was given tools to hack away at the dense growth, according to one report. There is one road here called Jalan Pulau Pinang, because the settlers came from Penang.
As with everything that is new and untested, the settlers had to be imbued with a sense of adventure. Certainly they could not foresee the success that Felda would turn out to be eventually. Thus these early settlers in Lurah Bilut came to be known as the Pioneering Bulls and have become some kind of a legend in this Felda scheme.
Felda was set up to eradicate rural poverty through the use of effective agricultural methods to cultivate cash crops such as rubber and oil palm. In recent years, there has also been special emphasis on diversification to deal with the fluctuations in commodity prices.
On my visit to this Felda scheme, it was clear that many were eager to share their experiences with me. There is a sense of pride over what has taken place here.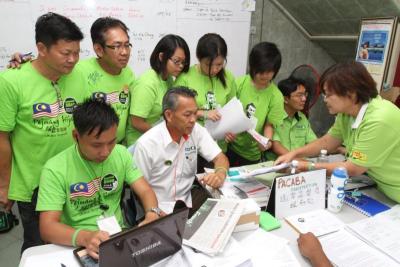 I am sitting at a restaurant opposite the Lurah Bilut Chinese school where the Barisan Nasional campaigners are having their lunch break.
A vegetarian meal has been prepared for incumbent MP Datuk Seri Liow Tiong Lai and as he sat down at the table, the MCA deputy president invited those at the table to share his vegetarian dishes.
But many jokingly told him that they would take his share of meat instead, a joke which he has heard many times.
The Bentong parliamentary seat which Liow won with a 12,585 majority when he polled 51,340 votes against his PKR opponent R. Ponusamy's 12,585 votes is regarded as a safe seat for the Barisan Nasional.
The current electorate of 62,400 voters comprise 43.9% Chinese, 44.6% Malays, 9.4% Indians, 0.5% Orang Asl and the rest, others.
Liow is expected to deliver this seat to the BN but no one is taking any chances this time because of the perception that the Chinese sentiments against the BN are very strong, even in Bentong where they have always been traditionally pro-BN.
Even the Bilut state seat, held by the MCA, is under threat from the Pakatan Rakyat. Liow has to work extra hard to campaign for 36-year-old Leong Kim Soon, who is contesting this seat. Leong's grand uncle is the late Tan Sri Chan Siang Sun, who was the legendary MP for Bentong.
Leong, who is the political secretary to Liow, is facing DAP's Chow Yu Hui.
In this rural setting, the two have gone from door to door, under the hot afternoon sun, to shake the hands of every voter.
Said a campaigner: "This is a crucial area as it is racially mixed and we want to cover as much ground as possible."
Unlike the Felda schemes in Johor, especially, where Pakatan Rakyat candidates are literally chased away by the settlers, the PR workers have been able to put up their flags and banners, an indication that a fight is at hand.
In the Bentong town centre, Liow's challenger is Wong Tack, who made a name for himself as the anti-Lynas campaigner. In his green T-shirt, Wong was raising environment issues but his credentials have taken a knock after he was exposed as the owner of a 1,000-acre (404ha) oil palm estate in Sabah.
Wong also had to fend off the revelation that he held Canadian permanent residence status, explaining that it was cancelled by the Canadian authorities because he did not go back to the country.
But the BN campaigners have been hammering on that issue, questioning why there was a need for him to collect donations at every ceramah when he is pretty well off financially.
They asked how many of the voters, especially settlers, could even dream of owning 1,000 acres of land and if they knew how much money had been collected so far.
But Wong seems undeterred by these issues, saying he was well-prepared to challenge Liow for Bentong, and also Mentri Besar Datuk Adnan Yaacob, who is contesting in the Pelangai state seat, under Bentong.
Wong's campaigners, mostly youngsters, are visibly seen in town, especially at the market, where they aggressively tell voters to go for change.
One Universiti Malaya student said she had volunteered to canvass votes for Wong because she had been actively involved in the anti-Lynas campaign.
"My belief in him remains the same. I will still support him and the DAP, nothing will change my stand,'' the third-year student said. She said her parents knew that she was campaigning and wholeheartedly supported her.
Her friends, many eager to express their views, said they were using their own expenses to stay in Bentong.
At the Bentong Jaya coffeeshop, the discussions focus on the sentiments of the Chinese, swayed by DAP's talk that Pakatan Rakyat would take over the Federal Government. Only a few were cautiously warning about the implications of the Chinese voting themselves out of the government.
A businessman from Kuala Lumpur said he had been trying to explain to some Chinese voters that while their sentiments are pro-Pakatan, the majority of Malays would be backing Barisan.
"The huge crowd at DAP ceramah can be deceiving because the Malay style of campaigning, in Felda areas, is to have small get-together sessions, prayers at the suraus and house to house visits. As these are not visible, the Chinese think the huge crowd means PR would take over," he said.
In Bentong, the local dialect is Kwong Sai, which originates from Guangxi province in southern China. As we continued with our drinks, the locals at the neighbouring tables were listening attentively.
The politicians and campaigners have been doing all the talking so far but come May 5, the voters will be doing the talking via the ballot box. The stand of the majority in Bentong would be known then.
For more election stories, please visit The Star's GE13 site