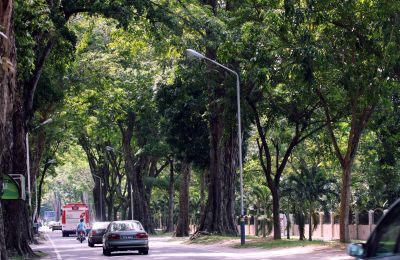 THE role of the English in Penang's history is so well-documented it has given the impression that no one else in the United Kingdom has a role besides the English.
Well, reader Andrew Blackadder Wilson from Glasgow, Scotland, who is a frequent visitor to Penang, has written in to remind me of the contributions of the Scots in the development of Penang as well as the Straits Settle-ments.
To the Penangites, there might not be any difference between an Englishman and a Scot, but there is nationalistic pride to it!
One of the major roads in Penang is Scotland Road, which begins from the junction of Western Road and ends at the interchange with Jalan Air Itam and Green Lane, now Jalan Masjid Negeri.
There are no available reports as to why the road has been named Scotland Road. There is a likelihood that it could be connected to the nearby Penang Turf Club which was set up in 1864, where a number of prominent Scots were early members.
Logan Road may not be known to most Penangites, as it is a road off Anson Road, but James Logan was surely a big name in early Penang.
A monument, erected in 1869, in honour of this Scotsman, still stands at the grounds of the Penang court complex.
James Richardson Logan and his brother, Abraham, studied law in Edinburgh. At Duns Academy, James was a classmate of David Brown's son — Forbes Scott Brown.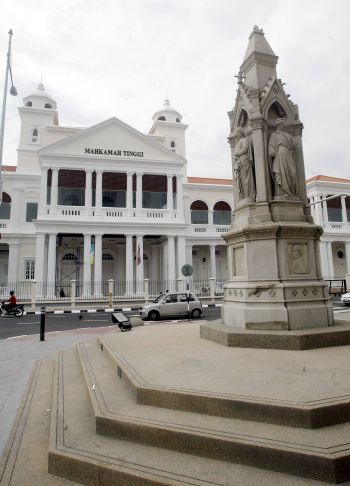 The Logans came to the Straits Settlement around 1840 after a brief stay as planters in India, according to local historian and publisher Khoo Salma Nasution.
In Penang, James made a reputation for himself as a lawyer who dared to take up cases of injustice against non-whites, including an Indian sireh planter's appeal against the East India Company.
It must be recognised that the powerful and influential white men in Penang then were linked to the Company. Essentially, Logan was taking on the elites in Penang.
According to Khoo, when the British tried to stop all secret societies activities, James acted as the legal adviser to the Chinese merchants, which resulted in the British giving official recognition to certain organisations and festivals.
In 1842, the Logans started their practice in Singapore as well as a newspaper, the Singapore Free Press, which Abraham also edited, from 1846 until several years before his retirement in Penang in 1868.
James was both an academician and a journalist. He founded the Journal of the Indian Archipelago and Eastern Asia in 27 volumes of which he was the writer, editor and publisher. In Penang, he took over a newspaper, the Pinang Gazette.
Because of their eloquence, legal and journalist background, the Logans were opinion shapers on the island as well as the Straits Settlements.
On the memorial, it is inscribed "He (James) was an erudite and skilful lawyer, an eminent scientific ethnologist and he has founded a literature for these settlement."
At Beach Street, there is the Logan's Building, a two-storey block of shops, within the core zone of the heritage site.
In one website on Penang heritage, it has been described as "one of the most charming buildings with its central arch defining a granite-paved porte-cochère, which in the old days led to a courtyard for carriages."
For this writer — my memories of this road went back to my teenage years as a scout. The troop leader of my school scouts in St Xavier's Institution was a chap named Lee Boon Pin, a serious and disciplined boy.
I was a patrol leader heading a team called "Bat's Patrol" and we often congregated at this house in Logan Road, which has a big field, for our after-school scout activities.
Sometimes, all we did was just kick the ball around for fun.
Just a stone's throw away is Vermont Road, off Macalister Road, where I would cycle to all the way from Air Itam to visit my good friend, Choong Keng Hooi.
A schoolmate since Standard One, he is today the only hairstylist I trust to cut my hair, what more with a receding hairline that needs to be carefully covered up!
One of the most recognisable roads named after a Scot must be Macalister Road. Colonel Norman Macalister was the Colonel Commander of the Artillery Detachment, who later became a Governor of Penang (1807-1811).
It is said that the present structure of Fort Cornwallis was built by convict labour in 1810 during his term as Governor. He was reportedly lost at sea, in the South China Sea, while on the ship "Ocean" back to Scotland in the same year.
Then, there is Campbell Street named after Sir George William Robert Campbell, who was acting Lieutenant governor of Penang from 1872 to 1873.
He was also Inspector-General of Police. His family roots can be traced to Roseneath, Strathclyde in Scotland.
Two roads in the Seven Streets Precinct of George Town were also named after civil servants with Scottish roots — McNair Street and Macallum Street.
McNair Street starts at the junction with Magazine Road and ends at Sandilands Road.
It was named after Major John Frederick Adolphus McNair, the acting Lieutenant Governor of Penang between 1880 and 1884. McNair, who was born in England in 1828 became an employee of the British East India Company in 1845, at the age of 17. He was posted to Madras, India, where he became fluent in Hindustani.
It is reported that in 1853, McNair was posted to Malaya, where he was stationed in Malacca and Singapore.
He was also the Superintendent of Convicts in the Straits Settlements, with responsibilities over Penang, Malacca and Singapore.
Macallum Street, or the Fifth Street (goh tiau lor to the Penang Hokkiens) was named after the engineer of the Straits Settlement between 1884 and 1889, Colonel Sir Henry McCallum.
McCallum, through his many years of service, left his legacy in other parts of the world too.
There is a Macallum Street in Singapore, Macallum City in Canada and Macallum Road in Sri Lanka.
As reader Wilson has pointed out to me, while many road names of British colonial officers have been renamed, the Scots seem to have done better — they have remained honoured!
Readers write
Patrick N: In your article, "Reliving London in Penang" (StarMetro, April 27), you stated that the immediate neighbour of the British Prime Minister at 11 Downing Street is the First Lord of the Treasury. This is incorrect. The resident at No 11 is the Chancellor of the Exchequer, equivalent to the Finance Minister. The First Lord of the Treasury is actually the official title of the Leader of the Government. Since all modern prime ministers have simultaneously been First Lord of the Treasury, 10 Downing Street has come to be identified closely with the prime minister.Other than that, the article was an enjoyable read. Keep it up.
Chun Wai: Thank you for pointing this out.
Andrew Wilson: It is always refreshing to read your articles about the history of Penang and how certain streets got their names. As a Scotsman who is often in Penang (in fact, I am here right now) I have noticed that many streets here have names with Scottish connections.The most famous and important being of course Jalan Scotland, though it seems most people still refer to it as Scotland Road. Then there are McNair Street, Logan Road, Campbell Street and Macalister Road. I have also noticed that many of the Anglo street names were changed to local names but not the Scottish ones, which gives me pause to think perhaps we were better thought of than the English as we Scots were always famous for "going native" as it was referred to as, and still is.
Chun Wai: Thank you for inspiring the article for today.
If you have queries on the streets of Penang, or want to share your own snippets, email to mystory@thestar.com.my