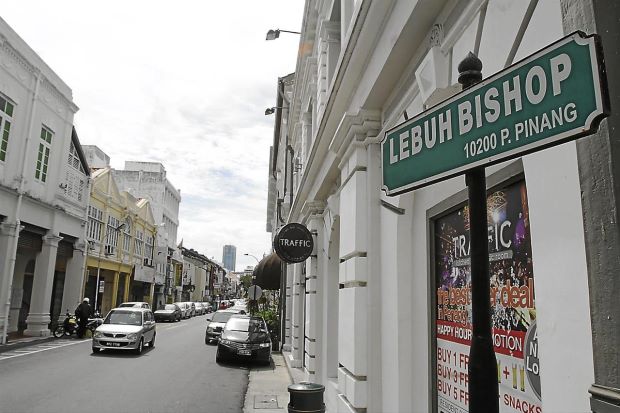 BISHOP Street is today regarded as just another link road leading to busy Beach Street, which is part of the state's vibrant financial and commercial district.
But unknown to many Penangites, there is a French connection here. The road is actually named in honour of Bishop Garnault, who escaped from Siam together with his congregation to escape religious persecution in southern Thailand in 1781.
Garnault was in fact ordered to leave Phuket and Ligor, two provinces in Siam, as the Thai kingdom was called then.
An article in The Straits Times dated March 29, 1936, reported that Phya Tak, "a Chinese usurper of the Siam throne ordered the massacre of Christians."
That was when Bishop Lebon and his two missionaries, Coude and Garnault, were asked to get out of the kingdom.
The Straits Times report stated that when Garnault landed in Kedah, he sought an audience with the Sultan of Kedah and was generously offered a huge house as a place of
worship with. A Portugese captain and a French captain were witnesses to the royal donation.
The Toulouse-born Garnault — whose full name is Arnaud-Antoine Garnault — was an exceptionally bright man. He not only learned to speak Malay but also took the trouble to teach others the language, according according to a Alliance Francaise online site.
In fact, he reportedly built a Malay school in Church Street, which was then a stretch of mangrove swamp.
Despite his bad experiences in Siam, Garnault eventually returned to Siam where he was appointed Vicar Apostolic of Siam in 1811.
According to Penang writer and historian Khoo Salma Nasution, Garnault's journey into Penang came about when he had to leave Kuala Kedah, where he had joined another 80 Catholics of Portuguese descent, some from Siam and others who had fled Malacca, after the Dutch takeover.
He met up with Captain Francis Light in Kuala Kedah and asked him for permission to relocate the Catholic Mission to Penang.
According to Khoo, Light remembered the request.
"Immediately after taking possession of the island, Light sent his ship Speedwell to fetch the Eurasians from Kedah," Khoo wrote.
"The first Catholic Church was built on Church Street and the Presbytery of Bishop Garnault on the adjacent Bishop Street."
According to another version of the same events by Dr Anthony E. Sibert of the Penang Eurasian Association, the Catholics who fled Siam and were picked up by Light's ship landed in Penang on Aug 15, 1786, a date that is known to Catholics as the Feast of the Assumption.
"Father Garnault built the first church, named Church of the Assumption, on Church Street. This primitive church was built on timber and roofed with attap," he wrote, adding that in 1860, the Church of Assumption was built at Farquhar Street.
Later on in 1852, the then Bishop of the French Mission invited the renowned La Salle teaching Order of the Christian Brothers and the Sisters of the Holy Infant Jesus to take over the parish schools in Penang, wrote Dr Sibert.
It was also the French mission that revived and built the College General to train priests for the Catholic churches throughout Asia. Its teaching staff consisted of many French priests, including Laurent Joseph Marius Imbert, who was beheaded in Korea, because of his faith.
In his research paper, Early Catholic Church, La Salle Education and the Penang Story, Sibert wrote that "1932 records indicate that of the seminary students and professors from the College, 51 have been martyred for their faith and of these, eight have since been beatified as Saints of the Catholic church, and all are from Pulau Tikus, Penang."
The more than 200-year-old College General, which was located at Pulau Tikus, is now at Tanjung Bungah.
Interestingly enough, while it was Light that brought Garnault into Penang, relations between the two men were, however, not pleasant.
"When the priest left in 1787, Francis Light wrote to Bengal for a replacement, stating that a Portuguese padre would be better than a French, the latter being too great politicians," Khoo wrote.
One posting in Wikipedia claimed that in November 1786, Francis Light wrote to one John Fergusson, stating that "Our inhabitants increase very fast — Chooliars, Chinese, and Christians; they are already disputing about ground, every one building as fast as they can.
"The French Padre from Quedda (Kedah) has erected his cross here, and in two months more, it will never be believed that this place was never before inhabited."
Another report that showed the French connection in the early days of Penang has it that "Monsignor Jean-Baptiste Boucho (who arrived in 1824) of the Paris Foreign Missions, with an allowance of a hundred Piastres a month from Governor Fullerton, moved the school from the church compound to a brick house he had constructed, turned it into an English-medium school for boys in 1825 and renamed it the Catholic Free School.
"On 20 April 1852, St Francis Xavier's Free School, as it was known as then, and its 80 pupils came under the management of the De La Salle Brotherhood under the responsibility of two French Brothers, Lothaire-Marie Combes and Venere Chapuit and one American Brother, Jerome."
It has been pointed out that the Sisters of the Infant Jesus, previously also referred to as Sisters of the Holy Infant Jesus or Les Dames de Saint-Maur, is a Roman Catholic Missionary order. It was founded in 1666 by Father Nicolas Barré, a Minim priest, for the gratuitous instruction of poor girls.
The Convent Light Street or the Convent of the Holy Infant Jesus was also set up by a French Sisters Mission in 1852. One report said that in October 1852, four French nuns were sent to the East and after a long and perilous journey when one of them died on the way, they arrived in Penang.
The official history of the Convent Light Street indicates that it was founded by three French nuns — Sister Gaetau, Sister Appolinaire and Sister Gregoire.
Writing this series on Penang streets has been a learning experience for me as I have had to dig into the archives and scour through different reports to get more information.
However, each time an article appears, I will also get feedback from readers who are able to point out any factual error and to shed even more light on my recollections.
For many years, Bishop Street was just another street where I look for my nasi kandar and to meet up with friends.
But now, I see this street in a different perspective and I hope the Penangites especially will appreciate how the French contributed much to Penang as well.