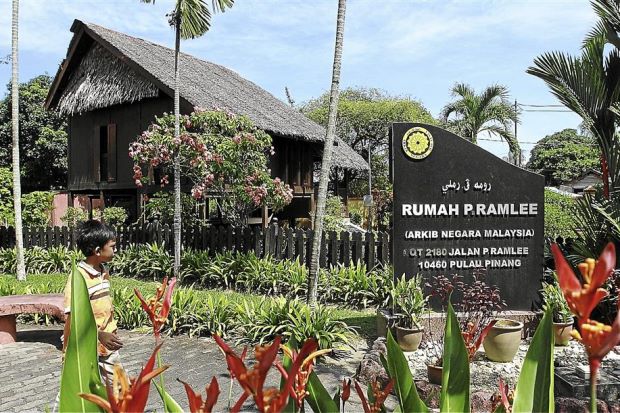 NO STORY on the streets of Penang can be complete without the mention of the legendary P. Ramlee, who is certainly one of the most famous Penangites of all time.
Although Malaysia's most famous entertainer made his name in Kuala Lumpur and Singapore, his roots began in Penang.
P. Ramlee, whose birth name was Teuku Zakaria, was truly one of a kind. He was an actor, director, producer, writer, composer, singer and musician.
According to a report, P. Ramlee was born on March 22, 1929, the son of an Acehnese sailor, Teuku Nyak Puteh.
He attended a Malay school, Sekolah Melayu Kampung Jawa, in George Town and later enrolled at the Francis Light Primary School.
He was picked to attend the premier Penang Free School but the Second World War broke out, which disrupted his studies.
"While growing up, he learnt to sing Malay and Tamil songs, and became involved with a local bangsawan troupe," wrote Khoo Su Nin in the Streets of George Town, Penang.
His musical talent began to be noticed in 1947, when he won first place in a song competition organised by Penang Radio.
"P. Ramlee left his hometown on Aug 8, 1948. At that time, the trains were very slow and he only reached Kuala Lumpur at 7.30pm and it was the first day of Hari Raya. He reached Singapore the next day," the late entertainer Ahmad Daud, another famous son of Penang, said in an interview with The Star.
"He was my father's (Mohd Hashim Eshak) student at PFS. During recess, he (P. Ramlee) had to get sireh for my father from our house," he recalled.
Ahmad Daud, whose daughter Fauziah, better known as Ogy Daud, has also made her mark in the entertainment industry, said he used to call P. Ramlee abang (brother).
He recalled the day when P. Ramlee won the singing competition in Bukit Mertajam, which eventually gave him a chance to penetrate the movie business.
"He sang a song he had composed, Azizah. What he did not realise then was that he had the chance to act in the movie to be filmed in Singapore, after he had won the contest."
By the time P. Ramlee retired, he had directed and acted in 66 films and written over 300 songs.
Today, the P. Ramlee family house has been converted into a museum and Caunter Hall Road has rightly been renamed P. Ramlee Road.
"The house where P. Ramlee was born was reconstructed on the same site and turned into a historic personality museum," wrote Khoo.
"Established by the National Archives, the museum features biographical information, artefacts and educational displays related to the artiste's early years in Penang.
According to history blogger Timothy Tye, "P. Ramlee was born in his grandmother's house located at an offshoot of the main road. P. Ramlee is of Acehnese descent, which may be incidental considering Jalan P. Ramlee itself borders on Acehnese settlements that follow the meandering Sungai Pinang River nearby."
P. Ramlee died on May 29, 1973, at the age of 44 from a heart attack but it was only in 1983 that the Penang authorities saw it fit to name the road after him. In Kuala Lumpur, Jalan Parry was renamed Jalan P. Ramlee a year earlier.
Older Penangites would remember Caunter Hall – the original name of the road – as a place which was constantly hit by floods. I am sure the iconic figure's house, in his teenage days, wasn't spared from the floods.
According to various articles, George Caunter was the Acting Superintendent of Prince of Wales Island (1797) who was sent to Kedah to negotiate the purchase of Province Wellesley from the Sultan of Kedah. Caunter Hall was supposed to be the name of his home in Penang.
Little of P. Ramlee's childhood and teenage years has been recorded by historians, which leaves a void in the story of this great man.
His entertainment career, especially his movie days in Singapore and Kuala Lumpur, are well-documented, however.
In my growing-up years, we always looked forward to Friday when RTM would show the Malay movies, hoping that the P. Ramlee movies would be shown.
We looked forward to his comedies such as the Do-Re-Mi and Bujang Lapok series. He also starred in movies about the Malay Sultanate which appealed to all Malaysians. And we could never forget the horror movies as well, including Sumpah Orang Minyak.
These days, when I walk into the record shops, I see that his movies are also available on DVDs but I do wonder if the younger generation will watch these classics.
As for his music, who can forget Bunyi Gitar, which was brilliantly played by Roger Wang, the guitar maestro from Sabah? Or Getaran Jiwa?
In the P. Ramlee Cyber Museum (www.p-ramlee.com), the list of his most popular songs had Bunyi Gitar at No 2, just after Azizah, with Getaran Jiwa at No 6.
And, as a Penangite, I truly enjoyed P. Ramlee The Musical that was produced by Tiara Jacquelina. Penang must surely be proud to have P. Ramlee to be counted as another anak Pulau Pinang!
READERS WRITE
Datuk Seri Shaik Daud Ismail writes: Your article on Argyll Road Penang brought tears to my eyes. It brought back wonderful memories because I too was born and brought up in Argyll Road.
Our family home was at 167, Argyll Road. The bungalow was in front of the then London Hotel and next to Sin Tong Ah Hotel. It is still there but is now, I believe, a Chinese club.
Chun Wai replies: Thank you for sharing.
Jelutong Boy writes: I grew up in a time when soft drinks were indeed a luxury and only available in our home during the Chinese New Year.
My father, who was a clerk, got at the end of the year, would normally order two crates of 24 bottles each to last all 15 days.
And the visitors got priority while we would wait for the remnants.
There were only two flavours – orange and sarsi – although we would occasionally get some bottles of "ice cream soda".
The bottles were recycled and sold back to the "ting-ting bottle man."
The caps, when attached to a string, provided hours of fun in those growing-up years.
I also remember Radio Malaysia coming by to my school to record quiz shows sponsored by F&N.
One of the challenges was to spell out sarsaparilla, which is the long word for sarsi. It normally takes a few to get the spelling wrong before someone gets it right and is rewarded with a bottle of sarsi.
Chun Wai replies: Your colourful memories are similiar to what many of us go through.