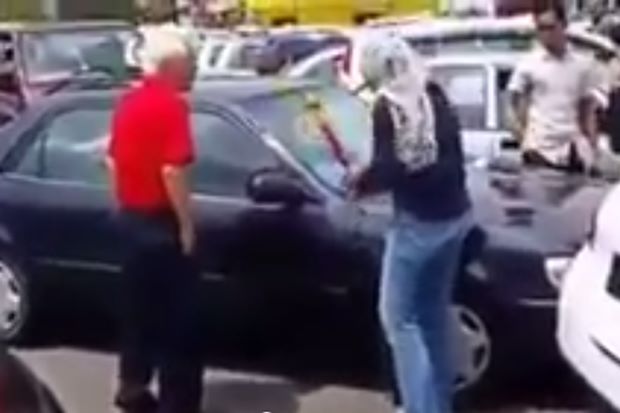 The voices of moderation, rationality and tolerance deserve to be heard louder.
Road bully Siti Fairrah Ashykin Kamaruddin, better known as Kiki, must be happy that her case has been settled before Raya. She has been fined RM5,000 and ordered by the Sessions Court to perform 240 hours of community service.
She had pleaded guilty to intentionally committing mischief with a steering lock by hitting the bonnet and front windscreen of retiree Sim Siak Hong's car.
In mitigation, she told the court she has learnt her lesson and that she has also apologised to Uncle Sim.
Uncle Sim had forgiven her earlier, and even refused to press charges against her. He had also hoped that she would not be charged by the authorities, insisting that the case should be closed.
Malaysians who have been following the case must have surely felt a sense of relief and renewed hope because people of all races came together in defence of Uncle Sim.
The majority of rational and fair-minded Malaysians did not see him as an ethnic Chinese but instead regarded him as another Malaysian who was unfairly treated by an aggressive young bully.
The angry voices came from all races who were outraged at her thuggish behaviour and, worse, her utterance of racial remarks.
Obviously Kiki, 30, did not know that she was being recorded on video screaming at Uncle Sim, 68, after his car bumped into her new Peugeot 208 recently.
The short video clip, which went viral on social media, showed Kiki brandishing a car steering lock, hammering Sim's car with it, and demanding that he paid for the damage while a cool and composed Uncle Sim tried to calm her down.
Kiki must have acted in such a harsh manner believing that the mainly Malay onlookers were on her side, purely on racial grounds. But she was wrong.
The reactions that followed on Facebook and Twitter were swift and furious. The comments, whether in Bahasa Malaysia, English or other languages, demonstrated that Malaysians could not accept such blatant bullying. Malaysians were in one voice telling her off.
Later, radio stations that invited her to speak on air had a lesson to learn – another round of firing came at her and them as well. Most Malaysians were outraged, feeling that she did not deserve to become a celebrity of sorts and share her story on the air waves. If she wanted to talk, she should do so at the police station. There were even calls to boycott the radio stations concerned.
It must be noted, however, that Uncle Sim subsequently also got to share his story on another radio station.
Be that as it may, what is clear from this incident is that there is a sense of oneness among Malaysians who saw this strictly from the perspective of a young road bully venting her anger on an elderly man.
It was sickening that a few individuals decided to inject race and religion into the equation, with one asking what the outcome would be if Kiki had been the victim and Uncle Sim the aggressor. Seriously, it takes a twisted racial mind to look at this incident from that angle.
To all fair-minded Malaysians, wrong is wrong. It is as simple as that.
Likewise, a victim of a snatch theft who manages to catch the criminal and then give him a beating does so simply because that man is a crook. To even suggest that one should be on the side of the thief because he is of the same race is, well, warped thinking.
The correct thing to do is not to take the law into our own hands but to deliver the thief to the police. Still, it would appear that some of us cannot even differentiate between a right and a wrong when the racial factor is thrown in.
There are only good people and bad people – and all races have their good and bad people.
We hope politicians and self-declared champions of their races heard this message well. We hope they followed the case on social media too.
Likewise, the sad event of MH17 has seen Malaysians coming together. How we wish that Malaysians could come together not only during a disaster, or to cheer on a Malaysian in a badminton final, but at all times.
We all reacted angrily at the silly statements made by Tan Poh See, the wife of Penang DAP Member of Parliament Ng Wei Aik, who posted on Facebook that "Malaysia is a scary nation, what kind of a useless country is this?"
She withdrew her posting and apologised after she was hammered by Malaysians of all races.
But obviously there was another one as dumb as her. A classic case of dumb and dumber. Federal Territory Umno Youth chief Mohd Razlan Muhammad Rafii retorted with a tweet demanding that Tan "balik Tongsan (go back to China)".
If that was not enough, Kedah PAS Youth information chief Ahmad Tarmizi Sulaiman issued a statement saying that the MH17 crash was a punishment on the airline for serving alcohol on flights and the outfits of its attendants.
Obviously, Ahmad Tarmizi needed to achieve notoriety in his own right after assuming the post vacated by his predecessor Lotfi Ariffin, who was sacked after deciding to become an armed militant in Syria.
Racial and religious bigots who are on the fringes of politics are an embarrassment to their political parties, really, but they continue to be given generous space by certain news portals.
And we must not forget that some so-called ordinary people are also making use of their own social media platforms to articulate bigoted and zealous views, though they may not get as much attention as those who are politically linked.
At the end of the day, the voices of moderation, rationality and tolerance deserve to be heard louder. That is the only way to drown out the extremist voices. Let Malaysians continue to speak as one, at all times, and on all occasions.