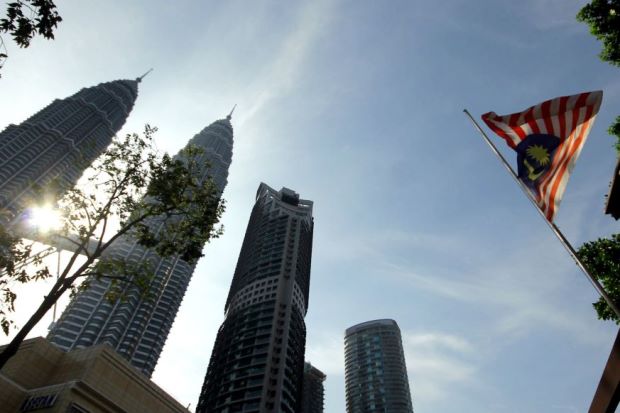 The MH17 tragedy has brought back some common sense to us, reminding us that as a country and as a people, we all share many things together – the joys and the pains – regardless of our race and religion.
IT'S 7.35pm on a Friday night at Angkasapuri. The Prime Minister had just started to break his fast with a sip of water and a small bite of a date when a phone call came in. His aide whispered to him that it was from the United Nations Secretary-General.
The conversation between Datuk Seri Najib Tun Razak and Ban Ki-moon took almost 15 minutes during which they exchanged views on the MH17 tragedy.
When it was over, Najib gave an outline of his conversation to those of us at the same table who were watching what was taking place.
"I am waiting for a call from (President) Putin in the next 30 minutes," Najib said as he finally managed to start his actual meal.
When the Russian president finally called at around 8.30pm, Najib had to quietly excuse himself to go to a nearby room to escape from the loud music playing near the table. This time, the conversation seemed shorter.
His aides quickly found time to brief him before his nationwide television appearance over RTM which was coming up.
The Prime Minister has had little sleep since the shooting down of MH17 on Thursday night by what is believed to be a Soviet-era BUK surface-to-air missile. Ironic as it sounds, the Russians had tried to sell the BUK system to our Malaysian military in the 1990s.
By Najib's own admission, it all seemed unreal. When he received a late night call from a top MAS official on Thursday night, he said, he sensed it would not be good news. We all know what it is like to receive a call in the still of the night.
If the word "unprecedented" was repeatedly used by the then acting Transport Minister Datuk Seri Hishammuddin Hussein to describe the MH370 tragedy, which until now remains unresolved, the same word could also be used in this latest tragedy.
No airline has ever been involved in two major disasters within a span of four months and involving so many passengers. To put it another way, it appeared that lightning has indeed struck twice on our unfortunate Malaysia Airlines.
It is like a bad sequel, and an almost unbelievable one even by Hollywood movie-making standards. For ordinary Malaysians, it is what we call "sial" in Bahasa Malaysia or an almost similar sounding "soey" in Hokkien and Cantonese. Translated, it means bad luck.
There are just three key questions from Malaysia: Was MH17 shot down? And if yes, who gave the order and who were the aggressors? And, finally, what action will be taken against the culprits?
This is simply cold-blooded murder of the highest degree. It is a pure criminal act and the fact is a total of 298 innocent lives have been lost for a quarrel that is not ours. MH17 found itself caught in this disgusting feud between Russia and Ukraine.
As Najib rightly pointed out, we are victims of a geo-political war. It has gone beyond just two countries as the big powers take sides.
Putin has given his assurance that Russia would assist in the investigations but, like many, I would take this with more than just a pinch of salt. The Russians have already started their international spin, using the media and social media, to reveal their conspiracy theory of Ukraine wanting to shoot down a plane carrying Putin. It seems that the colours on Putin's presidential plane and MAS' bear striking similarities, although one must ask how people on the ground can even see a plane cruising at 30,000ft.
The Ukrainians have also fed the media with purported secret recordings and a video clip from their secret agents showing pro-Russian rebels using the BUK to shoot down the plane and, not to forget, bringing the black box to the Kremlin.
All these reports are unverified, of course.
It is also sickening to read the barrage of attacks against Malaysia Airlines for using the route over this war-torn region. That same route was used by Singapore Airlines, India Airlines, Thai Airways, Lufthansa, Air France and KLM before the gunning down of MH17.
The manner of the criticism seems to be to put MAS in a bad light and to suggest incompetency on our part. We get the drift. No one is saying anything about the other airlines who also took the risky path, if you want to use this argument.
In fact, Indian Prime Minister Narendra Modi almost used the same route to fly back to India from Germany on Thursday.
Indian news media reported that Modi's flight to Ukraine's Donetsk region from Germany was heading towards the same area where MH17 was shot down.
Modi's flight (Air India-001) took off from Frankfurt, Germany, at 1122 GMT and the Malaysian airliner went off the radar at 1320 GMT. It was then that Modi's plane was en route to Donetsk, which would be approximately three hours of flight time.
If Modi had travelled in the same path for another hour, he would have been in the same region as MH17, the report claimed. The route was later changed after news of the attack was communicated to Indian officials, according to the reports.
According to Der Spiegel Online, the reputable German news media, SIA used the same route 75 times last week against MAS' 48 times.
It reportedly said that Russian Aeroflot flew past 86 times in the last seven days and German Airline Lufthansa had a record of 56 times. Ukraine International Airlines, surely familiar with the situation in the region, used the same route 62 times.
So it was not wrong for Transport Minister Datuk Seri Liow Tiong Lai to say the routes were deemed safe then. They have now been regarded as unsafe only because of what happened on Thursday after our plane was shot down. It's as simple as that.
As a nation, the majority of Malaysians are standing together as one and I am glad of this. I have always believed that God has his reasons for every­thing. Whatever trials or tribulations we go through, we never know why, nor understand them, especially during the most painful moments.
We ask why this must happen to Malaysia. Those who shot us down probably don't even know where Malaysia is located.
It has been very decent for DAP adviser Lim Kit Siang to urge Malaysians to rally behind Najib as we grapple with this sadness.
The tragedy has brought back some common sense to us, reminding us that as a country and as a people, we all share many things together – the joys and the pains – regardless of our race and religion.
As mortals, we lead fragile lives. Away from all those silly racial trivialities that have disturbed us, we need to worry about bigger issues. We will stand together, Malaysia.