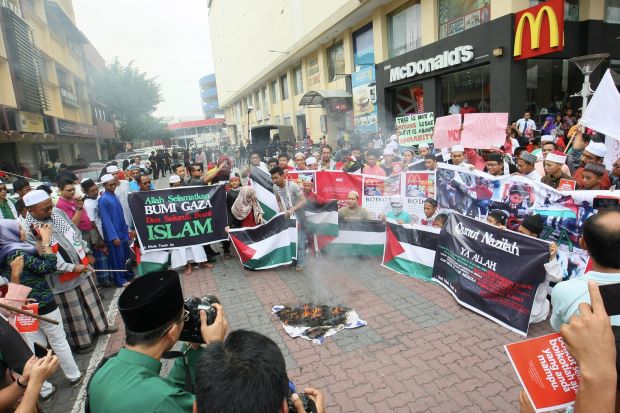 As much as Malaysians want to express their displeasure against Israel, they should not end up being bullies.
IT won't be wrong to call it a sledgehammer treatment. A Form Five student in Penang, who allegedly posted a "like" on an "I love Israel" Facebook page, is now being investigated by the police for sedition.
The 17-year-old, who had sought police help last week, ended up being called in for questioning instead by the South Seberang Perai police.
Penang police chief Datuk Abdul Rahman said the boy was being investigated under Section 4 (1) (a) of the Sedition Act.
Malaysians can debate at great length whether the boy is stupid, rebellious or whatever, but if he is suspected of contravening the Sedition Act, then that is stretching it a bit too far. And I don't think the police or anyone can find anything in the statute books that says it is an offence to "like" Israel.
We hope the boy is merely being called in to assist in the investigation, since he did receive threats on his Facebook page from students and even teachers, with one suggesting that he should be "burned". But if he is to be charged with sedition for posting a "like" to this Facebook page, then we are definitely making a mockery of ourselves. We don't want to be an international news item, again, for the wrong reason.
If there's anything wrong with the whole controversy, it has to be the teacher who allegedly circulated a screen capture image of the posting. The irresponsible action of the teacher in turn prompted further attacks on the student. Some users called for a "boycott" of the student while another teacher, reportedly from the same school, went one step further with her comment that read, "Kita bakor je hahaha (We just burn hahaha)", which is surely not funny.
The first teacher who had taken offence over her student's "like" should have called him up and given him a pep talk on the implications of his posting. She could have warned him of the emotive response towards any pro-Israel stance because of Israel's inhumane actions in West Gaza. That would be a mature and responsible action of a good teacher.
The teacher has instead acted like one of those airhead protesters, with a herd mentality, who do not care about the effects of their actions. It's a terrible shame.
It is right that we condemn Israel, but our actions so far have not been very effective. Just like the boycott McDonald's campaign, our actions have simply succeeded in hurting our fellow Malaysians.
Over the past few weeks, there have been over 50 cases reported of McDonald's Malaysia workers, mostly Muslims, who have been intimidated, threatened and even physically abused by fellow Malaysians.
One worker, who was having his meal in Taman Sri Andalas, Klang, had water thrown on his face while another worker on his delivery rounds in Perak was chased by a group of bikers.
In Taiping, a delivery worker was "sandwiched" by bikers on both sides. He suffered minor injuries and had to seek treatment in a clinic. In some outlets, firecrackers and rocks were hurled into the premises.
Can any rational and right-minded Malaysian seriously endorse such acts of hooliganism and gangsterism, supposedly in the name of boycotting McDonald's?
Stop buying the burgers, burn the Israeli flag and protest whatever you want but we do not think we should condone actions that cross the line of decent human behaviour, where fellow Malaysians are hurt, bullied and have their lives put at risk.
Have we come to a point where we can keep silent, look the other way or, worse, endorse such thuggish behaviour? Surely these workers are entitled to protection too from the police when protesters turn unruly.
Likewise, it is a shame that the Form 5 student – who is said to be the top student in the form – may now need to ask for a transfer out of his school to avoid intimidation from his school mates. What is worse is that such intimidation appears to be encouraged by some of the teachers.
These teachers must be reprimanded and given a proper dressing down by the authorities. Failure to do so will be seen as an endorsement of the teachers' stupidity and totally inappropriate behaviour.
We already see the proliferation of many self-appointed NGO leaders and cyber racists who post hate messages and get away with their ramblings. Let us be clear that it happens on all sides.
Many of these people, who cut across the races, appear to be still undetected, and continue to post hate and racist remarks without any thought. This has to stop and it is time the police and the MCMC act tough against these people.
The point is this – boycotting products and services of Israeli companies and international companies involved in Israeli's human rights violations can be effective if they are strategically planned and executed. Encouraging your friends, family and community to join you in doing so also works well.
The same approach was used by organisers of the anti-apartheid movement to free Nelson Mandela and to end the racist regime in South Africa.
According to a press report, Israeli Prime Minister Benjamin Netanyahu has in fact declared the Palestinian-led global Boycott, Divestment and Sanctions (BDS) movement as a "strategic threat" to Israel's regime of occupation, colonisation and apartheid. He has even assigned the ministry of strategic affairs to take charge of fighting against the BDS.
World-renowned artists and musical bands have reportedly cancelled shows in Israel and even the world's leading scientist, Stephen Hawking, has respected the boycott and cancelled his participation in a Hebrew University conference, according to the media.
As much as Malaysians want to express their displeasure against Israel, they should not end up being bullies. They have to be consistent with what they are boycotting. For a start, differentiate between a Jew, a Zionist and an Israelite.
Mark Zuckerberg, the founder of Facebook, is regarded as one of the biggest names in the Jewish community but he is American. He may be a Yahudi, which has become a generalised hate word, but there is nothing to suggest that he supports Netanyahu's actions. And seriously, it is impossible to boycott Facebook, let's admit it.
Let's be practical, consistent, ­sensible and, more importantly, let's not be extreme in our actions, especially to fellow Malaysians.