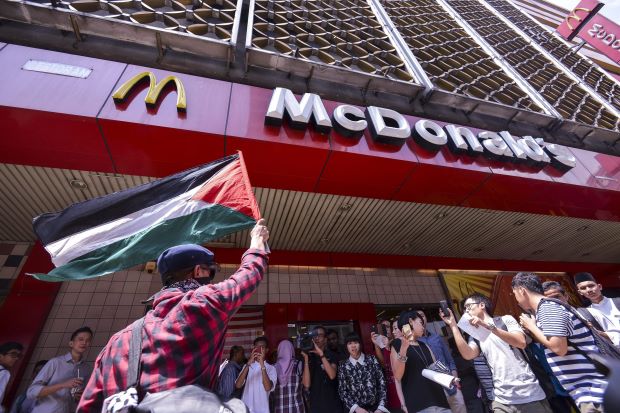 THE easiest way to strike Israel is simply to boycott products produced by the pariah state that it exports directly or indirectly via a third country.
And if you want to stretch it further, we can snub companies, mostly American ones, that financially back groups linked to the Zionists.
But as simple as it may sound, in our anger with Israel, any such boycott isn't as practical in reality.
I can give up McDonald's in favour of Ramly Burger but, seriously, most Malaysians are practical enough to know that the current boycott would not cause a dent to the US-based parent company's business.
The protest outside a McDonald's outlet in Dungun, Terengganu, recently didn't attract much media attention but its aftermath surely did.
The selection of an outlet outside the federal capital, away from the local and foreign media, itself shows the organisers are not too media savvy.
What outraged Malaysians was the throwing of objects, the rattling of doors of the premises and the hurling of verbal abuse at the staff.
Surely, we cannot tolerate the harassment and intimidation of the outlet's Malaysian workers, who are merely there to earn a decent living.
The boycott, if it continues, will certainly affect the livelihood of the workers and their families as it has been reported that 85% of McDonald's staff nationwide are Muslims. Furthermore, from a business point of view, half of the 27 local franchisees are Muslims.
McDonald's has been picked because it is obviously an easy target. But if we want to be consistent, then we need to stop drinking Coca Cola or coffee from Starbucks, and almost every food and drink products at our supermarkets. Just check the Boycott Israel Products website.
The protesters in Dungun would also have to stop watching most Hollywood movies as the major studios – from Fox News to Walt Disney to NBC/Universal Studios – are practically controlled by the Jews.
The Economist in its Aug 2 issue reported that NBC tried to reassign a reporter who witnessed an Israeli bombardment that killed four kids playing on a Gaza beach. He was only reinstated after a furious social media campaign.
That's only the Hollywood head honchos. Do we want to go further by boycotting Gwyneth Paltrow, Adam Sandler and Ben Stiller? It's easier to stop listening to Barbra Streisand and Barry Manilow, as they are over the hill. Larry King isn't on CNN any more too.
Let's not get started on the technological parts made by the Jews in our smartphones – the ICQ, an instant messaging software, Viber, a cross platform instant messaging voice-over, and even Waze, the GPS-based navigation application, were all made by Jews or funded by Israel.
Then there are the machines and drugs at our hospitals which include treatments for conditions from autism to multiple sclerosis. And not to forget, coronary by-pass procedures were invented by the Jews and are now adopted around the world.
The point I am driving at is this – for all its success and brilliance, Israel remains a country without a heart and soul in the eyes of the world. Who cares if they have produced more Nobel Prize winners than the rest of the world?
How can a country bomb hospitals and schools repeatedly, killing children, and claim they are targeted because they are shelters for terrorists?
How can a country do all that and expect the world to believe it? How can Israel claim they need to kill Hamas terrorists but behave no better than the terrorists themselves? And these killings only inspire more militants to become suicide bombers in the name of religion.
How does one look at a country that draws water from the Palestinian-controlled West Bank and then sell it back to the Palestinians?
According to The Economist, in a poll published before the Gaza attacks, the citizens of 23 countries put the balance of those who think Israel is a good or bad influence on the world at -26%, ranking it just below Russia and above North Korea, Pakistan and Iran.
And even in the United States, where the government is clearly supporting Israel morally, financially and via defence supplies, a large number of ordinary Americans think the action against the Palestinians by the Israelis is unjustified.
Malaysians often assume that all Israelis support the present right-wing regime, but in reality the liberals and secularists do not.
Many Malaysians do not realise that a Jew need not be an Israeli as we simply lump them together as orang Yahudi, seemingly unable to distinguish between ethnicity and nationality.
It has been reported that many ­liberal American Jews also oppose Israel's religious nationalism and its hawkish approach towards Palestine.
I have seen with my own eyes, while on a pilgrimage to Jerusalem in 2005, how badly the Palestinians are treated in their daily lives.
I saw how a soldier forced a father ­carrying a child to stand for hours under the scorching sun while a security check was made on their identity.
Hence, even the simple act of entering their hometown can become a six-hour ordeal, affecting their productivity and hampering their movements.
Every day, thousands of Palestinian workers go through checkpoints, like ­prisoners, to enter Israel to work.
If many Muslims cannot tell the difference between liberal Jews and Zionist Jews by lumping them all together, many Malaysians, including Christians, often think that the Israelis treat Christians better than Muslims. How wrong.
My Arab Christian guide Jeries Farra, who spoke excellent English and Bahasa Indonesia, spent the entire journey opening our eyes and ears, telling us how much they hate the Tel Aviv regime. The Muslims and Christians in the West Bank share the same fate. When the missiles strike, every­one is a victim and no one is spared, it's that simple.
Deprived of funds, real autonomy and economic growth, the Palestinian towns are dirty and poor.
In contrast, the Israeli-run areas are clean, affluent and, in many places, reminded me of Los Angeles, with its manicured lawns, rolling hills and palm tree-lined roads.
The irony is that most of the Biblical towns are in the control of the Palestine authority, in this case Hamas. Many of the Palestinian traders, who sell religious paraphernalia, depend on Christian pilgrims from around the world for their livelihood.
Here's another eye opener: The Church of the Holy Sepulchre, the site of Christ's burial and resurrection, is one of the most iconic places in all Christendom. I can proudly say that I have been there and seen it with my own eyes. And it is a Sunni Muslim who opens and closes the only door to this holiest of Christian sites.
Air-head Malaysians who act aggressively in the current boycott against McDonald's may just be hurting their fellow Malaysians or, more correctly, their fellow Muslims.
If you want to boycott for a mere symbolic reason, go ahead, but be practical enough to accept the fact there are a thousand items you are using that can be linked back to Israel.
For once, we can say that the right wingers in Perkasa got it right – they made fiery speeches, burnt the Israeli flag, and then went home. They made their point without harming anyone.