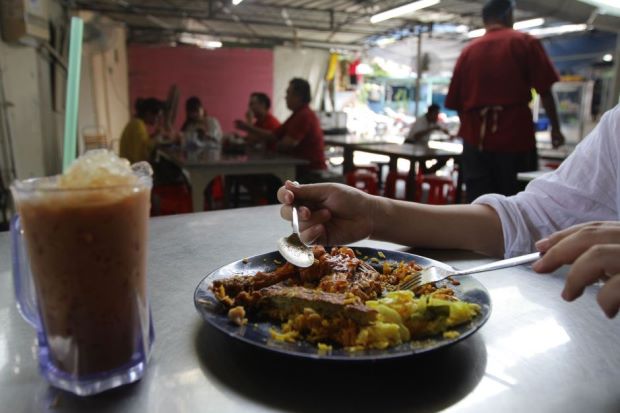 It is bewildering that there are those who can imagine political motives tinged with religious and racial overtones in small trading enterprises.
THE joy of being Malaysian must surely be in the immense variety of food, representing the rich diversity of our nation, before us. We Malaysians love our food passionately.
This is a great nation – where else but here in Malaysia do we wake up and can't decide what we should eat for breakfast? And even as we tuck into our breakfast, we are already thinking about the spread of choices for lunch, and dinner too.
Coming from Penang, I am very selective when it comes to food. It must be nothing but the best.
Before I moved to the Klang Valley some 25 years ago to work, my day in Penang would start with nasi kandar.
It was difficult for friends outside Penang to comprehend why I wanted to eat rice, the dreadful carbohydrate, in the morning.
It seemed awfully wrong for anyone who wanted to stay healthy, but the 7am trip to my favourite nasi kandar stall in Kampung Melayu in Air Itam was like a pilgrimage.
In Petaling Jaya, where I currently reside, I found my nasi kandar at Kayu Nasi Kandar, which had its origins in Penang.
But it was at a small outlet in a coffee shop in SS2 that I first met its owner Burhan Mohamed. I would eat there at least once a week. From a customer to a good family friend, that's how my relationship with Burhan has developed over two decades.
I also like the char kueh teow served by a Chinese hawker in Kelana Jaya. It is great stuff and her customers are predominantly Malays.
Then there is the nasi lemak kukus outlet in SS2 operated by a Malay. The long queues there each morning comprise mainly non-Malays.
The same scenario is repeated at the famous Jalan Tangsi nasi lemak stall, which used to operate under a huge tree, and also at Nasi Lemak Antarabangsa in Kampung Baru.
Every morning, we are thankful for the many nasi lemak stalls by the roadside that offer us delicious breakfast – the ones wrapped in banana leaf and newspaper! That's a Malaysian institution and we swear it's a lot better than the nasi lemak served on a plate!
Halal restaurants have sprung up so that Muslims can enjoy Chinese food but, more importantly, businessmen understand the consumer power of Malays. It is just business sense to cater to a wider market.
By and large, Malaysians have never connected the business of food to a racial angle. It would simply be ridiculous. By extension, we can include other kinds of businesses as well.
None of us really cares about the ethnicity of a trader so long as the price is deemed fair, the quality of goods sold is good and the service favourable.
It would be strange, even stupid, for a Chinese consumer to continue buying from a Chinese trader who continues to raise his price. He would rather buy from a trader of another race if the rival offers a better deal.
That's common sense and that's how things work in real life. It is bewildering, to say the least, that there are those who can imagine political motives tinged with religious and racial overtones in such enterprises.
I prefer kopi kaw in a warung or coffee shop, served by the Ah Pek in his Pagoda singlet, simply because I am old school, and I do not want to buy an expensive cup of branded coffee at a fancy coffee chain.
In fact, nowadays, we have a lot of ­modern-day coffee shops that usually ­operate in the malls and try to replicate the traditional coffee shop in terms of the drinks and food they serve.
But I still prefer to eat Ipoh koay teow in Sea Park and have roti canai at the mamak shop near my home. I think the food is more authentic, not to mention cheaper. So the extra money I pay for the air-conditioned comfort and cool ambience at fancy coffee shops is not worth it.
Maybe the younger generation will disagree with me, but never mind. The point is that people still look for good food because it is good food. And they do not even mind travelling great distances to savour a particular dish.
We are now going through a period when people are concerned about stretching their ringgit.
Somehow, they wonder why despite the price of petrol coming down, prices of many things that are part of daily life are still going up. And food is really a big part of the equation.
Recently, we ran a cover story on how a plate of char kueh teow was now not only more expensive, but also came in smaller portions. Many of our readers could identify with that.
Chinese New Year is just around the corner and I am sure many are trying to figure how much to put into the ang pow, especially when their employers have not been generous with bonus and increments.
These are the real bread-and-butter issues that affect everyone. And it will be good if we spend less time arguing with one another over inconsequential matters and concentrate on the bigger picture.
There is a term in psychology called cognitive priming. Simply put, it means that if your mind is currently thinking of something, you will tend to see that thing over and over again.
So, if you are planning to buy a new car of a particular make, it will show up at every nook and corner, as if to confirm that you are on the right track.
Malaysia seems to be going through this phase. Because of those who continue to fan racial and religious sentiments, now even the ordinary people are beginning to see everything through racial and religious prisms.
Even in the most ordinary things, we are too quick to raise the racial or religious angle without getting all the facts.
Social media can be both a blessing and a curse. While information can be quickly shared, comments that are given in an instant, without time for reflection and understanding, can really make matters worse.
We are a diverse nation. And just like the rich variety of food before us, we should rejoice in the diversity of views. We can disagree without being disagreeable.
The nasi lemak may be categorised as one dish, but everyone will tell you that the nasi lemak at one place is quite different from the nasi lemak at another place. So, even within the same category, you will have your differences.
Only politicians and those with certain agendas like to categorise people by race – that because they are of the same race, they must vote in the same way, eat in the same way, talk in the same way, and live in the same way.
It is time for all Malaysians to pause and look closely at how things really are. They should just turun padang and see the real Malaysia. And the best representation of this is when we gather together to eat and enjoy each other's company.