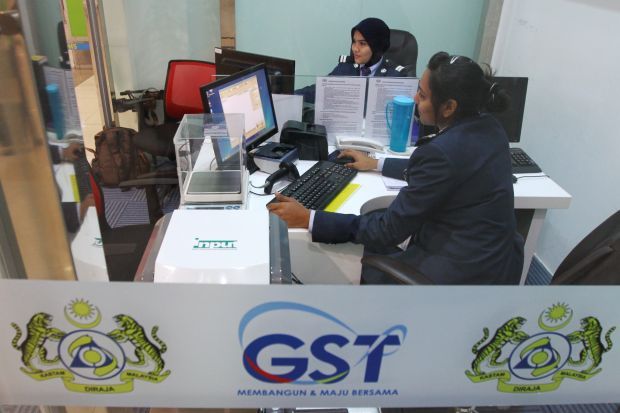 It is tough enough for the government to deal with an electorate still adjusting to the GST. But it puts itself in double jeopardy when it does not provide more information on the 1MDB.
EVERY businessman knows that April would be a tough month with the implementation of the Goods and Services Tax (GST) but many have been hit much harder than they had anticipated.
I know of one watch dealer who did not make a single sale for a day in April – it has never happened before in his entire career.
The hardest hit were the electrical appliances dealers, where profit margins are already low, with many consumers joining in the pre-GST rush to buy these products. So in terms of sales, April was practically a dead month for them.
One jewellery businessman said sales were 30% to 50% down in April compared to the same month last year. In the first week of April, the jeweller recorded a 70% decline in sales.
The media industry has taken a beating as well with slower advertising revenue recorded for the month of April.
There is serious concern now that the weak consumer sentiment will drag on for the next two months, and that the second quarter would not be a happy one.
With the fasting month coming up in June and Hari Raya in July, media houses would traditionally see early bookings but everyone is worried. There does not seem to be any enthusiasm.
In a recent report, the Retail Group Malaysia (RGM) had predicted that Malaysian consumers would buy earlier in the year in anticipation of higher retail prices after April 2015.
However, retail sales performance during the first two months of the year was actually below expectations.
That is from a business perspective but for many Malaysian consumers, the reality is that they now have to pay more, even for their daily needs. Many have resisted spending on items they feel they do not need because of the GST, and the weaker ringgit hasn't helped either.
Some have however expressed cautious optimism, believing that there would be a correction by next month, insisting that there would be more spending with the Hari Raya festivities coming up.
The reality is that the GST has taken a much greater toll on consumer sentiment than expected.
Yes, we can say that glitches are expected. We can say that Malaysia is among the last countries to impose the GST and that we have to start living with the new tax system.
Malaysians have also been told that the GST is necessary if we want to improve our deficits and to prevent our credit ratings from being downgraded.
But while our leaders expect the ordinary people to make these sacrifices for the national good, we also expect them to live up to our expectations.
Reports of lavish spending on themselves or their family members, whether real or otherwise, are not going to endear them to the people.
In fact, there is a lot of grumbling among the people that some of our leaders have become disconnected and are not hearing the loud murmurings on the ground.
If they were to listen hard enough, they would realise that all those statistical ­figures that have been tossed around to justify how well the country is doing have not shifted the people's thinking one bit.
In fact, not many people even believe in these magical numbers because the rosy picture is not being felt by the rakyat who are struggling to pay their bills.
The situation is made worse by reports of public money being purportedly siphoned off. To be clear, we are talking about the 1Malaysia Development Berhad issue. No one seems to have been hauled up for investigations even as we eagerly wait for some action to be taken.
All those high-powered teams comprising our top investigators are supposed to have been set up but none of us can tell for sure if they have actually started work.
Instead of going after the whistle blowers, we are sure most Malaysians want to see our police channel their resources and energy pursuing those who have allegedly dipped their fingers or, rather, their hands, illegally into the money pot.
It would help if fresh information is made available regularly on how our police and others have progressed in their work. Instead, Malaysians are getting their daily dosage of allegations via social media but without any rebuttal or strong clarification from those implicated.
Perceptions are important, and if those aggrieved do not respond fast enough, and provide more information, it will have a serious impact on their positions and eventually their legitimacy.
Until these issues are tackled, they would continue to disrupt the running of the government and put the government in a defensive mode.
It is tough enough for the government to deal with a dissatisfied, if not angry, electorate, still adjusting to the introduction of the GST. But it puts itself in double jeopardy when it also has to deal with the detractors with their constant barrage of exposes on the 1MDB.