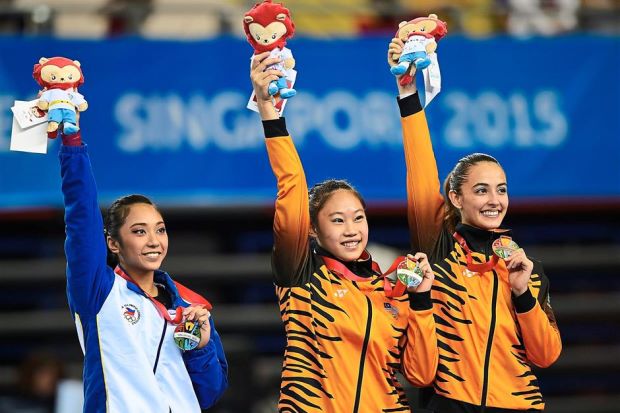 Malaysia wants to host big international sporting events but it's sad that some of us are more interested in our athletes' attire.
IT'S mind-boggling that some of our Members of Parliament can actually suggest that certain sports attire worn by our ­national athletes are too sexy and could lead to promiscuity.
Most Malaysians have never heard of the PKR MP for Lumut, Mohamad Imran Abdul Hamid, until last week.
The MP said, in the august House itself, that when athletes wear "sexy and arousing clothes" in the company of both sexes, it could lead to illicit sex.
Needless to say, the same line of reasoning was made by Siti Zailah Mohd Yusoff, the PAS MP for Rantau Panjang, who urged the Government to mandate a syariah-compliant dress code for female Muslim athletes.
Her colleague, Nik Mohamad Abduh Nik Abdul Aziz (PAS-Pasir Mas), also urged the Government to take bolder steps in regula­ting the attire of athletes.
The last time the sports attire of our ­athletes became an issue was in June when national gymnast Farah Ann Abdul Hadi won the gold medal at the SEA Games.
Instead of congratulating her for bringing glory to the country, there were critics who were more interested in condemning her attire.
But most Malaysians came out to support her, including Youth and Sports Minister Khairy Jamaluddin.
"In gymnastics, Farah wowed the judges and brought home gold. In her deeds, only the Almighty judges her. Not you. Leave our athletes alone," wrote Khairy on his Twitter account then.
True to his consistency, Khairy replied in the Dewan Rakyat last week that athletes can choose what they want to wear, as long as it complies with sports regulations.
"As long as it does not contravene the ­federal sport bodies (regulations), we allow them to modify their attire (to their needs). We leave it to them," he said.
It's a quick way for these MPs to get themselves into the news but the statistics are there to show that in the supposedly conservative east coast states, especially Kelantan, sex offences and drug abuse cases continue to be the among the highest in the country.
Many of these rape cases usually involved offenders who were known to the victims and certainly not due to how the victims were dressed.
In Kelantan, a staggering 91 rape cases were reported in the state in the first five months of 2014 of which 88 have been solved, said Kelantan police.
Kelantan police chief Datuk Jalaluddin Abdul Rahman reportedly said 90 indivi­duals were detained in connection with the cases.
He said that during the corresponding period in 2013, 92 rape cases were reported.
Jalaluddin pointed out that the police had resolved 214 of the 225 rape cases throughout 2013 with the detention of 161 indivi­duals.
In fact, Bernama reported that rape cases in Kelantan had been climbing steadily each year. Two hundred and twenty-eight cases were filed in 2007, rising to 563 in 2008, and 656 in 2010.
This is not even taking into account the unreported cases. To make matters worse, many victims were children as young as 12 years old.
For rational Malaysians, what has been happening in Kelantan is a symptom of the deteriorating status of women and gender relations in Kelantan.
Beyond religious puritanism, which PAS MPs want to project, the party needs to ask itself why besides the high rape reports for the past five years, statistics show that Kelantan repeatedly scores the highest incidence of rape, drug abuse and HIV positive cases in the country.
As one columnist correctly wrote, "The imposition of a religious edict that, among other things, has called for gender segregation in public places, has demonised ancient cultural traditions like the wayang kulit and mak yong, and even tried to forbid female hairdressers from attending to male clients, only serves to underscore the incongruence between the sanctimonious genuflections of morality politics and the dynamics of real community life."
Can our politicians please leave our sports personalities alone?
Today, sadly, the sports environment is in danger of being destroyed by those whose minds seem forever fixated on race, religion and sex.
Malaysia is playing host to the 2017 Sea Games and the Sports Minister has already declared that "We are the Champions". It is a clarion call for us, as a host nation, to emerge at the top.
The last time Malaysia played host and was at the top was in 2001.
Khairy told the athletes who are about to start the first phase of training, "Believe in yourself. Behave like a champion."
It is commendable for Khairy to make a motivational speech like this.
But his other challenge is to stop those people who seem bent on getting Malaysia in the news for all the wrong reasons, even in the sports arena.
How can we even think of hosting bigger international sporting events when we allow these people to create an impression that Malaysians are more interested in the attire than in the performance of the athletes?