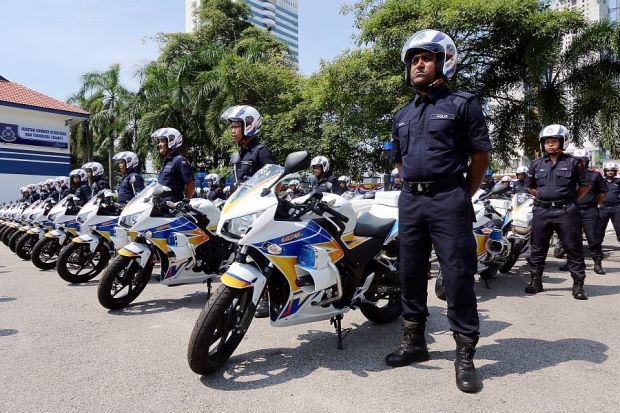 Whatever our political allegiance, Malaysians must remember our men in blue who died for us.
SERIOUSLY, what was PKR vice-president Nurul Izzah Anwar thinking when she met up with Jacel Kiram, the daughter of the self-proclaimed Sulu Sultan Jamalul Kiram III, who orchestrated the 2013 intrusion into Sabah.
In that attack, an armed force of more than 200 men raided Lahad Datu in support of a separatist movement led by Jamalul Kiram, which claims Sabah as part of the Sulu Sultanate.
Two Malaysian civilians and 10 members of our armed forces were killed during a two-week-long military campaign against the raiders.
The MP for Lembah Pantai, in defending herself, has said that Jacel was one of the 15 guests invited to a meeting hosted by the Council on Philippine affairs and the Asian Institute for Democracy, the office of the City Mayor of Manila and the office of the Vice-President of the Philippines.
Nurul has now said that she had not sought out any meeting with Jacel and had not made her acquaintance before.
But here's where we detect the holes in her story – there were only 15 people in the meeting and surely everyone would have an idea of everyone in the room. We are talking 15 people, not 150 people here.
It is almost a standard practice, at such meetings, that the participants would be formally introduced to one another and a short resume of the participants would be distri­buted to all ahead of the meeting.
But of course, if we are to accept the excuses put up by Nurul and her PKR colleague Tian Chua, everyone had no idea about anyone else in the room.
We are expected to believe they were two blur Members of Parliament from Malaysia, who kept to themselves and were only interested in talking about freeing Anwar Ibrahim and nothing else.
If that be the case, the least Nurul could have done was to snub Jacel, or at least avoid her. Then the controversial photographs of the two of them together would not have emerged.
Jacel is a known face in the Philippines, having the distinction of being among the first senatorial aspirants from the United Nationalist Alliance to file their certificates of candidacy for next year's national elections.
At the height of the Lahad Datu intrusion, she was the spokesperson to the media and even opened a Twitter account to discuss the intrusion with her opening tweet statement – "Long Live the Sultanate of Sulu!"
By now, we have seen the pictures taken of Nurul and Jacel, both smiling, and the latter, seemingly star-struck, or seeking to score a political point, uploading the pictures on her Facebook.
Tian Chua has expressed regret that they had caused uneasiness among the people, pointing out that Nurul had already apologised to the families of the victims, but he also reportedly asked, "So why are we playing up this issue?"
I was there in Lahad Datu when our men put their lives on the line to defend the sovereignty of our land. They died fighting for Malaysians and Malaysia.
I can still remember clearly the day I arrived at Kampung Simunul, the sprawling village on stilts, on the outskirts of Semporna. It is the largest of the squatter colonies scattered around the coastline with its maze of rickety walkways,
I had taken a one-and-a-half hour journey by road from Lahad Datu to Semporna, a distance of some 140km – it was here that six intruders and six of our policemen were killed in a fierce shootout.
Their bodies had been left untouched for three days. When I arrived, the dried splattered blood, close to where the bodies were found, was still very visible.
Walking towards the abandoned home where a policeman was beheaded, I saw what appeared to be remains of human tissue on the wooden entrance.
The thought that two of our men in blue were beheaded while another had his eyes gouged out sent shivers down my spine.
Walking inside the house, I thought of the horrible and cruel acts that were carried out by these heartless militants. I felt angry and sad at the same time. I wondered how human beings could carry out such acts.
The television set had clear traces of blood, which horrified me. The walls of the home were adorned with family photographs, like most ordinary homes, except that something extraordinarily evil had taken place within.
What I saw has remained etched on my mind and for sure, I remain bitter and angry that such blatant intrusion could actually take place.
We are supposed not to make an issue out of this? We are supposed to keep quiet when our law makers get chummy with a leader of a group who attacked us?
Now, try explaining to the families of these policemen who strayed into the village and never walked out alive.
There's something personal here too. My colleague Normimie Dun, a photographer, was in fact shot at by the intruders in the course of carrying out her duties. Fortunately for her, she managed to escape uninjured.
Surely, whatever our political allegiance, we cannot accept this. The expression of regret does not seem genuine when threats of legal action are subsequently made against those who have expressed their displeasure.
Malaysia must not forget her heroes who were killed and, for sure, we won't forget those who staged the attack in Lahad Datu.