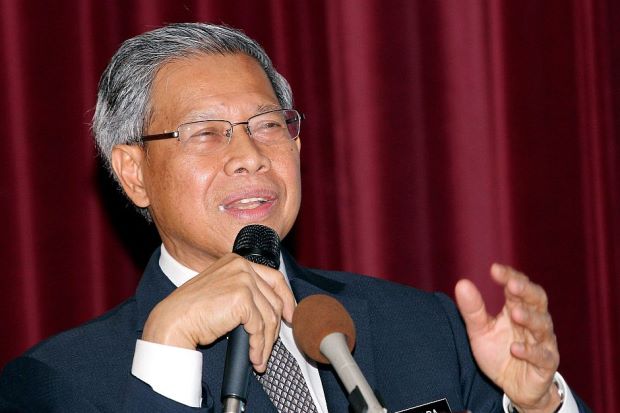 We need to give credit where credit is due. And when good leaders shine, we should acknowledge it.
A GENTLEMAN politician – that is what International Trade and Industry Minister Datuk Mustapa Mohamed is – and is certainly an exemplary one, too.
Not many of our politicians are prepared to apologise when they make a mistake, thinking an admittance of a flaw is a weakness.
The ability to say sorry, unknown to some politicians with inflated egos, is a strength.
Instead, they prefer to go on the defensive, and often blame the media for purportedly being misquoted. Of late, some of them even play the racial card, claiming they are being targeted because of their ethnicity.
But our salute to Mustapa, or Tok Pa, as he is affectionately known, for apologising after coming under fire for making certain remarks on Tuesday that were considered sexist.
At the first official function held at the new MITI building, the minister reportedly described the new building as an "inexperienced virgin" when compared to the old building – home to the ministry for the past 30 years – as an old wife who is no longer exciting and who deserves to be discarded.
The off-colour joke amused some people but others did not find it funny. Like a true gentleman, which even the opposition readily declared, Mustapa issued an apology and expressed regret for his indiscretion.
"I humbly apologise for offending anyone, including women, with my inappropriate analogy at the event," he said in a press statement.
"As head of staff, a husband and a father, I always respect women's contributions to the country and to myself and I hold them in high regard. I regret what happened and this will be a lesson for me. I hope the matter will not be prolonged."
Even DAP veteran Lim Kit Siang, who is ever ready to pounce on Barisan Nasional MPs, issued a statement acknowledging the swift stand taken by Mustapa.
"Kudos to Mustapa for admitting his fault and having the courage to apologise. We only wish that all of his colleagues in Umno and BN had his gentlemanly qualities," he said.
"However, if we were to search for someone who this week exhibited an attitude that contrasted with Mustapa's, we would have to look towards the opposition."
PKR vice-president Tian Chua, despite being embroiled in the Nurul Izzah-Jacel Kiram controversy, has refused to acknow­ledge that the issue is indeed serious.
It has been reported that Tian Chua alleged­ly arranged the meeting between the two. Tian Chua outraged Malaysians when he said that members of the Kiram clan were not terrorists.
This is despite a statement by the late Sultan of Sulu, Jamalul Kiram III, that he ordered the Lahad Datu intrusion in 2013, which saw 10 Malaysians killed.
But back to Mustapa, who would have learned by now that telling jokes is not his forte. He should leave it to the professionals like Harith Iskandar and Douglas Lim.
It was during Mustapa's time as the Higher Education Minister that Tan Sri Dr Rafiah Salim was appointed as vice-chancellor at Universiti Malaya, making her the first female vice-chancellor in this country.
He also appointed non-Malays to key positions in universities, such as Prof Dr Khaw Lake Tee, a woman, and Prof Dr Tai Shzee Yew as the deputy vice-chancellors for Universiti Malaya and Universiti Sains Malaysia respectively. There is also Prof Dr Saran Kaur Gill, a deputy vice-chancellor at Universiti Kebangsaan Malaysia.
Mustapa, a believer in meritocracy, pushed for these appointments when he took office, believing talent should be recognised, regardless of gender and race.
It has to be pointed out that the current secretary-general in his ministry, Tan Sri Rebecca Fatima Sta Maria, is certainly one of the most respected civil servants.
But what sets Mustapa apart from many politicians is his preference to be low-key, preferring not to be accompanied by an entourage of officials.
It is well known that he often takes the ERL from Sentral to the airport alone. Don't expect him to buy expensive meals for you, as he is well known for his thriftiness. He has consistently proven that he can get himself elected into Parliament and in the party leadership by being a "no frills" politician.
In a state like Kelantan, where the voters hate smug politicians who show off their power and wealth, Mustapa is regarded as Barisan's most effective opposition leader to PAS despite his lack of religious credentials.
At his Jeli parliamentary constituency, he makes it a point to personally teach students at the weekly English classes whenever he can find time.
Mustapa also does not believe in spewing racist remarks to win votes, preferring to let the voters judge his work. Affable and well-liked, Umno certainly can do with more politicians like Mustapa.
There is another one that comes to mind and that would be Datuk Ahmad Husni Hanadzlah, another gentleman politician.
At a time when taking an anti-establishment stand is popular, we should give credit where credit is due and certainly when there are good ministers who stand out, we must be prepared to acknowledge these gentlemen.
They are human beings with strengths and weaknesses, and they, too, like to be encouraged and inspired, so they can do better.