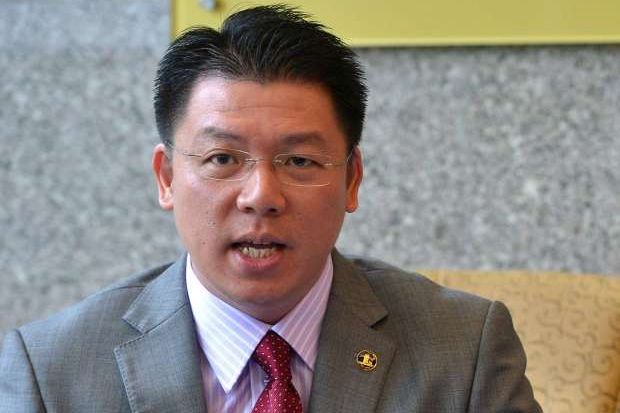 THE problem with many politicians is that they lack the courage to apologise when they fumble. Sorry is simply the hardest word for them to say, and acknowledging a mistake is probably next to impossible.
That sums up what Taiping MP Nga Kor Ming (pic) is like. If his intention is to portray himself as a pious Christian, then he should know, like every faithful follower, that he must never use God's name in vain.
No matter what excuses he can come up with now, any rational-minded Malaysian knows that what he has done is simply mind boggling and to put it bluntly, plain stupid.
He can now shift the blame to others, like the cybertroopers, but the tone was very different when the controversy first started. He actually defended his controversial posting on Hari Raya eve, saying the uproar was "all a misunderstanding" and asked his critics, "What is wrong in trusting in God?"
He reportedly claimed that the poster featured in his posting was meant to promote the Rukunegara's first principle, Belief in God.
His posting on July 5 featured a large image of an evangelical Christian poster with the slogan "In God We Trust", an American flag in the background, a lighthouse, an image of hands in prayer, and a large headline saying: "Lord, Guide Our Nation Back To You" at the base.
The visual message design "In God We Trust" was taken from the official page of Christian evangelist James Dobson.
It was only deleted after it provoked outrage among Internet users, with commentators calling it "insensitive" and "stupid".
Nga went on to say that he was disappointed with his detractors for criticising him without watching a video accompanying the posting, that he claimed was aimed at fostering national unity and religious harmony.
Then – the blame game began. First, he said he was not the administrator of the Facebook fan page that was suddenly deactivated. He said the page was set up and managed by his supporters, but did not name them.
"I am not the admin, my supporters are managing it. Basically, they set it up themselves without asking me, to push for political reform.
"Previously, I noticed there were 450,000 fans. That's quite a good response, so I let them continue without taking action," the Perak DAP chairperson told Malaysiakini.
And then on July 10, he issued a statement to say "at all material time I have never uploaded and/or drawn the said cartoon, instead I am a victim of cybertroopers who are engaged by a certain party with vested interest in a smear campaign against the DAP".
This man is incredible. He cannot even be consistent in defending himself. Simply incorrigible. Next, Nga shared a cartoon linking the customary "duit raya" with "dedak" (animal feed).
In 2004, Nga also landed himself in trouble when he was taken to task for his repeated use of imagery or language to racially profile either an ethnic group or individual.
He had reportedly posted an image on Facebook of an individual of dark complexion smiling broadly, revealing his teeth, and the words "Ka ka ka … Minyak Hitam tarak naik".
The post drew a lot of angry response from netizens who slammed Nga for racism. He subsequently removed the controversial post, citing that it could be misconstrued.
The image appears as a caricature-laced sarcasm over the recent fuel hike and in an incident in 2011, Nga had reportedly described Perak Mentri Besar Datuk Seri Dr Zambry Abdul Kadir as a "metallic black bas***d".
There is a saying attributed to Confucius – "Don't do unto others what you don't want others to do unto you". This has come to be known as the Golden Rule and appears in different versions, including in the religious context, and we are sure Nga, being a learned lawyer as he would fancy himself to be, would have read it before.
Many of us would be terribly upset if some Muslim politicians were to post Christmas or Chinese New Year greetings with a huge slogan of "allahuakhbar" (God is Great) superimposed against a Saudi Arabian or Iranian flag. And when queried, they would just say, "what is wrong with that?"
And when the Chinese gives out the customary ang pows, the same question of "giving out dedak or animal feed" is asked.
A wrong is a wrong. It is sad that the DAP leadership has not seen it fit to reprimand him. Has partisan politics come to a point where party leaders, and even their supporters, can no longer differentiate between right and wrong? And if it involves an opposition leader, the impression given is that we must look the other way. That's a terrible shame.
Surely, the party does not condone uncouth language and offensive remarks. Nga seems to be competing with his fellow party leader, Hew Kuan Yau aka Superman, to see who is the more foul-mouthed leader.
(Incidentally, the Superman himself has crashed to earth. Hew quit the party earlier in the week to prevent attacks against the party because of him. His latest antics had been a Facebook posting in which he insisted the South China Sea belongs to China, drawing the ire of netizens.)
Then there is the Umno Youth protest "to teach Nga a lesson". Two wrongs don't make a right, have they not heard?
If the government has been consistent in saying it does not believe in street protests, always claiming it is not a part of the Malaysian political culture, then why were the Umno Youth supporters protesting in the streets, outside the DAP office in Kuala Lumpur?
Last week, hundreds of Umno Youth members descended upon the DAP headquarters to protest against Nga, demanding an apology.
There was no justification for Umno Youth to go to the streets no matter how insensitive an article, greeting or image is deemed to be.
Was a police permit issued to the protesters and if there was none, isn't that an offence? Surely, the youth wing understands that there are laws and penalties to handle any offences against race and religion.
Umno Youth may be part of the ruling party but they are not above the law. Trying to justify their action by citing religious or racial reasons, and in the process committing another wrong, is just not right.
Malaysia does not need a mob-rule mentality – we should not be quick to retaliate, claiming that we are "under siege" or have been "challenged and insulted", over an issue.
And again, we like to ask why is Mohd Ali Baharom aka Ali Tinju, the serial agitator, allowed to be on the loose, always?
Malaysia does not need insensitive politicians with their childish racist antics. The people are not amused and surely, there are bigger and more important issues that need our attention, particularly the country's economy, which has slowed down.
We need Malaysians, regardless of their race, religion and customs, to pull together, as one Malaysian, to face the many challenges ahead of us.
Posting stupid Facebook comments and throwing challenges in the streets won't help us a bit. Thank you very much for such rowdiness.
Nga seems to have learnt a new Malay phrase – makan dedak (eat animal feed). We hope he will be reminded of another Malay advice – jangan cari hal or don't look for trouble.