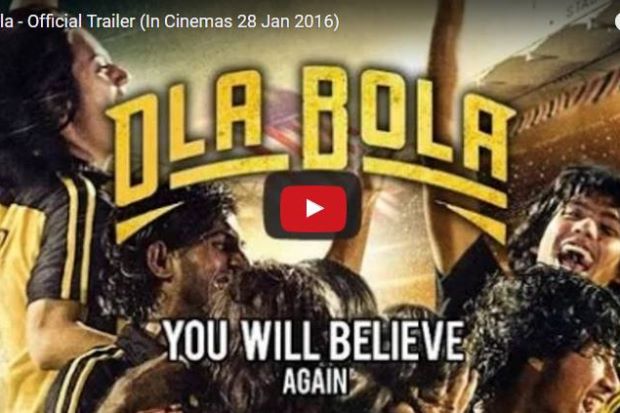 Malaysians have had enough of politics and religion being used to divide the country. Surely, the arts should and must remain a platform for keeping Malaysia and Malaysians together still.
IT'S totally absurd – to put it bluntly. It is a no-brainer that the best picture of the year has to be the Malaysian favourite OlaBola but we are now told that the movie has been disqualified because it is not entirely in Bahasa Malaysia.
This has taken place because organisers of the annual Film Festival Malaysia (FFM) have tied themselves up with inflexible rules.
The rule has always been there – the movie dialogue must always be 70% in Bahasa Malaysia – to be eligible for nominations and subsequently for awards.
The local film industry has been a mono ethnic one and no one thought that local movies, in Chinese or Tamil, would emerge, and in the case of OlaBola – a mix of Bahasa Malaysia, Chinese, Tamil and English, which is certainly Malaysian.
In short, Malaysia has changed but FFM hasn't. Suddenly, a superb movie like OlaBola, emerged, winning accolades, breaking box office and getting the support of all races.
The FFM, stuck with its archaic rules and inability to adapt efficiently, has now found itself caught in a controversy and worse, accused of being racist which is a little harsh as the issue in contention is language. To be fair, non-Malay directors have won previously.
But the arguments put forth have been flimsy. Does it mean that if someone were to make a movie about the Tang Dynasty in China or geishas of Japan with a script fully in Bahasa Malaysia, the movie would be acceptable even though it has nothing to do with Malaysia?
A movie about Malaysia and Malaysians, produced and directed by Malaysians, and acted by Malaysians isn't "Malaysian enough" because it has a mixture of languages and dialects spoken by Malaysians?
No one wants to say it straight but essentially, OlaBola may not be Malay enough. No one cares if it is Malaysian enough.
The Malaysian Film Producers Association (PFM) said the segregation of award categories in FFM is based on language, saying it was to uphold Bahasa Malaysia in local films.
According to a news report, FFM and PFM led by SKOP Production chief Datuk Yusof Haslam, made the decision due to the use of mixed languages in OlaBola and another movie, Jagat.
Director Chiu Keng Guan's movie OlaBola, which is more well-known, was inspired by the multiracial Malaysian football team that qualified for the 1980 Moscow Olympics and it certainly stirred the hearts of most Malaysians.
According to press reports, within just 18 days of its release in cinemas nationwide as well as in Brunei, the football-themed movie made more than RM12mil.
Previously, the Astro Shaw-produced movie crossed the RM2.5mil mark in just four days before growing to RM8mil after 13 days of showing.
Jagat is about the plight of Malaysian Indians during the post-estate era, set in the early 1990s. The film directed by Shanjhey Kumar Perumal is about a mischievous 12-year-old boy named Appoy and his relationships with his father, Maniam, and uncle, who is a former drug addict and local gangster.
This film is said to be the first Tamil language Malaysian movie to screen in cinemas for eight weeks running although it did not make the kind of money as OlaBola did.
But here's the real sad part. The movie was called a Malaysian movie at the New York Asian Film Festival, and in India, where it was sent for a Digital Cinema Package (DCP) process, it was classified as a Malaysian film.
And here, we learnt that these two films are not Malaysian enough and that these films have to be categorised according to language. Those behind the decision to change rules midway should just listen to how Malaysians speak in real life.
That's how Malaysians speak, like the characters in OlaBola, and in the estates, where many of the Indians lived. And yes, they are Malaysians too. Yes, they speak Tamil. Surely, we wouldn't expect them to speak in Bahasa Malaysia, which would have been unreal.
Last week, prominent banker Datuk Seri Nazir Razak openly supported the call by comedian Afdlin Shauki to boycott the FFM.
In a post on his Instagram account, the CIMB chairman questioned the language division for the Best Picture category in the national film awards ceremony and congratulated Afdlin Shauki for taking a stand.
"Respect. I was aghast to hear that my favourite, OlaBola, and others can't compete for best Malaysian movie. Why the segregation?
"Change will only happen because individuals like Afdlin make a principled stand, well done!" he said, captioning an image of a news headline which read "Actor Afdlin Shauki boycotts Festival Filem over racial segregation".
AirAsia Group CEO Tan Sri Tony Fernandes has joined in to support the move, saying the racial diversity portrayed in local movies like OlaBola and Jagat was a strength that shouldn't be penalised.
"When will we realise our strength against the world is our diversity? Come on Malaysia. The world is changing," he said in a comment on Nazir's Instagram post.
There may be a perfectly logical and fair rationale for the rules being interpreted in this manner, but the explanation so far hasn't been convincing.
The organisers may perhaps want to encourage non-Malay movie producers to enter the local film industry by creating more ca­tegories.
As in any contest, there are always other contenders, which included Munafik, a horror movie, directed by Syamsul Yusof, about Adam, a Muslim medical practitioner, who is unable to accept the fact that his wife is no longer in this world.
The movie is produced by Yusuf Haslam and has grossed RM19mil in the box office.
The movie is now competing in the Bahasa Malaysia best movie category – along with Mat Moto – Kami Mat Moto Bukan Mat Rempit and action-packed Polis Evo.
Director Saw Teong Him's Jejak Warriors is said to be another front runner in this category. The movie is about a teenager, Wan Raja, whose father was a fanatical fan of the Kelantan football team and how he fulfilled his late dad's dream to get the autographs of every player.
One should also point out that in Polis Evo and Jejak Warriors, the use of the Terengganu and Kelantanese dialects are so heavy that standard Bahasa Malaysia is almost non-existent.
The decision of the FFM, even with the best of intentions, is perhaps not well thought of, because arts, like sports, is about bridging people and surely not dividing and sub-dividing them into categories.
Malaysians have had enough of politics and religion being used to divide Malaysia, with unnecessary suspicions, and surely, the arts should and must remain a platform for keeping Malaysia and Malaysians together still. Of course, fair play, too.
I am reminded of the final scene in OlaBola when Soh Chin Aun, who played the role of the older Chow Kwok Keong (the character based on himself), was interviewed.
Asked how the team was so united, he said: "We speak diffe­rent languages, but we all sing the same song."