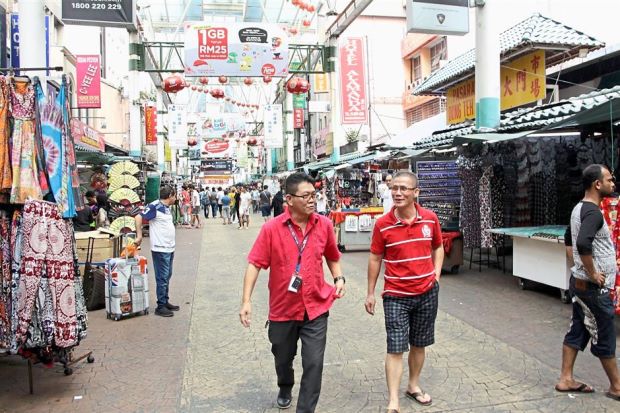 A lesson learnt from Sam, who was recently pardoned, was to never give up. For me, it was very emotional to know that his biggest campaigners were the prison wardens themselves.
IT is very rare indeed – probably unheard of – to have prison officials campaigning hard to seek the release of a prisoner but that was precisely what happened.
After years of failed appeals to the Pardons Board, Sam Kian Seng – Number 1000 2901 – who has been in jail for 28 years, walked out of Kajang Prison a free man at 2pm on Monday, July 25.
It was nothing short of a miracle and it reaffirmed my faith in God and the goodness of human beings.
It also refreshed my belief that no one should give up hope, even in the most difficult moments, and this man, Sam Kian Seng, is a living example.
Sam, who was arrested for armed robbery in 1988, was never sent to the gallows because he was not the principal offender. Charged with gun possession, he was found guilty and sentenced to natural life imprisonment and also given six strokes of the rotan.
This is different from a normal life sentence which carries a maximum of 30 years jail but in Sam's time, a life sentence was 20 years. There is also a one-third remission for good behaviour.
Natural life imprisonment, however, meant that Sam, no matter how well behaved, was doomed to die behind prison walls. His only hope was to get a pardon.
His story has been an extraordinary one. Each time his appeal got rejected by the Pardons Board, it upset the wardens more than Sam himself.
After all, they said they watched over Sam daily and they knew him better than members of the Pardons Board.
The telephone call came to me one day in 2010 from a senior prison official whom I have known for a long time.
He said the media was their last hope and they chose me.
A prison visit to Kajang Prison was arranged and I came face to face with this total stranger who sought my help to get him pardoned.
The prison official showed me a thick dossier of appeal letters from politicians, lawyers, faith-based groups and prison officials – all supporting his case. Some of them have since passed away.
I was told how this long-serving prisoner was able to do what many prison wardens and counsellors could not do – he turned hardcore criminals into church mice, literally.
He counselled the inmates, led daily worship and conducted Bible classes in cells. He also provided information about non-governmental organisations like Malaysian Care and halfway houses to prisoners about to be released.
Every Sunday, more than 60 inmates, including former hardcore criminals, spent their time in worship under his leadership.
In a smattering of Cantonese and English, Sam spoke extensively to me of how he intended to carry on with his counselling work once he was released from jail.
I just let him speak, not interrupting at all, and when he finally stopped, I told him that I would try my best to help him.
I wasn't even sure when and how I should start. I may know several Sultans, who would chair the Pardons Board in their respective states, but this case was carried out in Kuala Lumpur and that meant it came under the King. For sure, I do not know the King.
But I never forgot Sam. He made sure I didn't either. He frequently sent out messages, via non-governmental organisations doing work in prison, to enquire about the progress I had made to secure his pardon!
Sam's pardon by the King is a result of NGOs and individuals working patiently to seek his release and even if at some point some of us thought it would never happen, we knew we mustn't give up because Sam has not given up on us.
The messages that suddenly cropped up from NGO workers were simply reminders that he was fighting on the inside there.
As many others worked, I finally sought the help of businessman Tan Sri Barry Goh and his assistant, Johan Abdullah, to convey the appeal personally to the King. I also revisited my encounter with Sam in this column on May 24, 2015 ("Hope Within the Prison Walls") to get the attention of the palace.
We do not know if what we have done has been critical or pivotal, but it doesn't really matter, and no one is out to claim credit, as what is important is that Sam left a mark on those who met him inside the Kajang Prison.
It has been very impactful, and even emotional, for me because among his biggest campaigners were the Muslim prison wardens, even though Sam's work was primarily Christian. For these wardens, Sam was just a good man and that his choice of faith wasn't an issue.
On Monday, when he walked out of Kajang prison at 2pm, the message was conveyed to me by Malaysian Care that Sam was finally out!
It was unbelievable! As the news spread, I called up the prison officials who had alerted me about Sam earlier, and the joy at the other end of the line was emphatic as they expressed their thanks to Allah.
They shared with me about another case – and how exhilarated they were when this person, too, was pardoned for a crime committed when he was a boy. As a minor, he was held "at the pleasure of His Majesty" with no fixed term and sometimes, they get forgotten.
All Sam wanted was his first plate of wantan mee on Monday evening. On Tuesday morning, he was still eating wantan mee.
He has bought himself some new clothes and he is learning to use a mobile phone. He kept calling me, wrongly, and kept apologising for that.
He is clearly eager to join in what most of the world is keen on now – starting with creating a Facebook account and discovering the wonders of social media.
His parents died when he was serving his time. He didn't get to attend the funerals unlike some privileged politicians serving jail sentences.
At 59 years old, the bachelor is now busy catching up on lost time with his brothers and sisters. The news report in The Star on Wednesday was the top read item online and I got plenty of calls from reporters including an international TV station seeking to interview him.
Let Sam have his space. He has plenty to catch up with his family and adjusting to life in the new Malaysia.
There is one lesson for me from Sam which will remain etched in my mind forever – how not to give up hope and to remain steadfast in the belief in God, regardless of our religion.
I remember that interview with Sam and how he pressed his hand against the glass panel separating us to say goodbye, fervent in his belief that he would walk out of prison one day and continue his mission work outside.
When I asked him why he should be optimistic, he looked at me and said: "Sir, even the word hopeless begins with hope."