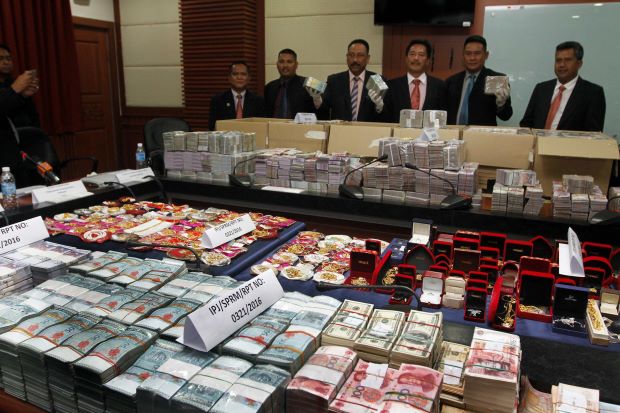 BY now, it's clear that many ordinary Malaysians have the perception that corruption in this country has degenerated into a hugely disturbing situation.
To many of us, rightly or wrongly, corruption has become an entrenched culture involving many in the political and government circle.
But who would have suspected that a seemingly innocent department like the Sabah Water Department could end up being investigated for such a staggering amount of money, in what is now known as our very own Watergate scandal.
The Malaysian Anti-Corruption Commission (MACC) seized RM114mil worth of assets – RM53.7mil in cold cash stashed in the houses and offices of two senior Sabah Water Department officials on Oct 4.
Many of the department's staff, apart from the top two officials, are also being investigated for alleged abuse of power and money laundering linked to contracts for RM3.3bil federal-funded projects channelled to the department since 2010.
MACC has traced RM30mil stashed in foreign banks and another RM30mil in 127 land titles for housing, agriculture and commercial purposes.
That's not all. MACC also seized nine vehicles worth RM2.7mil, an assortment of jewellery worth RM3.64mil and designer handbags with a value of RM500,000.
To many Malaysians, when the topic is corruption, they would think of the police, customs, immigration, council enforcement officers and authorities with the power to arrest someone, to issue approvals or permits.
These authorities have earned such notoriety through mere generalisation or plain prejudice as there are surely many good and honest officials.
And of course, many Malaysians think lowly of high-level politicians, sniggering over their purported wealth even if they have little evidence and information.
The MACC must be commended for its successful investigations into the Sabah Water Department.
It has, in fact, led to loose talk among Sabahans that the MACC need only check the Facebook postings of some staff, even the low ranking ones, of another government department in the state to see the kind of lifestyle led by some of the workers.
There might not be sufficient evidence but the raid on the department will surely encourage more whistle blowers to tip off the MACC.
Malaysia ranked 54 among 168 countries in the Corruption Perception Index (CPI) 2015 with a score of 50 out of 100.
This is a drop from 50 out of 175 countries in the CPI 2014 with a score of 52 out of 100. High scores indicate a less corrupt perception.
Obviously, the 1MDB issue is a major perception issue and has affected the minds of many Malaysians, contributing to the slide in ranking.
In a 2014 news report, it said that the international accounting firm KPMG's Fraud, Bribery and Corruption Survey 2013 revealed that an overwhelming 90% of business organisations feel that bribery and corruption is necessary to do business in Malaysia at the moment.
Transparency International- Malay­sia's first ever Malaysian Corruption Barometer (MCB) 2014 recorded that as many as 45% of Malaysians feel political parties are the most corrupt, followed by the police force, then the public and civil servants, the report added.
It is safe to say that such perception among Malaysians have not changed much over the past few years. It has probably gone worse.
There is little doubt that many Malaysians feel, even with the current blitz on corruption, that the actions against the corrupt have not been sufficiently effective.
The tentacles of corruption, to many, has become so prevalent that no sector in government has become immune – that's the scary perception even if the reality is otherwise.
It has tarnished the image of our institutions and must have affected investors who want to put money in Malaysia, even if we are seen as a country that is business-friendly.
To be fair, much efforts have been taken such as enacting the Whistle Blower's Act in 2012 and increasing corruption arrests, as well as publishing the names of more than 1,000 corruption offenders on the MACC website.
There has also been a sharp decrease in business licenses and online publication of government contracts.
But one does not need another survey, although the Performance Management and Delivery Unit (Pemandu) has actually carried out one, which showed that a large segment of Malaysians do not believe that enough has been done to combat corruption.
That's simply because the perception is that actions have only been taken against those at the lower and middle rungs of government.
If the fat cats – or big fishes – are left untouched, it may actually encouraged the bottom to be corrupt as they may think their bosses are dirty anyway, so why shouldn't they, too, grease their hands to just pay the bills.
It is incredulous that a country like Malaysia, which has becoming more conservatively religious, are not seeing a corresponding decline in corruption.
Our religious leaders, regardless of their faith, seems to be more preoccupied with religious forms and theological aspects, and forgetting that they can be effective tools in the fight against corruption – not just against the takers but givers.
They should spend more time at their sermons, services and prayers to talk about the ills of corruption, among others – and not be too preoccupied with just politics.
More often than not, we hear the open grumbling of businessmen who lament the corrupt practices, which adds to their cost of doing business but if there are no givers, then, there will be no takers.
Never mind, if others want to give.
Let the policeman issue summons instead of offering a bribe to "settle it".
If we give, why then are we still complaining about dirty cops?
If we do not do something more resolute now, the young will soon see corruption as an acceptable culture.
If we remember, in 2007, the majority of 1,800 university students interviewed felt it was acceptable to give or take bribes.
Surely, this is troubling. Have we come to this level where many of us can no longer differentiate between right and wrong?
It's time to wake up, don't let our beloved Malaysia go down the drain.