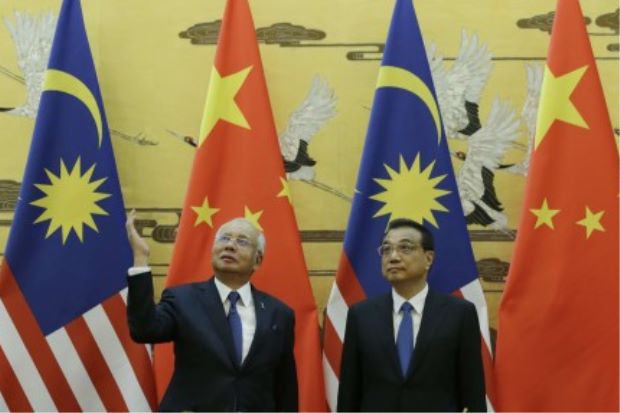 IT'S no longer a topic that is discussed in hushed tones at functions attended by diplomats and businessmen – that relations between China and Singapore are strained. It is out in the open.
The irony is that Singapore is the Asean coordinator for ties with China – and the latter has literally told the island republic to buck up.
The latest salvo against Singapore reportedly came from Chinese vice-minister for foreign affairs, Liu Zhenmin, who warned that as a non-claimant state in the South China Sea dispute, the island should stay away from commenting on the issue.
China's top diplomat urged the republic to focus on coordinating dialogue between China and Asean – in short, he is effectively saying that Singapore is not doing a good job in that department.
China's impatience with Singapore has been simmering for a while although it has never been out in the open. But in June, Global Times ran a commentary by Chinese Academy of Social Sciences researcher Cheng Bifan under the headline "Singapore has picked the wrong target in its balance of power strategy".
The newspaper, regarded as a mouthpiece of the Chinese communist party, is also a subsidiary of the powerful People's Daily.
Basically, China is irritated with Singapore for seemingly siding with the United States over the South China Sea issue.
Hong Kong's South China Morning Post (SCMP) has reported that Internet users in China have delivered stinging criticisms, labelling Singapore a sycophant of the US, threatening that China would teach the tiny South-East Asian nation a lesson.
Particularly painful is the phrase they often use to mock Singapore: Li Jiapo, a play on the island's name in Chinese, substituting the first two Chinese characters "Li Jia" or the "Lee family", it reported.
The problem started after a tribunal in The Hague rejected China's claims in the South China Sea dispute with Singapore Prime Minister Lee Hsien Loong saying that the verdict delivered a strong statement about international law in maritime disputes.
During a recent trip to the United States, Lee also reportedly told US President Barack Obama that Singapore hoped Washington would "remain actively engaged in the region."
It doesn't help that Singapore has allowed the US to deploy its P8 Poseidon spy plane to the city state. The US also operates from Japan and the Philippines, its two other allies.
But since Rodrigo Duterte, whose ancestors came from Xiamen, China, became president, the Philippines has shifted its sights –and is looking at China.
As the unhappiness builds up, the Global Times accused Singapore's representative at the Non-Aligned Movement summit in Venezuela of trying – but failing – to add an endorsement of the Philippines' international arbitration case against China's territorial claims.
It added that the representative had become exasperated and made "sarcastic remarks" when the move was opposed.
The Singaporean envoy, however, hit back at the Global Times, for publishing an "irresponsible report replete with fabrications."
His protestation, however, was met with defiance from the newspaper's editor-in-chief, who stood by the article, accusing Singapore of "damaging China's interests," the Wall Street Journal reported.
According to envoy Stanley Loh, Singapore did not raise the South China Sea issue or the tribunal ruling at the summit. He said the proposal to revise the summit communique was made collectively by Asean, which wanted the document to reflect regional concerns over recent South China Sea tensions.
But Chinese diplomats and journalists, close to the communist party, have openly accused Singapore of "siding with the US to willingly play the troublemaker" over the thorny issue.
According to National University of Singapore's Prof Wang Gungwu, it would not be in Singapore's interest for China to doubt its friendship as the city-state has a big stake in China's economic development.
Suspicion against Singapore is so great that, rightly or wrongly, some Chinese businessmen have blamed the island republic for holding back the building of the High Speed Rail between Malaysia and Singapore, suggesting that the island republic is "blocking and delaying" Malaysia's readiness to award the project to China.
SCMP (owned by Chinese tycoon Jack Ma) which monitors events in China closely, quoted Wang Yiwei from the School of International Studies at China's Renmin University as saying that he believed China's "disappointment" with Singapore stemmed from Beijing's initial hopes that the island state could play a role not just to bridge China and Asean, but with the US, the West and the global community.
Singapore had not adequately protected the overall and long-term interests of China and Asean, despite being the coordinator, he said.
"Instead, Singapore suggested that China accept the tribunal's ruling. This was a huge turn-off for China," Wang said.
In contrast, Malaysia-China relations have entered a new high. The "biggest deal" is not even the huge amount of businesses coming into the country but our commitment to buy four Chinese naval vessels, which are known as littoral mission ships (small craft that operate close to shore). Two are to be built in China and the other two in Malaysia.
Liu said the two countries were focusing on naval cooperation and that the deal marked a big leap in bilateral ties.
The defence deal also signalled that Malaysia wanted to have closer military-to-military relations with China.
The two nations also signed the framework for the RM55bil East Coast Rail Line, which will be China's largest investment in Malaysia to date.
Najib, who was on a six-day visit to China, met President Xi Jinping on Thursday.
Malaysia Airlines Bhd also secured many direct flights from China, recently announcing that it would start flying to eight new destinations and 11 new routes in the republic from Kuala Lumpur, Kota Kinabalu and Penang, from early 2017. MAS is also hoping to add a second daily flight between KL and Shanghai in April 2017.
Although Malaysia is the Asean coordinator with the US, Prime Minister Datuk Seri Najib Tun Razak has played a remarkable role, balancing our link with the two superpowers.
And although Malaysia is a claimant to the territorial claims, Malaysia has restrained itself well, issuing cautious statements, without adding fuel to the rivalry between the two giants.
Najib's diplomatic skills benefit Malaysia greatly. The domestic political fight should not be used to disrupt the strong ties between Malaysia and China.
Sarcastic innuendoes that "Malaysia is Red" does not augur well for Malaysia, which risks earning the wrath of China, at a time when the market is terribly weak.
Claims that the proposed ECRL project was overpriced, that the soft loan will come to RM92mil per kilometre, is nothing short of amusing.
China's offer is said to be lower compared to what was offered by Japan and other European countries – and it comes with a soft loan.
The payment is over a tenure of 20 years and in the first seven years, Malaysia will not have to pay anything – neither interest nor repayment. Surely, that is attractive.
Najib has lobbied for China to increase its import of palm oil as it has dropped 50% in the first six months of the year.
Apparently, this was due to some negative reports and wrong perception of the nutritional value of palm oil, a common tactic used by Western countries to promote soy bean and other vegetable oils.
China used to be the largest importer of palm oil from Malaysia but it has fallen to third place, after India and Europe.
It is important that domestic politics should not come at the expense of losing the support of the Chinese. We are talking about the rice bowl of Malaysians and we don't want selfish politicians to throw sand into our rice bowl.
It is one thing to score political points against Najib, by ridiculing his approaches to China for business deals, but it should not affect our economy.
For example, the number of Chinese visitors to Taiwan has reportedly fallen 22% since the island's Beijing-sceptic government took office in May, with tourism operators saying that the industry is in a slump.
Hotels are only half full and thousands of tour buses are sitting idle, with observers saying the decline is due to China limiting tour groups to Taiwan amid rapidly cooling cross-strait ties, according to a report.
There was a boom in mainland tourists to Taiwan in recent years under former President Ma Ying-jeou's Beijing-friendly government, with Chinese visitors accounting for about 40% of the total 10 million tourists last year, according to government figures.
However, in the months since President Tsai Ing-wen took office up to Aug 23, mainland visitor numbers have reportedly fallen 22.3% compared with the same period last year.
In Hong Kong, news reports of resentment against Chinese mainlanders and calls by some HK politicians for independence have resulted in a backlash with Chinese tourists staying away from HK.
The SCMP reported the decline in the month of the mini-golden week holiday – when Chinese tourists go on vacation – and this came as a blow to hopes that the city's battered retail sector – which heavily relies on tourism spending – could improve soon.
Government statistics showed May retail sales decreasing 8.4% on a yearly basis after the April decline narrowed to 7.5%, from a 9.8% dip in March, marking the 15th consecutive month of contraction.
Hong Kong Retail Management Association chairman Thomson Cheng Wai-hung has predicted a double-digit decline in the first half of this year, which would be the worst in over a decade, as its members signalled that sales in June were "even worse than May".
The reality is that China has become a economic superpower and we have had a headstart by becoming the first Asean country to forge diplomatic ties with China.
Through the efforts of the Chinese community here, the special ties have been further cemented, and that has allowed us to have a special place in the heart of China.
Malay extremists should learn to appreciate this special link, which has benefited Malaysia greatly, before they make careless and hurtful racist remarks that serve little purpose.
The billions pouring into Malaysia is staggering and surely, we are the envy of many other Asean countries. That is because China trusts us and we should keep and build on that faith in us.