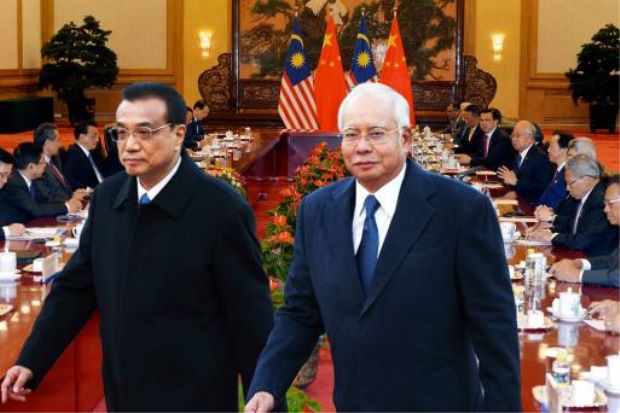 YOU can be angry with Datuk Seri Najib Tun Razak but let's not lose our objectivity. The Prime Minister brought in RM144bil worth of deals signed between Malaysia and China.
Many Asean countries are eyeing that kind of money from China but strangely, some Malaysians' sense of rationality is becoming warped, even perverted, and they feel it is prudent to go into senseless name-calling and mindless smearing of China.
We have to be careful here – remarks like Malaysia indulging in yellow culture, selling our soul to China and comments which smacks of racism are surely not the way to treat a friendly superpower nation like China.
Those making such disparaging remarks are doing a disservice to Malaysia. It's akin to throwing sand into our rice bowl.
Hate the PM as much as you want as this is how democracy works. But do some of us need to lash out with political rhetoric against China?
It is one thing to score points against our political rivals but surely, there must be a line drawn – let's not bite the hand that is trying to help us at a time when Malaysia needs to secure more foreign investment to shore up our flagging revenue from oil and gas.
Many of the negative responses over these deals with China seem to be politically motivated, stemming from ignorance and, in some cases, ethnic prejudice against all things Chinese, whether it has to do with mainland China or Chinese Malaysians.
Let's look at the numbers – foreign investors (including the US) are net sellers of stocks in Bursa Malaysia and have reportedly dumped RM948.1mil in stocks although some have said it is even more.
Malaysia can no longer depend on traditional foreign direct investments from the US and other Western countries.
The reality is that China invested as much as US$84bil (RM370bil) in 2012, establishing it as the world's third largest outward investor after the US and Japan. China has aggressively eclipsed other nations.
The shift towards China, according to one study, is obvious as the republic emerged as Malaysia's largest trading partner, enjoying a 13.8% share of Malaysian trade since 2012.
Malaysian firms (especially those owned and managed by Malaysians of Chinese descent) have also been actively investing in China since it liberalised its economy in 1979. Some of these firms played a crucial role in attracting mainland Chinese firms to invest in Malaysia, according to studies.
Everyone knows that China has the money. And Malaysia has an edge over other Asean countries because of the link between Chinese Malaysians and China that has given us an advantageous position, especially when China increasingly sees Singapore as a US ally.
There are some who are unhappy with China's purchase of 1MDB's energy assets in Edra Global Energy Bhd for RM9.83bil by the state-owned China General Nuclear Power Corp recently, suggesting that the republic was only helping Najib out in the 1MDB controversy.
But let's look at other investments – even before the recent trip by the PM. China has put in a multi-billion ringgit purchase of a substantial equity stake in Bandar Malaysia via China Railway Construction Corporation.
China Railway Engineering Corporation has announced plans to set up its multi-billion regional headquarters in Bandar Malaysia, which will host the main terminal for the proposed KL-Singapore High Speed Rail project.
It has been reported that the Chinese government has started buying more Malaysian Government Securities (MGS) and this inflow of new money could possibly rise to RMB50bil (about RM30bil) in total or 8.5% of Malaysia's total outstanding MGS as of early April.
Those who have been grumbling should answer if there's any big money coming from the US, Australia or Britain.
And many of us are also wary about money coming in from the Saudis – some are alleging that they are exporting radical Islamic values to Malaysia. Do we need this?
Like it or not, China, apart from being Malaysia's largest trading partner which takes up 19% of its exports, is presently one of the top five foreign investors in the country.
Investments from China in the manufacturing, construction, infrastructure and property sectors are at significant levels now.
According to official data, China's investments in the manufacturing sector here from 2009 to 2015 totalled RM13.6bil, creating 24,786 jobs.
Malaysia also needs more Chinese tourists to visit our country and we hope to attract two million Chinese tourists by the end of the year. Our tourism industry has seen a growth of 23% in arrivals from China since the e-visa entry programme was introduced in March this year.
China is the third largest source of tourists for us after Singapore and Indonesia. Malaysia targets eight million Chinese tourists by 2020.
Only 10% of China's population travelled out of their country and yet they have spent US$229bil (RM1tril) globally last year. They easily beat the number of many Western countries put together!
They spend more than other tourists and they travel in bigger numbers. We all know that in Western countries, Chinese-speaking shop assistants are specifically hired to engage with this segment of customers.
Malaysia is not on the radar of Chinese tourists but more young Chinese tourists have chosen to visit Sabah because of its beautiful sea and lush forests.
Chinese tourists spent US$215bil (RM948bil) abroad last year, 53% more than in 2014, according to a World Travel & Tourism Council report, a figure which is more than the annual economic output of Qatar. Chinese tourists are now spending way more than anyone else, including the Americans.
The number of Chinese tourists travelling globally has more than doubled to 120 million over the last five years, according to data from the China National Tourist Office and WTTC. That means one in every 10 international traveller now is from China.
Malaysia is missing out on this action, unfortunately. For a start, we can make travelling into Malaysia easier for them and having more direct flights will help.
Let's give credit where credit is due. Najib has done well, from his recent trip to China.
It will even be better if our own Air Asia gets to fly into more Chinese cities as this will surely help boost Chinese tourist arrivals.
Let's get real, all of us.
Certainly we have the right to express our concerns over the terms of some projects, and to seek clearer details, but let's not drag in unnecessary elements which strain bilateral ties.