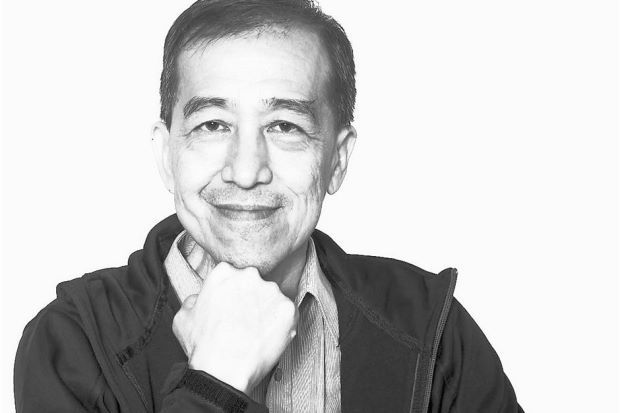 He was one of the kindest, most generous and positive people I have had the privilege of knowing.
HIS Sunday Starters column was on the "Best Read" list every weekend. He rarely wrote about politics, personalities, celebrities or heavy analyses. He focused simply on ordinary people.
That struck a chord among many readers of this newspaper and that was what Soo Ewe Jin wanted – a column for ordinary people, about ordinary people.
In his own words: "Amidst the busyness of life, we need to pause and look at things with our heart and not just our eyes."
At 5.20pm on Thursday, our Ewe Jin passed away at KPJ Damansara Specialist Hospital with family members and close friends by his side.
He had battled cancer for 17 years and the journey since its relapse two years ago had been a difficult one.
Like anyone else afflicted by the disease, chemotherapy affected him greatly. He had difficulty opening one of his eyes and had to use a hearing aid. In fact, he was even going blind towards the end, but his mind was as sharp as ever.
Ewe Jin was first diagnosed with nose cancer in 1999 and seven years later, he had a lump in his lymph nodes. Another relapse came in March 2011.
The entire time he was seeking treatment, he still continued working. He was a leader and writer, contributing to The Star Says, always offering sound suggestions and well-researched points of discussion. He knew he was representing the voice of The Star, after all.
Besides writing his weekly Sunday Starters, Ewe Jin edited my column On The Beat – removing the blemishes, sharpening it and often, correcting my grammatical errors. He would also rein me in if I went too far, reminding me to be rational instead.
Ewe Jin was very proud of the multi-racial make-up of his neighbourhood in Kelana Jaya, which he often wrote about. The Malay, Indian and Chinese neighbours he spoke of were real people, not fictional characters.
Like me, he deeply believed in moderation and edited the essays on the subject in time for this year's National Day, labouring away with just one good eye.
He had been with The Star since 2000, serving in various positions – as editor for The Star Online, Sunday Star, Special Projects and as Executive Editor, his last post.
Ewe Jin was with the National Echo, the Malay Mail and The Edge. He also shared his expertise at the Institute of Strategic and International Studies and the World Wide Fund for Nature Malaysia.
Last week, our columnist Lyana Khairuddin visited him and shared some photographs taken at her Wear Kebaya Night event.
He cheekily told her that "Chun Wai isn't a real Baba, even if he is from Penang, but I am a real Baba".
Ewe Jin was proud of his Peranakan heritage and we both shared the same parochial sentiments – Penangites are special.
He studied at the Penang Free School while I was from the rival St Xavier's Institution and the two of us regularly bickered, even over something as flippant as the Latin mottos of our schools.
We both came from humble backgrounds. He grew up in the triad-infested Jelutong area while my turf was Kampung Melayu in Air Itam, which was far from being an affluent neighbourhood.
And recently, Ewe Jin took two trips to the Ulu Yam waterfalls because it reminded him of the waterfalls at Penang's Botanical Garden – he was a Penangite till the very end.
Our passion for journalism, for people and Malaysia, had always brought us together. He told his sisters that I was the brother he never had – he had eight sisters and was the only boy in the family.
In turn, he was the Christian brother I never had – he taught this rebellious and former atheist what the Bible was all about and watched over me regularly, preventing me from straying too far. Fate has its methods, and it is no surprise that we ended up being members of the same church.
He was the unofficial pastor at The Star – he brought colleagues together for fellowship and prayed for everyone and for the company.
If there was one recurring theme which kept popping up in his stories, it was the call for us to be grateful for what we have. Grateful – this must be the most frequently used word in his column.
He taught us to enjoy the simple things in life such as waking up daily (this was a luxury to him, given his battle with one of the most deadly illnesses) and other little things which we often take for granted.
He never asked for anything, as a friend or a colleague.
As he spent less time at the office the past two years, which affected his work assessment and his annual increment, he still texted me and extended his appreciation for what he received. For me, it was a lesson in humility and gratitude.
He was a shining example to our colleagues and many others who never met him but were ardent fans who knew much about him through his writing.
Even as I write this article, my mobile phone is ringing non-stop with messages of condolences pouring in from everywhere, including a journalist on duty in Peru.
Ewe Jin never said no when it came to helping others, even when he himself had to watch his finances. His wife Angeline Lim quit her well-paying job to take care of him, leaving him as the sole breadwinner. Yet, he still found it in his heart to hand the royalties earned from his book (a compilation of Sunday Starters articles) to the needy.
Ewe Jin was a fighter. Most of us would not be able to endure the many torturous chemotherapy treatments he went through.
On Thursday, even as the doctor told us at noon that our friend had only "four to six hours to go", we saw how Ewe Jin fought as the clock ticked. He fought for every breath, seemingly refusing to let go.
He had battled the disease at every stage but still found the time and resources to help others fight their own demons.
Ewe Jin often offered kind words and support to other cancer survivors, visiting them at their hospital beds, regardless of their colour or creed. He wrote a book, Face To Face, which he and Angeline distributed for free to share his cancer journey and encourage fellow cancer patients.
He instilled this lesson in me: "When you visit hospitals, you will discover that everyone is the same. The colour of your skin no longer matters, we are one and the same."
He was always at ease with everyone, with friends from all walks of life. Whether they were jobless, retirees, judges or professors, he treated everyone equally. He was one of the kindest, most generous and positive people I have had the privilege of knowing.
Farewell, Ewe Jin. We will miss you so much, but we take comfort that you are no longer in pain and are now in a much, much better place.
We know you are watching us now, still caring for us and everyone else like you've always done. Rest easy, my dear friend.