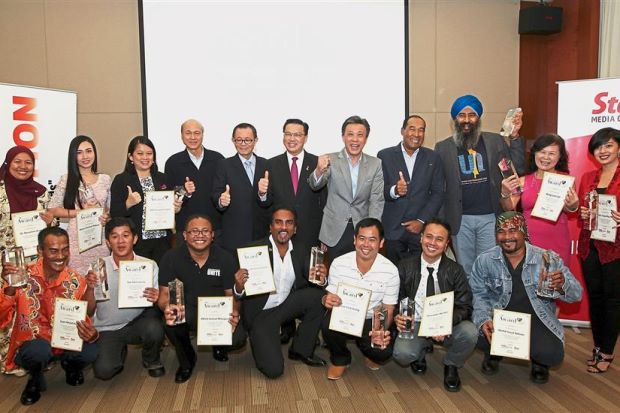 TWO recent events have reassured me of how good ordinary Malaysians are, especially those who believe in the spirit of moderation and unity, even as we see ugly displays of racist behaviour around us sometimes.
When we put politics out of way, most Malaysians are able to build on the bond that glues us together as a nation.
Last week, one of my dearest friends and colleague Soo Ewe Jin passed away. At his wake services over two nights, his Muslim friends readily stepped forward and spoke passionately about him from the lectern of the Trinity Methodist Church in Petaling Jaya.
There were absolutely no reservations or awkwardness on their part. They walked right into the sanctuary of the church, listened when hymns were sung and stood respectfully with others when prayers were offered.
They listened attentively to the sermons delivered by the pastor and some even turned up on both nights.
Those in attendance were a multi-racial group, they filled the church to the brim and those who paid tribute to Ewe Jin shared immensely touching and emotional stories of how their lives had been impacted by him.
It was a truly Malaysian setting. It took place in a church but it proved a point – that visiting a place of worship is an ordinary move when we choose to leave out the politics of fear and hatred created by some quarters.
I'm sure our Ewe Jin, a passionate advocate of moderation, was watching from heaven, feeling enormously proud.
The word "moderation" kept cropping up in the two nights the wake services were held, used in tandem with the endless tributes to the "Sunday Starters" columnist who won legions of fans for being so ordinary (although he was ironically anything but ordinary) and for simply reminding us every Sunday of the need to be grateful for what we have.
And when the wake ended, people of all faiths stayed back, some to get to know each other, others to renew friendships.
After all, many of us only meet during weddings and funerals.
On Thursday, moderate Malaysia was celebrated again, even as we read of more displays of thuggish acts and intimidation in Parliament.
The Star brought together winners of this year's Golden Heart Awards – where we pay tribute to the unsung heroes and heroines of Malaysia.
We started giving out these awards last year to give recognition to Malaysians from all walks of life – individuals or groups – who acted heroically and/or selflessly, building bridges between different communities and in doing so, promoting racial harmony and unity.
This year, winners included Sabahan Marie Christie Robert, a Kadazan who donated her liver to her former teacher, Cikgu Cheong.
There was Rishiwant Singh Randhawa who sent food to orang asli affected by the floods in remote areas. He also did not think twice about flying off to help Syrian refugees.
Then, there was Dr Rusaslina Idrus, who provided clothes and toiletries to the homeless and urban poor in the capital through Kedai Jalanan. She helped all regardless of race or religion. But more importantly, she helped people in a dignified way.
Another was Kong Lan Lee, who is actively involved in helping special needs children through Persatuan Kanak-Kanak Istimewa Kajang.
Boilerman Mohd Yusuf Rohani, who cared for his childhood Indian friend for 15 years, sending him to hospital and just helping him out – even when he himself was not financially well off.
Fishermen Saari Mohd Nor and Low Kock Seong who rescued eight Royal Malaysian Air Force men from a plane crash were two other recipients of the award.
Others were Shalini Yeap May Hwa and Afred Samuel Mariyas, Jerryson Abraham Gnanaraj Doss and Edna Sung Burongoh, Khairuddin Abd Aziz and Tan Chin Leong.
Like Ewe Jin, these people went out of their way to help others and made sacrifices in their personal life to carry out these charitable deeds. They impacted the lives of many others, in their own way.
Tan Sri Lee Lam Thye, who was chief judge, aptly said: "The award continues to celebrate Malaysia's everyday heroes from all walks of life, who act in a selfless manner to build bridges between different communities and promote racial harmony and unity."
But what touched our hearts most was the large number of nominations we received – it only showed how many Malaysians committed themselves to helping fellow Malaysians without fanfare.
A few declined to be named, saying they wished to remain anonymous so that they could continue doing their work more effectively – without the interference of certain authorities.
Others nominated included a soup kitchen volunteer who served more than 2,000 refugees in Greece; a photographer who left his job to travel the world and raise funds for solar-powered lights; an accountant who helps Bhutanese weavers earn a better living through sales of handmade scarves and even a fisherman who is involved in numerous cases of recovering the dead from the sea.
In a week, we read of certain politicians inciting hate and blaming the media for their own incompetence, hoping to distract attention.
So, it was uplifting to know that there are many who only see the goodness of their fellow Malaysians, and not judge anyone for the colour of their skin, the way they pray and celebrate their culture – or even how they dressed.
These unsung heroes and heroines easily put to shame some of our brash, intimidating and arrogant politicians, from both sides of the divide, with their unproductive behaviour.
There is still hope for Malaysia.