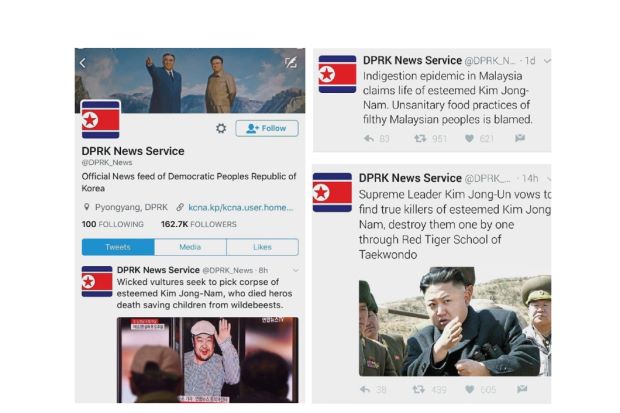 Some Malaysians are so gullible that they make fools of themselves chasing demons and losing track of the truth.
IT'S incredible how many of us are so gullible …. or simply lack a sense of humour. A day after the widely talked-about killing of Kim Jong-nam at KLIA2 on Monday, the Twitter account registered to DPRK News Service (@DPRK_News) posted a very interesting tweet.
The "official news feed of the Democratic People's Republic of Korea (DPRK)" claimed that the half-brother of North Korean leader Kim Jong-un supposedly died due to "indigestion epidemic".
The tweet also accused "filthy Malaysians" of poor food handling and bad sanitation practices, and that these were to be blamed for Jong-nam's death.
Most people, including Malaysians, who saw the tweet could tell it was a satire. The North Koreans may have lost their sense of humour a long time ago, no thanks to being in an authoritarian regime, but they are not crazy.
No official propaganda department will respond in such a bizarre manner, especially if they have decided to cover up this assassination job.
But strangely, there were actually those who fell for it and believed in the tweet. And this included even experienced journalists, those known to have zero sense of humour!
I was asked whether it was nasi lemak, laksa or roti canai that killed the prominent figure from North Korea. The questions were posed to me by those who put on poker faces.
These people insisted that I actually knew what was going on but I was not saying anything because the media was, well, covering it up. Or that I was just incompetent since I did not know what was going on.
Another person sent me a message via WhatsApp, demanding that I alert the Health Minister to reply to the tweet (on the "indigestion epidemic") as it "has seriously damaged the reputation of the country."
It was tough explaining to this person, who is usually tense and uptight, the meaning of satire and humour.
One deputy minister was quoted in a Bahasa Malaysia paper, expressing concern about the implications of the tweet.
"I have asked the officials at the ministry to investigate the allegations immediately to ensure that it does not affect the country's reputation.
"Although the news is (sourced) from the social media and could only be a rumour, we cannot remain silent in this matter. Immediate investigations should be carried out," he was quoted as saying.
He added that he did not want the news or allegations to put Malaysia in a bad light because the tweet suggested that food in this country was not safe for consumption.
Such brilliance.
This hot-tempered deputy minister, who is known to shoot from the hip, obviously responded without even looking at the tweet and the comments that followed.
Of course, he wasn't thinking.
It is quite possible that the reporter who called this politician for comments on the issue must have also fallen victim to the prank – the current "it" word in the investigation into the killing of Jong-nam.
The two women arrested were purportedly used as pawns by North Korean spies – to put poison on Jong-nam, thinking they were hired to carry out a prank.
It is a satirical tweet, and at a time when the Government is trimming its budget, the deputy minister could really have saved taxpayers money without the need to call for such an investigation. Investigate what, I wonder?
According to a report, @DPRK_News has been posing as an official mouthpiece of the authoritarian regime for the last few years.
In 2014, it was reported that the parody account's authors are actually bloggers for Popehat.com, a group weblog covering politics and news from a libertarian perspective.
Some notorious fake news – that a Hong Kong-based Malaysian tycoon who supposedly ran down the Malaysian government in a purported interview with an international magazine (which no one can produce) and more recently, the Chinese New Year lion dancers who refused to move in front of our Prime Minister. Sadly, many of us believed such blatant lies.
A day after a pastor was abducted, and the case is still unexplained, a fake message went around saying he had been found and "is now at the Kelana Jaya police station". It's bizarre that someone would actually take the trouble to post such a message and cause further pain to his family members who are already in agony, coping with his disappearance.
And when Selangor Mentri Besar Datuk Azmin Ali tweeted a poser that a Malaysian minister had resigned, it created such a sensation that many Malaysians believed it. Maybe it's the psyche of people wanting to believe it.
But for many, it's a throwback to 2008. Then Opposition Leader Datuk Seri Anwar Ibrahim announced that more than 30 Barisan Nasional MPs were ready to cross over to Pakatan Rakyat, a coalition of Opposition parties, now defunct, on Sept 16, 2008.
These were the days before WhatsApp, Twitter and Facebook became hugely popular but many Malaysians believed it. Of course, that didn't happen. But to his legion of fans, his credibility remains intact, and he is still talking about truth and accountability.
In 2007, PKR MP Tian Chua posted a fake photograph of then Deputy Prime Minister Datuk Seri Najib Tun Razak, political analyst Abdul Razak Baginda and an Altantuya Shariibuu look-a-like dining together.
It was a badly doctored picture, and Tian Chua later admitted that it was doctored but claimed it was a joke. But enough people believed him.
During the recent US presidential elections, the voters were swamped with fake news from campaigners.
We can expect the same scenario here when Malaysia heads towards the general election, widely speculated to be held at the end of this year.