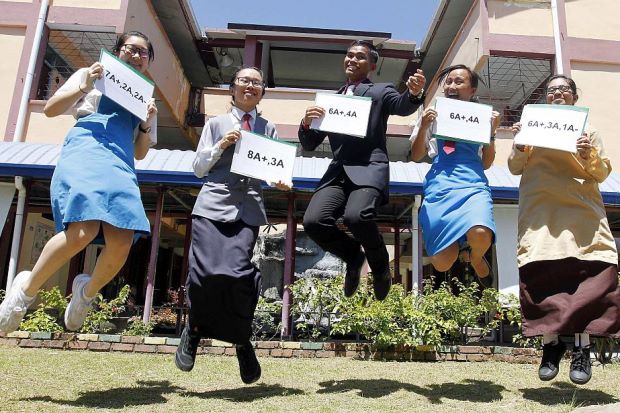 We should treasure our up-and-coming bright minds instead of confusing them and making them feel unappreciated. We want to keep our brains in this country, remember?
IT'S ridiculous, to say the least. Something isn't right when rules are changed abruptly and top SPM students are not given prior notice. One wonders whether proper thought was given before the decision was made.
It took a Cabinet Minister – Datuk Seri Dr Wee Ka Siong – to step in and resolve the hotly talked-about matter with the support of Chief Secretary Tan Sri Dr Ali Hamsa and Public Service Department Datuk Seri Zainal Rahim Seman.
Something isn't right when a simple education sponsorship programme has to be put right by those at the highest levels.
Rightly or wrongly, the deduction is this: Little Napoleons are at play here, wielding their clout and letting their prejudices and beliefs sneak in, even if it means changing the rules erratically.
Last week, the MCA deputy president successfully got the department to withdraw its new sponsorship programme for SPM students that required them to get straight A+.
This means that if a student took 11 subjects for SPM and scored 9A+ and 2A- or 2B, he is not eligible for the programme. He is only eligible if he scored 11A+.
Dr Wee, the Minister in the Prime Minister's Department, later noted that the PSD had reverted to its previous bursary eligibility of 9A+ or more.
"The matter was highlighted to me by many … that the JPA had suddenly changed its requirement for the bursary programme, which would only allow those who scored all A+ to be eligible," he said, using the Malay abbreviation for PSD.
"Thank you KSN TS @AliHamsa & KPPA (Zainal) for taking immediate action in amending the bursary legibility," he tweeted.
Under the now defunct 9A+ Sponsorship Programme, bursaries were only allocated to students with full A+ for all subjects they sat for in the SPM examination.
At a glance, it seems innocuous but it was totally illogical.
It would have meant that a student who scored all A+ in nine subjects taken would have qualified for a scholarship, another student who took 11 or 12 subjects but scored only 10 A+ would not stand a chance.
Instead of encouraging SPM candidates to sit for more papers and secure more distinctions, PSD would have ended up punishing students for pushing the limits.
The sudden change in rules was announced recently on the PSD's Human Resource Development web portal called eSILA.
It was a departure from the original condition that full sponsorship be given as long as a student scored A+ in a minimum of nine subjects.
As expected, the surprising move caused an uproar among students, parents and teachers, as it affected the 2016 SPM scorers who thought that their application would be subjected to the condition in the old programme.
No proper or convincing explanation was given for the sudden change and because of that, there was suspicion, speculation and even allegations of foul play.
The new condition, if it had been carried out, would have affected the number of students taking up Chinese and Tamil language, and also Bible Studies subjects in future examinations due to fears that their chances of getting the scholarship would be affected.
Chinese language and Bible Studies are regarded as the most difficult subjects to score an A in.
In the long run, it would discourage students, parents and even schools from allowing candidates to sit for these papers.
Can anyone be blamed if they suspected the plan – to only allow SPM students who obtained straight A+ to be eligible – smacks of discrimination?
Many students are relieved and grateful that the new programme has been scrapped for now.
But the entire episode has also left many feeling let down by a system where fair play is seemingly overlooked.
The latest SPM results for students who sat for the examination last year were released on Thursday.
It was reported that there were fewer candidates who achieved straight A+, with only 102 getting full scores compared to 163 the year before.
It is not immediately known how many of these students took more than the minimum nine subjects.
Dr Wee revealed that the change in condition was never discussed by the Cabinet.
In short, it was the decision of some bureaucrats who took it upon themselves to implement this new plan.
Such flip flop decisions, which Malaysians are now quite familiar with, put the civil service in a bad light.
One needs only to do a little research on Google to understand the pattern of decisions on bursary programmes.
In 2012, the Government announced that all 1,609 students who obtained 9A+ and above in the SPM examination in 2011 will be automatically offered the Education Ministry bursaries for local pre-university courses.
The students were clearly told previously that they would be eligible for local or overseas scholarships for their tertiary studies from 2014 onwards if they met the required criteria.
Malaysia needs to encourage, recognise, support and keep our best young talents in this country. Make the best rule work to keep the best.