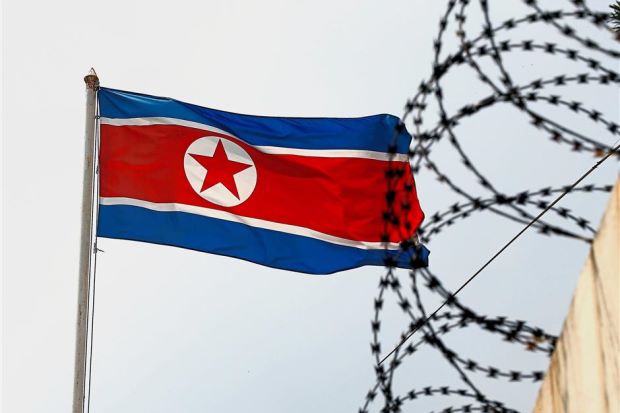 This is the time to put our differences aside and let North Korea know that it has no right to trample on our national integrity – or our kindness
IT is important for Malaysians to stand together as a people and a nation in the current diplomatic stand-off with North Korea.
This is the time to put politics aside. This is the time for all of us to stand up and let the North Koreans know that we will not accept an open murder, even if it involves one of their own, in our country.
They have openly trampled on our national integrity and spat on us following an insane, high-profile murder in a country which has been nothing but extremely friendly to them.
No country has given them free visa entry. They, however, used it as a loophole to gain easy access into Malaysia to commit a murder instead. And one involving Kim Jong-nam, the exiled half brother of the regime's leader Kim Jong-un.
They showed how much they didn't value the long friendship with Malaysia and instead chose to violate it. Surely, this is not a friend we need. And if this friendship were to continue, it could no longer be the same. This is not a country we can trust anymore.
While we have patiently put up with the bizarre plot, they crossed the line when they decided to keep our Malaysian Embassy diplomats, staff and family members under house arrest in North Korea.
House arrest is an understatement here, really.
To put it bluntly, they are holding our fellow Malaysians hostage. Obviously, they want something in return.
There are 11 Malaysians in North Korea – two United Nations staff members, three with the embassy and the rest their family members.
But on Friday, the North Koreans allowed two UN workers to leave the country. It looks like a change in tone, in yet another case of their yo-yo style diplomacy.
It appears an olive branch of some sort has now been extended with a diplomatic note sent to Malaysia but no one can tell what is next.
As nothing is unconventional and unpredictable, as far as dealing with North Korea is concerned, should we even be surprised that no family member has come out to claim the body? Presumably, it is out of fear on the part of his next of kin.
It's already been a month since the murder at the KL International Airport 2 and the body still lies at the mortuary.
Although the Indonesian and Vietnamese women have been charged with murder, (they were said to have used a deadly substance to smear Jong-nam's face and it killed him almost immediately) the North Koreans who plotted the murder have fled.
There has been suspicion that one or two others could be hiding in the North Korean embassy in Kuala Lumpur.
Earlier, a high-level North Korean delegation arrived in Kuala Lumpur with three objectives – retrieve the body of Jong-nam, secure the release of their citizen from police custody relating to the murder and develop friendly relations with Malaysia.
The approach taken by the delegation was a far cry from the harsh stand taken by North Korean ambassador Kang Chol, who accused Malaysia of colluding with Pyongyang's enemies in investigations into the murder.
But just as we thought the case was winding down following the decision to expel Kang, the reclusive communist country retaliated by doing the same. Fortunately, we recalled our Malaysian ambassador earlier but now, they have decided to bar our staff at the Malaysian embassy in Pyongyang from leaving the country.
Like most Malaysians, I find this very disturbing and insulting. We cannot accept such fabricated stories against our police force – their tales of threat to make sure they remain alive when they return home.
This is the time we need to stand up, support our government for what they have been doing and are doing.
Yes, we could have handled things better, coordinated better and avoided contradicting statements on this issue but I support the statements made by our Prime Minister Datuk Seri Najib Tun Razak, his deputy Datuk Seri Dr Zahid Hamidi and Foreign Minister Datuk Seri Anifah Aman.
Now is not the time to look for faults with the "we should have done this" arguments.
We have now entered a delicate situation where we need to re-assess our way of dealing with them, with the well-being of our Malaysians there in mind.
Malaysia is dealing with a country that does not respect human rights.
No, I rephrase – we are dealing with a country that does not respect human lives.
This is a ruthless regime headed by a leader who did not even blink when he had his own uncle executed in a most unimaginably brutal manner.
This is a man who ordered the murder of his half-brother and a month later, fired off ballistic missiles across the seas.
Do not expect North Korea to understand the meaning of gratefulness.
In August 1997, The Star launched a campaign to raise funds when the hermit country was struck by widespread famine.
As winter approached, it became even more imperative to provide food to the 2.6 million North Koreans who were slowly dying of starvation.
The Star stepped up with the North Korean Sall Fund, a three-month fundraising campaign to buy food for the famine victims before winter (sall means rice in Korean).
From August 1997, the newspaper spearheaded a campaign that reached out to both members of the public and corporate bodies, with articles highlighting the urgency of the crisis.
The campaign inspired a series of donation drives and fundraising events, the collections from which were channelled to the Sall Fund.
By October 1997, Malaysians, via the campaign, raised over RM12mil which was handed over to the International Federation of Red Cross and Red Crescent Societies to buy food for the North Koreans. It was a record sum.
But when we asked to see how the funds would be disbursed, together with the Red Cross, we were denied permission to even travel to North Korea.
They didn't want The Star to be there after all we had done for their people. What The Star did was done in the true Malaysian spirit of giving, something which comes so naturally to us.
It was a painful lesson for most of us – and a grim reminder that the North Korean regime lives in a world of its own.
This is the time to keep the Malaysian flag flying high and to stand united to face this crisis as one people.