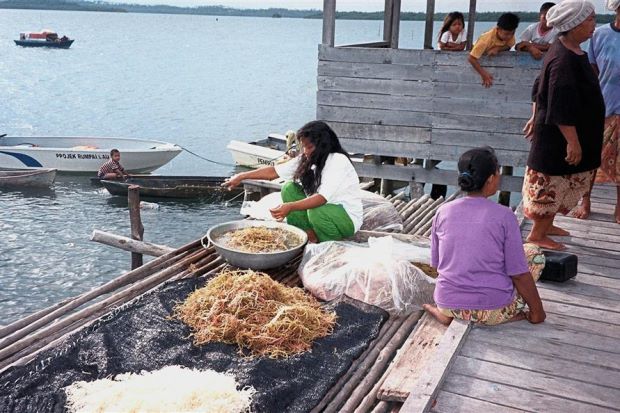 TWO of our most naturally beautiful states, Sabah and Sarawak, are shockingly only an electronic visual experience to many peninsula Malaysians, viewed through their devices and little else. Few of them have set foot there, and if they have, they would likely have moved in and around the more administrative and commercial cities like Kuching, Kota Kinabalu, Sandakan, Sibu and Miri, and not some of the more remote locations.
It's unlikely they would have subjected themselves to the rough terrains of the interiors, where one has to fly, travel upriver by boat and then hike through the jungles to reach the village settlements in these sprawling rainforests.
For some Sabah MPs, a 150km journey (the distance between Kuala Lumpur and Melaka, which takes 90 minutes for travel by road) into their kawasan could take six hours on muddy and slippery roads.
But would our Semenanjung folk even be aware that for the people of Banggi in Sabah, the biggest island in Malaysia, picking up provisions means having to travel by boat on a four-hour journey through choppy open sea to the nearest town of Kudat? If that sounds daunting, don't forget the return journey.
This is something most people in Semenanjung cannot fathom. For us urbanites, that same chore merely means driving down the road to the nearest grocer. Given these geographical differences, people here speak nonsense when they talk about lopsided parliamentary constituencies.
The standard argument in every election is it being unfair for urban parliamentary seats, with its huge electorate, to have so few seats, while rural areas have more parliamentary seats. The suggestion here is that these purportedly lopsided situations are created to benefit the ruling party.
Without doubt, the rural heartland has always backed the ruling Barisan Nasional. But there is basis to this.
Take, for example, Sarawak, the Baram parliamentary seat. Let's be honest: who would dare try to pinpoint its location on a map? It's ok, you're in good company. But look it up.
Baram is almost as big as Pahang, yet the state has 14 parliamentary and 42 state seats.
As far as the Baram voters are concerned, it isn't fair that they are served by a sole MP and two state assemblymen. Prod them on the subject and they will tell you in the face that "Orang Malaya" (people of peninsula) talk rubbish.
Baram belongs to a remote part of Sarawak and is home to the Orang Ulu, a collective including the Kayan, Kenyah, Saban, Punan, Berawan, Lun Bawang and Kelabit. Many of us living it up in the city don't even know of their existence.
The great Baram river, the second longest in Sarawak, flows through this landscape and is regarded as the lifeline of the indigenous people living there.
MPs in similar constituencies spend days, sometimes weeks, to reach small villages scattered in these huge areas. Certainly, urban MPs, albeit with a bigger electorate, have it easier than their counterparts in rural places.
Sarawak PKR chief Baru Bian has called for more parliamentary seats in the state, even if peninsula-based parties continue debating the suggestion.
Currently, Sarawak, which is almost as big as the entire Peninsular Malaysia, has only 31 parliamentary and 71 state seats.
In comparison, the peninsula has 166 parliamentary seats. Sabah has 25 parliamentary seats.
Baru said: "Sarawak is clearly under-represented, especially those in the rural areas."
Then, there is Hulu Rajang, Malaysia's largest parliamentary constituency. At 31,817sq km, it is about the size of Pahang. The state seats are Baleh, Belaga and Murum.
The electorate comprises only 7,000 Orang Ulu voters as well as 10,000 Iban. The 2% Malay/Melanau and 1% Chinese complete the 17,696-strong electorate. However, the sheer size of this seat is simply unimaginable to the average "Orang Malaya".
The Kapit division in the central region is also the size of Pahang, though it has a population of only 18,000. The singular way to get there is by boat or helicopter.
This is Sarawak. It is complex, with its diverse cultural, racial and religious beliefs involving more than 40 ethnic and sub-ethnic groups.
More than 5,000 villages are distributed across a state the size of the entire peninsula with a population of only 2.6 million people. For campaigners in the elections, this means using four-wheel drives, long boats, speed boats, helicopters and trekking to reach there.
On the other hand, despite Sabah (73,620sq km) equalling the land mass of nine states in the peninsula and being 90 times the size of Perlis (816sq km), the state only has 25 parliamentary seats.
The rural Kuamut state constituency (under Tongod district) is 10,054sq km, which is larger than Kedah (9,347sq km), and the Keningau parliamentary seat is 3,533sq km, which is bigger than the combined 3,405sq km areas of Melaka (1,650sq km), Penang (1,039sq km) and Perlis (816sq km).
Kedah has 15 MPs, 36 assemblymen and one Mentri Besar while Kuamut is only represented by an assemblyman and shares its MP with Sukau (6,604sq km), which is about the size of Negri Sembilan (6,633sq km), with eight MPs and 36 assemblymen – a grouse veteran Sabah politician Datuk Dr Jeffrey Kitingan always points out.
The Keningau parliamentary seat, held by PBS chief Tan Sri Joseph Pairin Kitingan, for example, is larger than the combined states of Melaka, Penang and Perlis.
Keningau has only one MP and three assemblymen, while the three peninsula states combined are represented by 26 MPs and 83 assemblymen, two chief ministers and one Mentri Besar.
Basically, the MPs in these huge constituencies have to work much harder than their counterparts in the peninsula, even though they have fewer voters, given the nightmarish logistics involved.
Armchair critics sitting in the comfort of their homes and waxing critical eloquence about unfair parliamentary sizes, should try visiting these deep recesses to understand and better appreciate what these rural MPs need to contend with. It is no walk in the park.