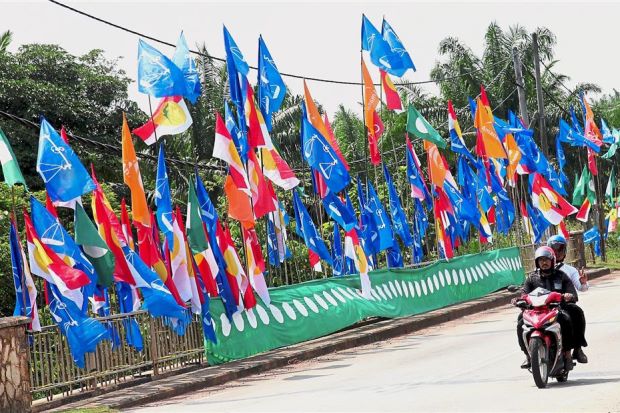 NO one, not even in his wildest dreams, would have imagined that Tun Dr Mahathir Mohamad would patch things up with his longtime nemesis, Datuk Seri Anwar Ibrahim.
And more incredibly, contest a general election on the PKR ticket.
The PKR symbol is, of course, the eye. Many of us remember the 1998 "Black Eye" incident, when the former deputy prime minister sported a badly bruised eye when he was brought to court after he was allegedly assaulted by the police.
Now here's the former prime minister, who dismissed Anwar in the first place on grounds of sodomy and corruption, waving the PKR flag on a stage.
Anwar himself certainly couldn't have imagined this would ever happen. Dr Mahathir even attempted to visit him in the slammer!
Then there's former PAS leaders like Parti Amanah chief Mohamad Sabu, who gave hate speeches about Dr Mahathir, hurling disparaging remarks about his children's wealth, but is now heaping praises on the former premier since they are all on the same turf.
It's likewise with the DAP – its leaders have written voluminous books and churned out tons of videos about the former PM to discredit him, but are now singing a different tune.
The DAP, which urged Chinese voters to back PAS in the 2013 general election and painted the Islamist party as the most moderate party, is now saying the opposite. PAS is now being described as extremist.
Less than a year ago, the Chinese were angry with ultra Malay group Perkasa but now, many of them have donned the Pribumi uniforms and the party is cheered on by many Chinese voters, the very same people who criticised it previously.
Nothing is impossible in politics.
And why is a multiracial party like DAP contesting in Chinese-majority seats when Umno is their main "enemy"?
Why is MCA, a Chinese party, contesting in mixed seats with a Malay majority?
Also, why is PAS, the one-time nemesis of Umno, now on the friendliest terms and playing footsie?
No one is even sure if they drink from the same cup as they will contest against each other in the elections.
The two traditional rivals will surely slug it out in Kelantan, Terengganu and Kedah, even if Datuk Seri Najib Tun Razak and Datuk Seri Abdul Hadi Awang have been seen "flirting" in the political arena.
And even as they are facing off, it appears that Umno and PAS are quite prepared to help each other make up the numbers in case some unexpected scenario pops up.
Abdul Hadi talks openly of being kingmaker, and several PAS leaders haven't dismissed the possibility of a Unity Government somewhere on the horizon.
After all, PAS was part of the Barisan Nasional when it was formed.
Under the late Tan Sri Asri Muda, PAS was a Barisan member from 1973 to 1978, and Asri became the Land and Rural Development Minister. He shifted PAS' outlook towards Malay nationalism and moved away from the religious-based policy platform. But that made his popularity dip and he was subsequently ousted as PAS president.
The experience of having PAS in Barisan wasn't a happy one and not long after, the party left the coalition.
It's fair call to suggest the majority of the electorate want Umno and PAS to get together.
However, there are confusing and conflicting signals, making it difficult for grassroots members to make sense of it all.
For Chinese voters who are uncomfortable with Umno and PAS working together, they shouldn't forget that DAP in fact, had worked with PAS, and many Chinese backed it in the last election.
It must have been confusing for us even after the Islamist party broke away from PKR and DAP. It was still kept intact in the Penang and Selangor state governments where its members were still state executive councillors for quite awhile.
Then there are disgruntled politicians who didn't make the cut as candidates and openly threatening to sabotage their parties or counterparts from other parties! These characters seem to have forgotten that these parties don't belong to their grandfathers, and it is not their given right to contest the elections.
Many proclaim that the main reason they took up politics is "to serve the people" but in the end, it's apparent that they are more interested in serving their own selfish ambitions.
Then there are the gullible voters – they believe almost everything their political heroes tell them because they can no longer tell the difference between fact and fiction as they are blinded by emotion.
They forget that these politicians are always ready to strike a deal if it means making a difference to the balance of power, meaning positions, perks and power.
Of course, at their ceramah, some of them will be waxing eloquently about "political principles", all with straight faces.
It would be naive of voters to believe that these politicians are more interested in saving the country or race, as their track record shows that it's about saving themselves, their parties, their children and themselves.
A few are serial political nomads, who jump from state to state to contest, while others, who happen to be born in a particular state and grew up in Kuala Lumpur, and are now back in their home state, claim it's a "home coming" for them when they don't even know their way around town.
But, of course, over the next few weeks of the campaign period, we will see politicians of all shades telling us what they are doing is all for our sake.
Many of us will lap up these claims, spending time sending unsoli­cited political messages – inclu­ding fake news – via WhatsApp to acquaintances and, worse, straining friendships and family ties when they don't echo our political enthusiasm.
I should only say this: Let's try getting an appointment with the new Yang Berhormats once the general election is over. See if these newly crowned YBs still remember you. Good luck.