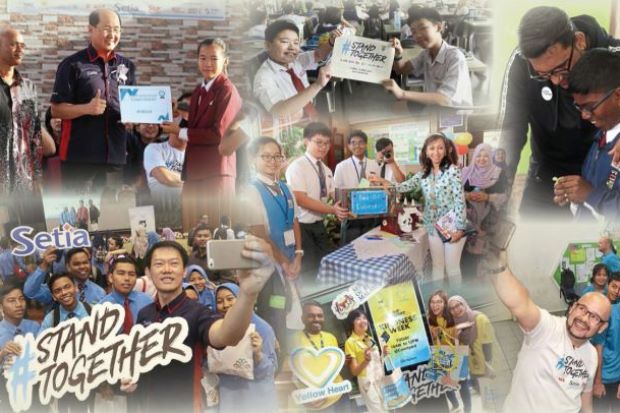 HATE, intimidation, abuse, domestic violence, body shaming, racist chants, peer pressure, religious coercion, disrespectful remarks from bosses, sexual harassment and indifference.
Give it any name, but it's still bullying in some form or the other. It has become more prevalent and amplified now because of social media, where the reach is greater.
Over the last few weeks, we have seen how there is no room for religious and racial extremism. In Sri Lanka, three brothers have been accused of masterminding the series of bomb blasts which killed over 250 people on Easter Sunday.
Authorities there have blamed a local Islamist group for the appalling and barbaric act of terrorism.
Then, there was the rampage by a white supremacist against Muslims who were performing their Friday prayers at a mosque in Christchurch, New Zealand, last month, which saw 50 people senselessly gunned down.
These are hate crimes committed by deranged mental cases who likely think they are doing so to protect their religion and race. However, no religion teaches their followers to murder, and certainly, our powerful and omnipresent Creator doesn't need our protection.
The Kindness Movement certainly resonates louder today as the #StandTogether campaign, initiated by youth portal R.AGE and property developer SP Setia. The climax of the campaign this coming Saturday, the Kindness Concert, aims to be a rallying call for Malaysians to thwart hate and intolerance and celebrate kindness.
Nevertheless, everyone is practical and well-aware that efforts to promote kindness begin with baby steps. The bullying and killing will continue, but what we'd like to at least do is share the value of kindness and love, so we may do whatever we can to always carry those thoughts in our hearts and minds. As American civil rights leader Martin Luther King Jr once said, "hate begets hate, and violence begets violence".
The only way to end the cycle of hate in this world is through love and kindness. As preachy as it may sound, we all need to play our little parts.
As a supporter of this initiative, I have visited schools across the nation whenever my schedule has permitted, to join captains of industries and celebrities to tell the younger generation that it's simply not cool to be bullies.
It's unacceptable to indulge in body shaming or to call schoolmates names. We come in all shapes, sizes and colours. It doesn't matter if you are fat, thin, short, lanky, black, white, yellow or embrace different religions even.
That's exactly how God works in mysterious ways, by making us different but surely God wants us to be equal. What matters most, though, is not what's on the outside of us, but what's inside. Our hearts and minds matter more than our looks, skin colour or even how we dress.
Almost all the schools we went to said they are increasingly worried about cyberbullying and spite-filled online content, which can be even more destructive than physical bullying.
It follows victims everywhere and torments them 24/7. In fact, they have led to lives destroyed and even lost, because victims aren't able to cope with these often viral messages, which seem to live eternally in the digital world.
When we talk about bullies, we tend to picture school-going teen-agers, but they are present in the corporate, political and entertainment circles, too.
Fake news, most of which is libellous and defamatory, seems to be particularly attractive. Many of us are guilty of sharing these messages with little thought given to the feelings of the affected and the damage it causes them.
It's easy to accuse someone with spicy and juicy details, but these claims are often never substantiated with evidence. It's done with malice, to shame these high-profile personalities, or to put them down and to squeeze a settlement out of them.
Politicians, given the nature of their work, have thicker skins. Most handle criticism and accusations well, although there are leaders – who spent their entire careers as opposition figures – who have become intolerant towards the slightest difference. How ironic, since, subconsciously, some have turned into bullies.
But realising the power of lawmakers – especially the younger ones – and celebrities, R.AGE drew these public figures in, along with their army of followers, to join in stamping out bullying. Over 20 Members of Parliament, including Nurul Izzah Anwar, Dr Mazlee Malik, Datuk Seri Hishamuddin Hussein, Hannah Yeoh, Syed Saddiq Syed Abdul Rahman and Khairy Jamaluddin have pledged their support for the campaign.
Others, like Datuk Seri Dr Wee Ka Siong, wore the campaign badge in Parliament and proudly posted it on social media.
Kudos must also go to the Education Ministry for stepping up its efforts to tackle cyberbullying among students, having given full support to the #StandTogether National Kindness Week campaign. Ultimately, though, they can't do it alone.
All stakeholders, especially parents and teachers, must work together to stop this culture of hate and negativity – from top politicians to every citizen.
Bullying doesn't only occur in local schools, either. Just last week, a 15-year-old Malaysian student at the International School of Kuala Lumpur ended up in hospital after he was bashed up by a schoolmate whose father works in the US Embassy here.
In other cases, students have found themselves ostracised by envious schoolmates for being high achievers.
This is where schools – in their capacity as educators – need to instil kindness and respect.
Our National Kindness Week movement in Malaysia has been so inspiring it was cited at the United Nations General Assembly last year as an example of efforts to curb violence against children.
People think that we live in a trying world, so we should toughen up our children. They are born happy, but we change them to fit into this ragged world we've created.
But instead of conditioning our kids, we should heal the world and make it a better place so they can grow up happy instead.
Come join us on May 4 at our Kindness Concert, where Malaysians, regardless of race, creed or religion, will stand up to hate and intolerance by celebrating love and kindness.
Top performers and celebrities like Kyoto Protocol, Harith Iskander, Lisa Surihani, Jinnyboy, Arwind Kumar, Luqman Podolski, Sharifah Amani, Chef Wan and many more will be there to lend their voices to kindness.
The event will be held at the Setia City Convention Centre 2 in Shah Alam from 4pm till 7.30pm.
The #StandTogether 2019 campaign has already drawn nearly 9,000 participants, while over 7,000 people took up the five-day Kindness Challenge on WhatsApp, and over 1,600 teachers and students across the country trained to become "Kindness Ambassadors" in their schools. Another 1,500 will be trained in June and July, with 40 school projects funded by R.AGE and SP Setia.
Enough arm chair criticism, treading the moral high ground and suggesting what should be done. If there ever was an opportunity to walk the talk, this would be it. Let's show the world what true Malaysian kindness is all about.