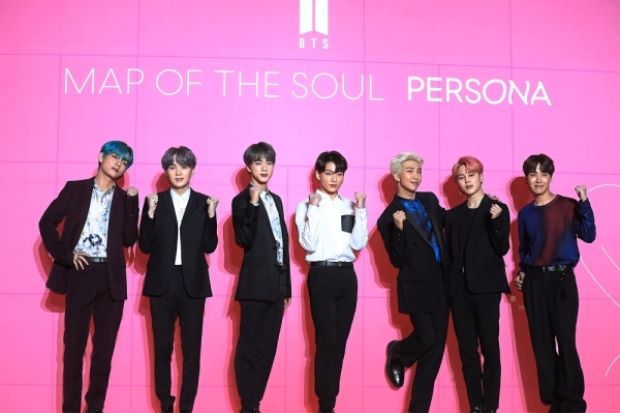 Acquired taste: The androgynous boys of BTS, with their blonde, orange, blue and green hair, are just not registering with the writer.
YOU must be from another planet if you have never heard of K-pop group BTS. They are the biggest boy band in the world right now and have even been compared to The Beatles. Yes, the Fab Four themselves.
And here's my confession – until two weeks ago, I had never even heard of their existence. It's shameful, really.
For me, this South Korean group had to appear on The Tonight Show Starring Jimmy Fallon for them to get my attention. But in no time at all, I found myself reading up on them and watching their videos on YouTube, to be clued in on what they're all about.
BTS won the 2019 TIME 100 reader poll, marking the second year in a row the seven-piece band has claimed prominence.
It's an amazing feat, especially since we only have fugitive Jho Low to keep us in the gaze of an international audience.
This group apparently has 19 million followers on Twitter, and BTS, which stands for "Beyond The Scene", was also named one of TIME's Most Influential People on the Internet in 2017 and 2018.
More incredibly, BTS shot to No 1 on the Billboard Artist 100 chart and is tipped to make K-pop history by topping both the US and UK charts with its latest album, Map of the Soul: Persona.
Now that I've spilled the beans, it's time to apologise to their die-hard fans. I've tried my best to fall in love with them – I have watched their videos several times, but I just don't get it.
At least Psy's Gangnam Style, which took the world by storm a few years ago, was catchy and understandably became an Internet-breaking global sensation. That adorably plump boy had something different. But these boys, with their blonde, orange, blue and green hair aren't registering with me.
My young friends, who are fanatical about BTS and other K-pop groups, are worried for me. I am worried for myself too. Songs from their Love Yourself series of albums haven't touched my soul at all, I'm afraid.
I must have a problem because the group's new album, with the lead track Boy with Luv, has become the fastest YouTube video to ever hit 100 million views – reaching the incredible figure in just 36 hours.
I am concerned that, like many people in the older age group, I can only remember the good old times, and what I choose to remember.
That, of course, includes my taste in music. Unfortunately, this makes me feel like I am stuck in a time warp. "Uncle, you have a problem," I can almost hear the voice of youthful reason in my head saying.
So, I finally concluded why I just can't relate to BTS. They look too alike, too effeminate, too skinny and too boyish. Androgyny doesn't work for everyone, I guess.
I admit, this must reek of envy, but I'm past middle-age, have a waistline issue, and can't handle the world moving on without me knowing it, especially since it signifies that it's time for me (and those like me) to step aside.
I am finding it extremely difficult to see people comparing this South Korean group with oh, the greatest band of all time.
BTS and The Beatles? Really? Get real, come on.
I grew up listening to the Fab Four, as the boys from Liverpool were popularly called.
I even thought The Osmonds were good and as a kid, I naively presumed The Archies, were fantastic, until I learnt they didn't exist – they were merely cartoon characters.
As I hit my teenage years, Fleetwood Mac, Pink Floyd, The Rolling Stones, The Eagles and Queen, entered my life. Now, these talented bands made seriously good music, which stirred my very soul.
They didn't need to put on makeup, colour their hair or practise dance moves for hours.
They just did their thing by mesmerising us with Hotel California, Another Brick in the Wall and Bohemian Rhapsody, and we were completely taken in.
We had plenty of "satisfaction", and by the time I reached adulthood, the disco scene exploded.
Surely, Bee Gees, Earth, Wind and Fire, Blondie, David Bowie and Michael Jackson, to name a few, had more hits (and depth) than these good looking South Korean boys?
And what about Billy Joel and Phil Collins? They are surely not known for their looks, but immense musical talent. No?
So, ok, these young boys don't cut the mustard with me. What about the girl groups then, I wonder?
I don't know if it was wise, but I decided to begin my research with Six Bomb, a group with an interesting name, surely. They documented their plastic surgeries (yes!) on video.
By this, I mean the girls danced with their faces covered in bandages. Yes, it's that bizarre.
So, my young friend, Hui Wen, who waxes lyrical about K-pop culture, suggested I check out Blackpink instead. They look hot, but they are also skinny and too "alike" for my taste.
After listening and watching their hit video, Kill This Love, I knew any lingering fibre of affection I had for the genre was positively murdered.
I felt my face turning black and pink at the same time, I'm afraid.
And that marked the end of my K-pop flirtations, the nail in the coffin being watching Don't Know What To Do, because I really didn't know what to do after that.
Instead, I decided to settle for some kimchi, bulgogi, ginseng chicken soup and Korean barbeque, and watch a TV series about aging gangsters and, corrupt politicians and prosecutors.
OK, sillyehabnida – that's "excuse me" in Korean. You mean you haven't watched Korean dramas?