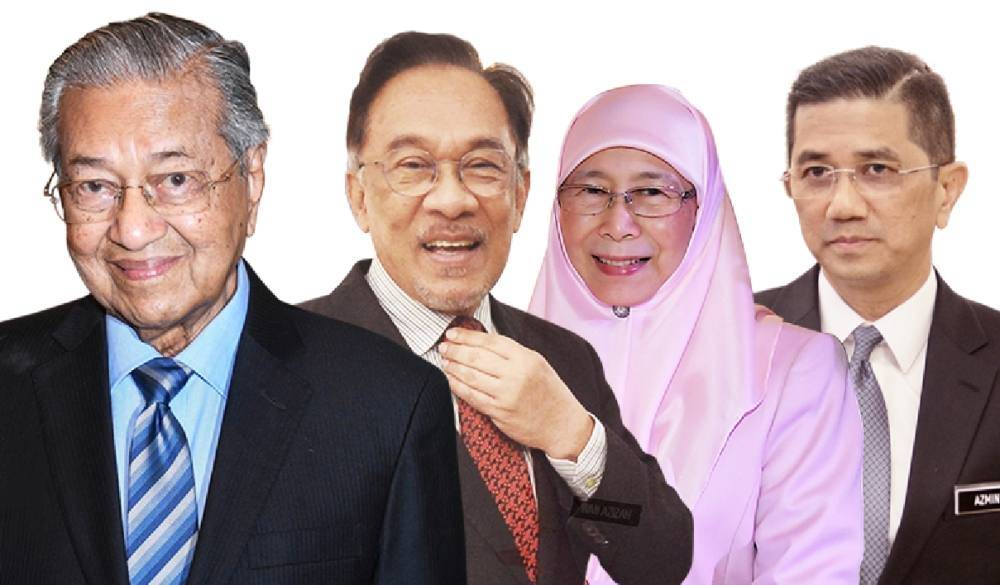 SUCCESSION planning is a mandatory requirement in any private company, especially public-listed ones, where staff are generally distinguished by two categories – ready to take over and being groomed to take over.
It's simply a process for identifying and developing new leaders who can replace the old guard when they leave, retire or die.
There's nothing insensitive or unusual about this practice because it helps increase the number of experienced and capable employees ready to assume these roles as they become available.
It also helps motivate leaders in a company, because they know they are being prepared to take over higher positions.
At any given place in the hierarchy, there are usually three names for every role, and not necessarily only for the chief executive officer post, but for those at C-suite level, too.
The term C-suite refers to the highest executive-level managers within a company, including the CEO, chief financial officer and chief operating officer. The term is derived from the use of the letter C in these positions.
Companies take this practice very seriously, with detailed scenarios deliberated, including a CEO retiring without warning, suddenly calling it quits, or God forbid, dealt the proverbial "getting hit by a bus" scenario – all of which can pull the rug from beneath the feet of succession planning.
But in the case of Malaysian politics, we don't seem to handle it well. In fact, it borders on abysmal.
Little dialogue is conjured about the succession planning process for the Prime Minister's position because it's deemed politically incorrect and can come across as insensitive to many people.
Out of respect, the bulk of us choose to adopt a muted approach, because Tun Dr Mahathir Mohamad is simply over-whelmingly popular. Never mind that he turns 95 next year.
Despite his age, he shames even those in their 30s and 40s with his sharp mind and ability, and it seems, by and large, Malaysians want him to stay longer, if not forever.
But the reality is that Dr Mahathir is a mere mortal. Yes, he's almost a superman, with his superb health and mental frame at his age but if he remains in office until the next election, he would be 98 years old then.
That's a little too far fetched for us to imagine, and in all honesty, deep down in our hearts, we are not sure if that's feasible, or even healthy for Malaysia.
Apparently, his desk in Putrajaya is overflowing with files right now, and Malaysia today is a far cry from the nation he governed during his previous tenure as PM.
If we care for him more than ourselves, we should be able to tell that he deserves to be enjoying the twilight years of his life in a better way. He said that he slogs 18 hours a day, and is constantly working against the clock. That can't possibly be good for him.
Right now, we have an odd situation where the Prime Minister is fielding questions every few months about his timeline for passing the baton to his successor. Last week, he said he "expects to remain as PM for some three years."
"I promise that I will step down before the next election and give way to another candidate. So I may have, at the most, three years perhaps, " he said at a dialogue held at the Council on Foreign Relations here on Thursday.
In June, Dr Mahathir was quoted as saying he would hand over the reins to PKR president Datuk Seri Anwar Ibrahim "within three years".
The PM-in-waiting has been more precise, saying he should be in the hot seat by around May 2020, which is roughly seven months away.
When he was queried in a television interview on whether the transition would happen two years from Dr Mahathir assuming control, Anwar said, "there's an understanding that it should be around that time, but I don't think I should be too petty about the exact month." Though he added, "But there is this understanding that he will resign at the appropriate time."
To be fair to Dr Mahathir, he has been pretty consistent in his statements, unless one chooses to pick a bone with the meaning of every word and sentence he has uttered about the issue.
He has already named Anwar as his successor, mirrored in the single name which exists in the agreement that was signed by the heads of the Pakatan Harapan component parties.
There are no other names, and certainly, there is no deadline for Dr Mahathir to step down, either.
However, there are lingering doubts among cynical Malaysians, simply because politicians have a bad record of keeping their promises. They can't even keep their election promises despite putting these pledges in black and white in their election manifesto.
Politicians are known to reverse decisions, earning mistrust in the process, and Dr Mahathir is no exception. It doesn't help either that there is a history of acrimony between him and Anwar.
To complicate matters, Anwar has also gained a nemesis – from within his party – who wants Dr Mahathir to continue as PM forever, so that the wait will turn into nothing eventually.
It is no secret that Datuk Seri Azmin Ali, who has fallen out with his boss, would want the PM's post, too. It's natural for politicians to be ambitious.
And let's not write off Datuk Seri Dr Wan Azizah Wan Ismail. Because she is the Deputy Prime Minister, and if anything should happen to Dr Mahathir, God forbid, she is next in line to assume the post to ensure a smooth transition if the plotting turns complicated.
That raises another point. We have an unusual situation where the successor – Anwar – has no role, no post and no clout in the government. He has been reduced to delivering speeches at universities and events, and that's about it. In our entrenched political patronage system, it has put Anwar in a fix.
So will Dr Mahathir hand the reigns over to Anwar by May? Not a chance. It wouldn't be like Dr Mahathir to stay away from the limelight as the host of the Asia Pacific Economic Cooperation (APEC) summit in Kuala Lumpur next November.
He would surely want to be on that stage, basking in the global limelight, standing in the middle and flanked by US President Donald Trump, Chinese premier Xi Jinping and Russian leader Vladimir Putin.
In all likelihood, Anwar will have to wait until 2021 for the succession to happen, and if we listen to Dr Mahathir, it could be 2022.
But if the waiting game stretches for too long, patience will wear thin, and consequently the rot of distrust and discontent will set in.
So while we know that Singapore Deputy Prime Minister Heng Swee Keat will be succeeding Lee Hsien Loong soon, the press will still be posing the same question to Dr Mahathir and Anwar over the next three years.