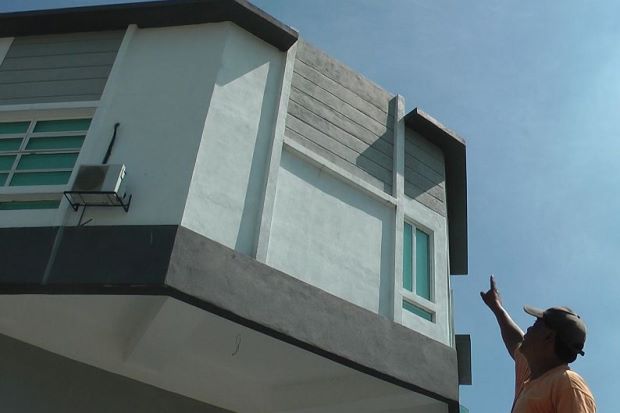 LIKE most Christians in this country, I am sad rather than angry over the protest staged by about 50 people demanding the removal of a cross at a church in Taman Medan in Selangor.
In fact, if some of the protesters have their way, they would want the church to leave the area because of its predominantly Muslim population.
This flawed argument feeds on the fears of these people, and we are not even sure if they actually represent the views of the majority as they claimed. The demonstration may well be the work of some local politicians.
But it is clear enough that some of the remarks made at that demonstration last Sunday seem to stem from ignorance, prejudice and even plain bigotry.
They include the claim that the sight of a cross in a Muslim area challenged Islam and could influence the young.
Just a few months ago, hundreds of protesters gathered at a development site in Taman Keramat, claiming that their Malay-majority neighbourhood would be overrun by the Chinese because of the ongoing project.
The rowdy protesters stormed into the construction site of the condominium project, Datum Jelatek, after tearing down its zinc hoardings.
It was revealed later that their fears were unfounded, or rather false, as the developer, the Selangor State Development Corporation, confirmed that the majority of bookings were by the Malays.
Although it is wrong to play the racial card, we must acknowledge that the fears of the urbanites being pushed aside by development in their own areas are real.
Many of them, especially the urban poor, struggle to own homes in the areas which had been their home for generations because the new developments are beyond their reach.
Still, incidents like these, which smack of racism, have left many Malaysians, especially non-Malays, wondering about the state of affairs in this country.
We love this country, like the rest of our brothers and sisters, regardless of their race and religion. Malaysia remains our country and our only home.
There is nowhere else to go. Just because we are of ethnic Chinese and Indian origin does not mean we can just pack our bags and head to China and India, as some ignorant ones think.
Our hearts bleed when such incidents happen. Worse, despite the inflammatory racial remarks made at Taman Keramat, no one has been arrested or charged over that incident so far.
Can cynical Malaysians be blamed if they assume that no one would be arrested or charged over the Taman Medan protest as well?
We salute the Prime Minister, the Home Minister and the Cabinet for their strong stand against what had taken place.
Our politicians, as well as some individuals and groups, should stop harping on the wrong belief that Malays and Islam are under siege in our country.
The statistics themselves already prove that this is not possible. The Malays are the substantive majority, and their fertility rate is such that their numbers are growing. In contrast, both the Chinese and the Indian communities are shrinking.
As for religion, Islam is firmly entrenched as the religion of the country, even as the freedom of religion is guaranteed under the Constitution.
The official statistics reveal that Muslims constitute 60.4% of the population, Buddhist (19.2%), Christian (9.1%), Hindu (6.3%), Confucianism, Taoism, other traditional Chinese religions (2.6%), other or unknown (1.5%), and none (0.8%).
It is unfortunate that so many issues today are still seen through racial and religious perspectives.
Which is why many are under pressure to only speak out for their own community and faith, right or wrong. Those who are prepared to point out the flaws in some of the extreme arguments of their own communities are often condemned. And many just remain silent.
But talk of moderation would remain hollow if we are not able to take the internal pressures.
Our conscience requires us to speak up against those who cannot draw the line between right and wrong. How can we remain silent when something that is so fundamentally wrong happens in front of our eyes?
Coming back to Taman Medan, the argument that a place of worship belonging to a minority cannot be set up in a Muslim-majority area is deeply flawed.
Everyone is entitled to profess and practise his faith freely. That is clearly defined in our Federal Constitution.
Although our nation is predominantly Muslim, there are also many areas in states like Penang, Sabah and Sarawak where they are actually in the minority. But like everyone else, they too have the right to set up mosques and worship freely even if their numbers are not large.
No one should tell Muslims to pray elsewhere in areas with more Muslims, for example. That would surely be unacceptable. The protesters in Taman Medan obviously never thought of this angle.
Likewise, in Europe and the United States, Muslims should be given the right to build mosques and should not face any form of restrictions in the practice of their faith.
What has happened in Taman Medan should open the eyes, the ears and most importantly, the hearts of all Malaysians on the predicament faced by Christians in this country. The fact that Christians have to set up places of worship in commercial and industrial lots should lead us to question why this has become the norm.
These are certainly far from perfect refuges to worship God. It is not unusual to have churches being set up above coffee shops, and the worshippers just have to bear with the din downstairs.
The traditional churches, with all their architectural grandeur, are relics of the past. These were churches built during the British colonial days and they cannot accommodate many of the new Christians who have their own denominations.
Today, Christians have to fight bureaucracy, mostly at council level, and other obstacles, just to set up a church where they can pray and worship the God they believe in.
It is even more difficult for independent churches like the Community of Praise in Taman Medan, with only about 20 people in its congregation. It is not part of the mainstream church with its proper structure and support facilities.
But the incident has certainly put this relatively unknown Tamil language church located in a shoplot in the national spotlight.
The future of the church is not clear. Obviously, the congregation does not want any controversy or conflict with the local community. That is not the Christian way.
The fact that they were quick to take down the cross, as demanded by the protesters, shows that they are peacemakers in line with the teachings of their faith. But the action itself must have broken their hearts.
We all need to understand the religions of fellow Malaysians. We must not be suspicious of each other because there is beauty in all religions.
No religion teaches bad things. We need to emphasise on the common values such as compassion, tolerance, patience, forgiveness, mutual respect and acceptance.
It is dangerously selfish of anyone, especially small time politicians, to use race and religion to win votes.
And when such personalities spew racist and religious rhetoric freely, without the fear of facing the wrath of the law, it only emboldens the extremists to continue what they are doing. And others will join in believing they have the superior right to do so.
Those on the receiving end will assume, rightly or wrongly, that there are different sets of laws for different people, or worse, different communities.
Our leaders must understand they represent all Malaysians. A government of one faith or one race has no legitimacy in multi-racial Malaysia.
Any political party that assumes it does not need the support of other races is simply arrogant. Such a belief is surely a recipe for disaster at the polls.
The Rukunegara is clear – Kepercayaan Kepada Tuhan – or the Belief in God. We pray for Malaysia and its leaders to do the right thing and to right the wrongs.